Tim Tebow Gains Support From MLB All-Stars Amid Minor League Success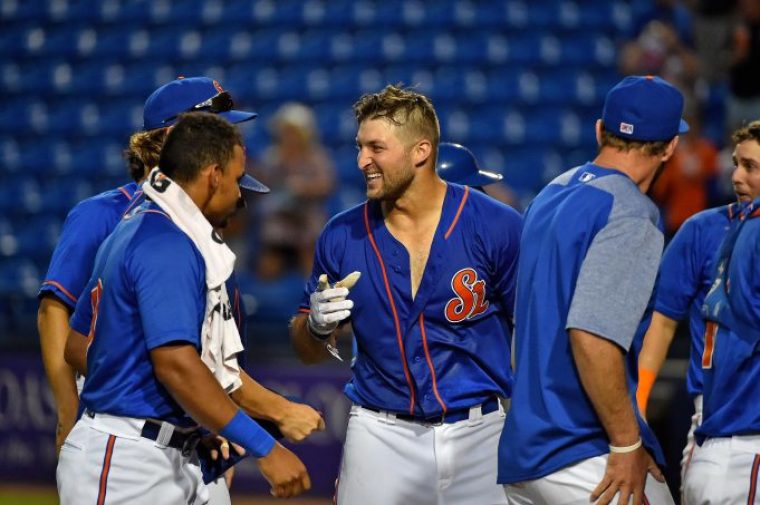 Tim Tebow isn't in the big leagues just yet, but he does have some MLB All-Stars rooting for him.
Tebow, the 29-year-old former college football star, now plays for the New York Mets high-A affiliate team, St. Lucie Mets in Port St. Lucie, Florida. After he announced last year that he would be pursuing a professional baseball career, a number of people expressed their disapproval for the former NFL quarterback's decision to switch sports.
However, a number of high profile MLB players are cheering for the biggest name in minor league baseball, according to ESPN. Lance McCullers, the Houston Astros starting pitcher, seemed to be impressed with Tebow's athleticism after following his career as a college champion at the University of Florida.
"For anyone to take that long off of baseball and do what he's doing — he's a freak athlete, I know that for sure. I was committed to Florida when he was there and doing his thing, and I think there's not any doubt about his athletic ability," McCullers told ESPN. "I saw he went to high-A and then hit a home run the next day. He seems to be doing well."
Michael Conforto, the New York Mets center fielder, played with Tebow when he was doing rehabilitation in the minor leagues. Aside from Tebow's teammates speaking highly of him, Conforto said he was inspired to see that the budding baseball hopeful could take so much time off from the sport that he played as a junior in high school and still work his way up the ranks.
"You always hear about when he hits a home run, when he makes a big play. It's pretty cool and inspiring, I guess, that he's been able to take this much time off and then have success in the minor leagues," the Mets player said. "With how much skill it takes to play this game, for him to take that much time off [and compete in the minor leagues] is pretty impressive. ... Having met him, I know he's genuine about it."
Detroit Lions starting pitcher Michael Fulmer also commented on Tebow's promotion from the Columbia Fireflies minor league team to another Mets affiliate, St. Lucie, which he believes is a great example of the athlete following his dreams.
"I think it's awesome what he's doing. Obviously, he got promoted to St. Lucie, and knowing some of the coaching staff that are working with him, he's in good hands," Fulmer said. "I've kind of just been seeing what's popped up on Twitter, and he's doing a good job. I think it's great for him to believe in his dream and try to follow it, try to get to the big leagues."
Tebow seems to be steadily progressing in his minor league baseball career. On Thursday evening, he hit a walk-off home run that helped his team score a 5-4 victory over the Daytona Tortugas.
While Tebow recalled hitting a walk-off homer as a junior in high school, he revealed that the accomplishment on Thursday night felt much more special.
""[The high school homer] was for the district championship," Tebow told the press. "That felt pretty good, but this one was special."