Tim Tebow Prays for Former Teammate and Roommate Riley Cooper After Racist Remark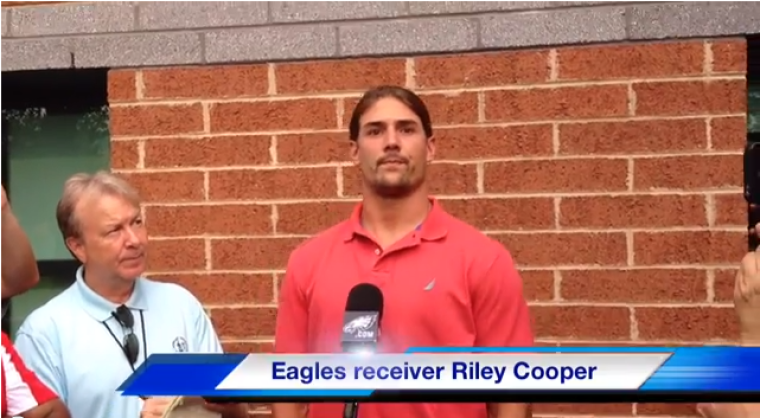 New England Patriots draftee and former Denver Broncos star quarterback Tim Tebow said that he was praying for Philadelphia Eagles wide receiver Riley Cooper, who returned to the team Tuesday after a short break following a racial quip that drew the ire of fans and a fine from the Eagles.
"I was definitely praying for him," Tebow told CSNPhilly.com's Alec Nathan. Former roommates at the University of Florida in Gainesville, the two hooked up 51 times for 961 yards and nine touchdowns during their senior year.
"We've been close for a long time, so we'll talk," Tebow said, refusing to comment on whether or not he was surprised by Cooper's racial slur. He made sure to distance the friendship from reporters, however. "I'm just going to keep our relationship private and that's where I think it needs to be."
Cooper, 25, caught the national spotlight and a great deal of anger when a video surfaced last week. At a Kenny Chesney concert in June, a videographer captured his drunken, offensive threat to a security guard. "I will jump that fence and fight every ni*ger here, bro."
The website CrossingBroad.com purchased the 20-second clip of his slur for $150. The video, published on July 31, has attracted over 3 million hits on YouTube. The story broke last Wednesday.
The Eagles immediately fined the offending player, who returned to practice Thursday but seemed isolated. On Friday, the team announced that Cooper had been excused from training while he undertakes racial awareness counseling.
Missing four practices, Cooper attended counseling, met with his family, and personally apologized to every member of the team.
Cooper told reporters he didn't ask his teammates for forgiveness. "I told them, 'I don't want you to forgive me because that puts the burden on you,' I want it all on me," the wide receiver said.
"I realize how many people I've hurt, how many families I've hurt, how many kids I've hurt," the Eagles teammate admitted.
The wide receiver's quick return to the field may have been propelled by the Eagles' sudden need for him. Starting receiver Jeremy Maclin suffered a season-ending ACL injury in training camp, and Cooper is reportedly considered one of the players who will be counted on to replace him.
The wide receiver has also drawn flack for blocking Twitter users who tweeted a link to the video at him. He denied any knowledge of the video until it broke last Wednesday, but his actions on Twitter have led some to question this assertion.
In an official statement, the Eagles recounted the story: "Riley Cooper made us aware of the tweets when the video became public," the statement reads. "He told us that he did not know about the video. He informed us he blocked the tweets because he did not know the person nor understand the context of what that person was threatening. We promptly alerted NFL Security."
Coaches reported that Cooper "may have had his best practice in training camp" Tuesday, after the counseling. "He looked like he's moving, like he hasn't missed any days."
"As a team, I feel like we've moved on from this situation," said Eagles Linebacker Demeco Ryans. Wide Receiver Jason Avant agreed that "guys are over it," and "we've accepted his apology."