Tim Tebow Reveals Inspiring Way He Met Girlfriend, Former Miss Universe Demi-Leigh Nel-Peters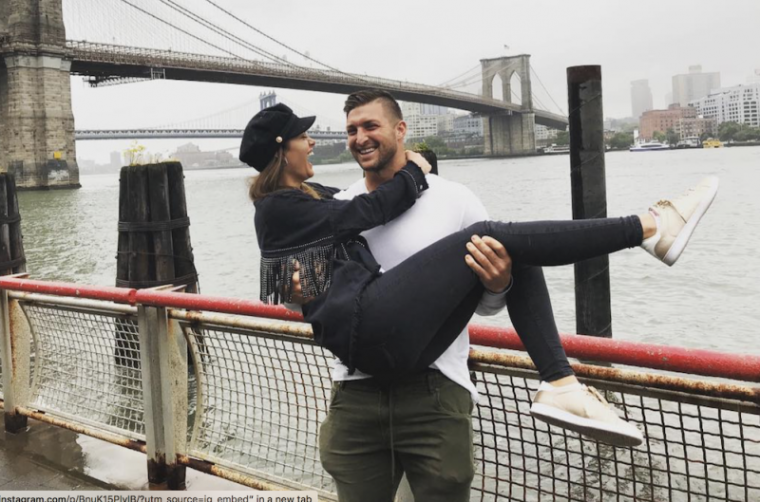 Former NFL quarterback-turned-Minor League Baseball player Tim Tebow is promoting his new book This Is the Day, and during a recent interview he revealed how he met his girlfriend, former Miss Universe Demi-Leigh Nel-Peters.
Tebow said his new book, This Is the Day: Reclaim Your Dream. Ignite Your Passion. Live Your Purpose, is about seizing the day and living out one's God-given potential. On Tuesday, the Heisman Trophy winner told the "Today" show that his new romance with Nel-Peters is a product of him seizing the moment.
"We actually met through one of our nonprofits called Night to Shine," Tebow told Kathie Lee Gifford and Hoda Kotb.
Night to Shine is a worldwide event sponsored by the Tebow Foundation for people with special needs.
"Her sister has special needs, so we invited them to Night to Shine in South Africa,'' he continued. "We kind of met and started talking through that and haven't stopped."
Last month, Nel-Peters wished Tebow a happy birthday on Instagram, solidifying to the public that they're in a relationship. In July, Tebow told ESPN he was blessed to have a beauty queen in his life.
"She is a really special girl and I am very lucky and blessed for her coming into my life," Tebow said. "I am usually very private with these things but I am very thankful."
Nel-Peters, who is from South Africa, won the Miss Universe crown in November 2017.
During the competition, she made clear that her passion was to empower women. Since winning the crown she has developed a program that helps train women in self-defense called the Unbreakable campaign. The 23-year-old was inspired to launch the campaign after being the victim of an attempted hijacking earlier this year in Johannesburg.
Like Tebow, whose foundation helps people living with disabilities, Nel-Peters has said that her biggest motivation comes from her half-sister who has a disability.
"My half-sister was born without a cerebellum and is completely disabled. She is my biggest motivator and inspiration because her situation makes me realize how special life is and I always want to work twice as hard, enjoy life twice as much so that I can enjoy it for her as well. Therefore each experience I encounter is that much more special," Nel-Peters said, according to the Miss Universe page.
Tebow told People magazine last spring that he was ready to start a family but hadn't found the right woman to marry and start a life with. In his list of requirements, he said he was looking for a person with a "good heart" who has a relationship with God.
There is no public mention of Nel-Peters' religious background. Her Instagram page, however, shows the humanitarian work the pageant star has done with a nonprofit in New York called God's Love. God's Love, however, says it's a nonsectarian organization.
Tebow's new book, This Is the Day is now available everywhere books are sold.