Tim Tebow: The College Football Broadcaster?
New Report Says ESPN, CBS, and Fox All Trying to Land Former NFL Quarterback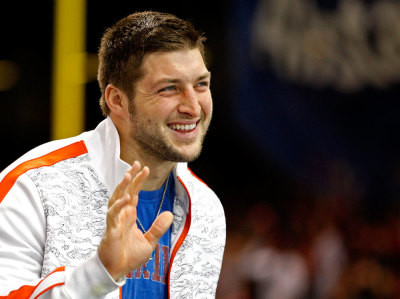 The former NFL quarterback and currently unemployed player Tim Tebow may have several job offers - in the broadcasting world - starting in 2014.
ESPN's Southeastern Conference (SEC) Network, CBS Sports, and Fox Sports are currently all trying to recruit the former Heisman Trophy winner, according to The Big Lead.
ESPN will debut its SEC regional network next August. Its four person lineup currently consists of host and Alabama alum Rece Davis and Paul Finebaum. Tebow, who won two national championships with the Florida Gators, would fill spot three with another SEC athlete rounding out the quartet.
But according to the Big Lead, CBS, which currently airs SEC games weekly and has had extraordinary ratings this season, would also love a piece of Tebow and has said they would shuffle their pre-game show to bring him on.
While Tebow has stayed mostly out of the public eye since he was released by the New England Patriots earlier this year, in a recent interview with Sports Illustrated, he revealed that he has weathered recent disappointments by relying on his Christian faith.
"I've never found my identity in who I was as a football player. I found my identity in who I am in Christ. And when you find your identity as a Christian, then regardless of your status, or your fame, or your popularity, or your position, that never changes," Tebow said. "So the roller-coaster that the world has always looked at my life and viewed, I'm very thankful that I don't have to live it."
"I'm the best now that I've ever been," the currently unemployed athlete added.