Tim Tebow Unfazed by Profanity in Locker Room, But Not at Hair Salon?
Tim Tebow may not mind his New York Jets head coach Rex Ryan using profanity in the locker room, but the 24-year-old quarterback is reportedly not willing to sit through swearing when getting his hair cut.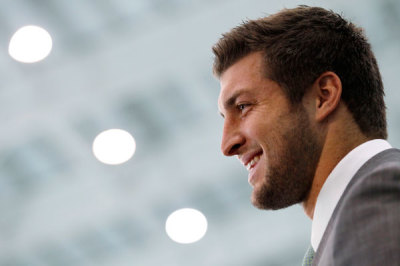 Tebow, known for being an outspoken evangelical Christian, recently requested that his hair stylist refrain from using profanity in a Beverly Hills, Calif., salon. While in Los Angeles for the 2012 ESPY Awards taking place Wednesday night, Tebow reportedly visited the Chris McMillan Salon in Beverly Hills where a client reportedly heard him make a special request.
"He asked for a woman to cut his hair who doesn't curse," the client told Celeb Buzz.
Despite the reports about Tebow being uncomfortable around the profanity, the Jets backup quarterback said he does not mind hearing a swear word or two in the Jets locker room. When he first joined the team in March, Tebow spoke about being in an environment with profanity after hearing head coach Rex Ryan utter a few curse words in the past.
"I have so much respect for Coach Ryan," Tebow told the press in March. "He's a coach you want to play for, a coach you want to go out there and do good for. . . . There's not many NFL locker rooms you're going to go where you have the cleanest language, so I'm not too worried about that."
However, the NFL player worried some who thought he used profanity in a game against the Minnesota Vikings last season. ESPN writer Rick Reilly claimed that he hired a lip reader to verify if Tebow used profanity out of frustration.
According to Reilly, Tebow has been practicing what he preaches.
"Tim Tebow walks the walk. I hired a lip reader to see if he swore during a Vikings game," Reilly tweeted last season. "Not once. Worst was an angry: 'Let's go!' #Real"
What is Tebowing?
Tim Tebow The Next Bachelor?