Tim Tebow's Christian Fanbase Keeping Him Out of NFL?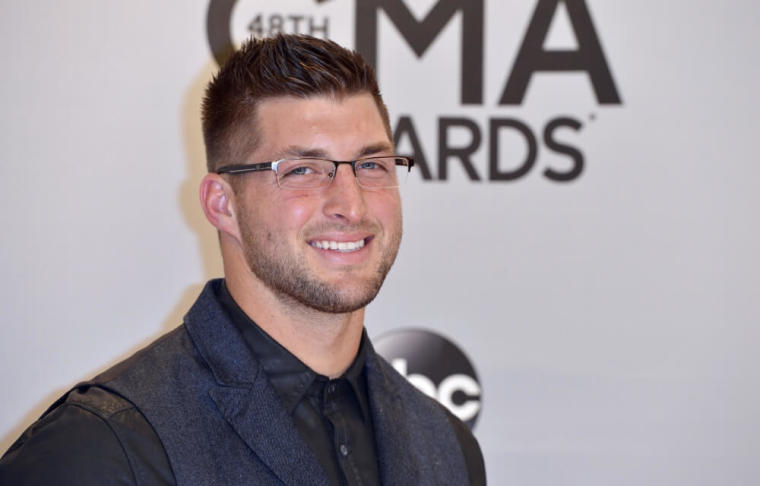 Tim Tebow's crazed Christian fanbase might be keeping him out of the NFL – at least that's what one sports commentator believes.
During a recent Fox Sports 1 report, "The Herd" host Colin Cowherd complimented the 27-year-old Christian athlete's abilities. In the next breath he blamed Tebow's Christian fans for the reason he has not played in a regular season NFL games in close to four years.
"I think he's one of the best 50 football players — on any team in the league, you could use him… I think with Tebow, his fans ended up hurting him," Cowherd said, according to Breitbart News reports. "I think Tebow's fans hurt Tebow more than Tebow. Nobody wants Tebow because his faith-based, crazy fans that take over the stadium."
While Cowherd went on to call Tebow a "good enough athlete to be on every roster in this league," he believes the quarterback's fans have kept him from playing in a regular season game since 2012. Tebow has proven to be a strong college football player after he helped the University of Florida Gators win a national championship as the team's starting quarterback in 2008.
He was also on the team when it won a championship in 2006 and was the first college sophomore to win a Heisman Trophy in 2007, which honors the best football player of a season.
Although he has struggled to find his place in the NFL after being drafted to the Denver Broncos in 2010, Tebow signed to the New York Jets in 2012, before getting picked up by the New England Patriots in 2013, followed by the Philadelphia Eagles in 2015.
Earlier this year, country singer Blake Shelton questioned if Tebow's Christianity had something to do with the halt of his NFL career.
"Just saw the 2011 playoff game with Steelers vs. Broncos. Can someone please give me a good reason [why] Tim Tebow isn't playing in the NFL," Shelton questioned. "I mean are you telling me that there's NOT a team that needs him out there? Look at the problems so many teams have at quarterback!"
After one follower told Shelton that Tebow's religious beliefs may have something to do with Tebow's inability to get picked up by a team in the league, Shelton expressed his shock.
"Is that seriously the reason?! That's pretty sad …," Shelton responded. "Glad they don't hold country singers to that standard."
While Tebow, now an SEC football analyst, has expressed interest in wanting to return to the NFL, he has also spoken about being defined by more than just football.
"In the end, football is just a silly game. Greatness comes from serving," Tebow told a crowd of students at a Liberty University convocation in 2013. "... You want to be great? Be a servant. You want to be great? Humble yourself."
.