TobyMac Mentors New Artist Hollyn and Changes Her Life (Interview)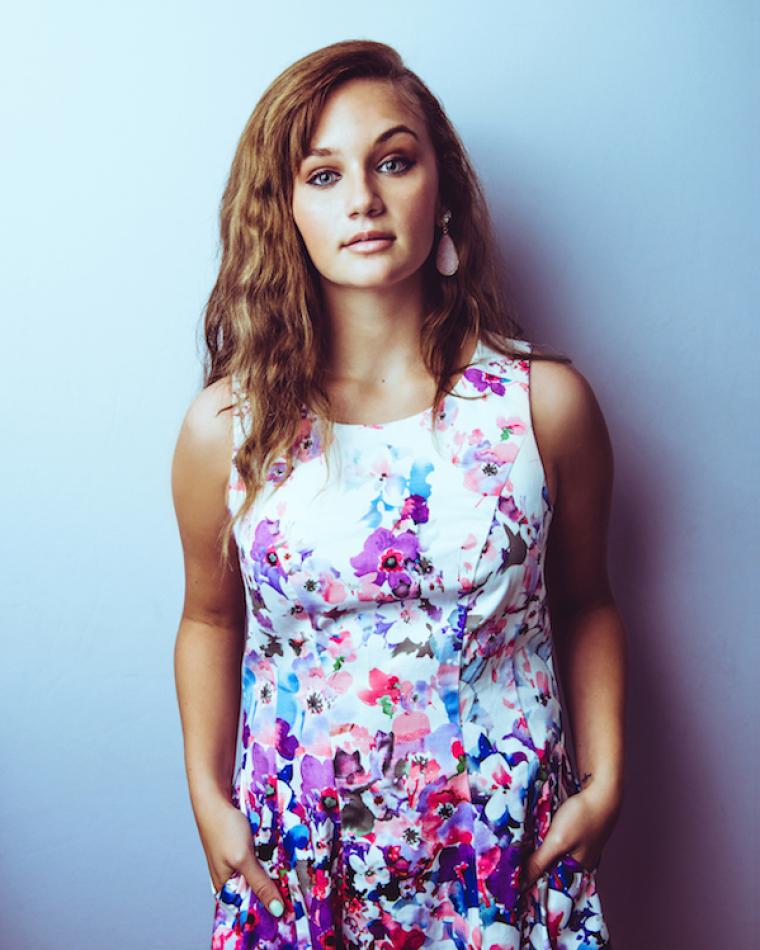 Gotee Records' newest artist Hollyn was first introduced to the world on the American Idol stage, but after two years of working on her debut album, the young singer is now winning over people's hearts alongside Christian pioneer TobyMac.
The Ohio native was raised in church and music has always had a big influence on her life. Christian music lovers were first introduced to Hollyn on TobyMac's latest album release with the songs "Lights Shine Bright" and "Backseat Driver," which she was also a co-writer on.
As a singer/songwriter, Hollyn co-wrote five of the six tracks on her eponymous debut EP. The edgy inspiring musical piece was produced by Grammy-winning producers Cobra (Dirty Rice and Joseph Prielozny). Cobra also produced two tracks on the award-winning album Anomaly from Lecrae, which explains why Hollyn was able to release her own version of the hip-hop hit by covering Lecrae's Dove Award winning song, "All I Need Is You."
The vibrant millennial celebrated her first No. 1 single with the song "Alone" featuring TRU. The single shot up to the top of the Hot AC/CHR chart in just six weeks and made Christian radio chart history with 95 percent of the Hot AC/CHR panel adding the single. In addition the song charted on the United States Viral 50 and Global Viral 50 chart playlists as well as crossed a half million plays. Hollyn was the only Christian genre artist featured on these lists.
"Alone" was co-written by Hollyn, TobyMac, producer Bryan Fowler and TRU.
The following is an edited transcript of Hollyn's interview with The Christian Post in which she discusses her sudden success and the impact the former DC Talk member is making on her life.
Christian Post: Did you ever anticipate having a No.1 single so soon?
Hollyn: I didn't expect any of this to happen to me, including the number one single. I am so humbled to have a team and community behind me that pushes me to be my best. I always thought God had something for me in music, but never thought I'd be here.
CP: Your voice is great and your style is unique, who are some of your influences? Who are some of your current favorite artists?
Hollyn: Thank you so much! My influences are spread out across the boards. I grew up singing Southern gospel, so I loved the Isaacs. Other artists that continue to inspire me are Ed Sheeran, Justin Timberlake, and R&B and hip hop music in general.
CP: TobyMac is a pioneer in the Christian community and he has taken you under his wing, how has it been?
Hollyn: Toby has changed my life. He not only has taken me under his wing in a musical sense, but he and his family/community have accepted me into their lives. It's a beautiful life and I am eternally grateful for his friendship and all he and my team have done for me.
CP: What are some things you've learned from Toby or look forward to learning from him?
Hollyn: One of the main things Toby always says is, "Love people well." This has stuck with me and at the end of the day, apart from the music, it's the relationships and impact we make on people's lives that count. He is full of wisdom, so I'm sure I'll continue to learn from him.
CP: You grew up in church, how do you keep your relationship with Christ strong in an age with so many distractions?
Hollyn: My relationship with Christ isn't perfect. No one's is, but I strive to make it a priority. I believe that who you surround yourself with is a huge factor in your spiritual walk. Surround yourself with people who will challenge you to grow, yet accept you and the calling God has placed on your life.
CP: Times are dark and getting darker what advice do you have for others, especially the youth to keep the faith?
Hollyn: The times we're living in are very dark, and what I would say to my generation, or anyone following Jesus, is to remain strong in your relationship. If we stand together and encourage each other to pursue Christ, we will overcome. Plus, we already know who wins in the end, so that's comforting!
CP: What can we expect from you in the near future?
Hollyn: Right now I'm writing my record and hopefully it will be out sooner than later! Also keeping busy with summer festivals, traveling, and a lot more. This is the most fun I've ever had in my life, and I can't wait to share what we have been working on!
CP: What do you hope to accomplish with your influence?
Hollyn: I've always said that I want my music to be genuine and vulnerable, and I'm thankful my team at Gotee and True Artist are allowing me to do just that. I know that if I write songs that resonate with me, that someone will relate to them as well. I pray my music reaches your soul and inspires you to create, grow, and sustain your calling.
Hollyn released her six-song EP digitally, late 2015 and has been touring. For more information on Hollyn visit iamhollyn.com
jeannie.law@christianpost.com