Tom Clancy Dies Aged 66 in Baltimore Hospital; Cause of Death Not Announced
Beloved military thriller author Tom Clancy, known for such great works of literature as The Hunt for Red October and Patriot Games, passed away Tuesday night in a hospital in Baltimore, Md. The cause of death has not been made immediately public.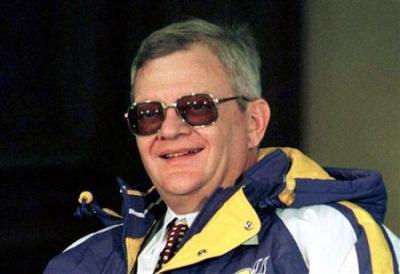 Publishers Weekly, an American weekly magazine, announced via its Twitter account early on Wednesday that "Bestselling author Tom Clancy has died" at the age of 66.
Julie Bosman, a New York Times reporter covering book publishing, also confirmed the tragic news through her Twitter account: "Tom Clancy's publisher confirms to the NYT that he died last night in a hospital in Baltimore." Clancy was born in Baltimore in 1947.
"He was a thrill to work with," Bosman quoted Ivan Held, the president of Putnam publishing company, an imprint of the Penguin Group, as saying about Clancy.
Clancy was seen by many as the author who spearheaded the military thriller genre of literature with his well-known works that included The Hunt for Red October and The Sum of All Fears. Several of his works were turned into blockbuster movies, while others inspired strategic military video games such as "The Rainbow Six," "Ghost Recon," and "Splinter Cell."
One of Clancy's most famous characters, CIA agent Jack Ryan, was played by multiple big-time Hollywood actors on the silver screen, including Alec Baldwin in "The Hunt for Red October" and Harrison Ford in "Patriot Games." Baldwin tweeted his respects to Clancy on Wednesday morning, writing: "Rest in peace the great writer Tom Clancy. A real gentleman of the old school."
Much of Clancy's knowledge of the U.S. military in his books came from his close relationship with the armed forces in the U.S. that allowed him to gain insider knowledge into the workings of the military. Clancy told CNN in a 2003 interview that although he did know more about the inner workings of the military than most, he would never write about any information that could jeopardize the military's operations, especially abroad.
"I'll never decide for commercial reasons to put something in that endangers our national security. You just can't do that," he told CNN in 2003. "There was one thing, I discussed with a friend of mine in the Royal Navy. I told him a story I knew, and he said, well, Tom, you may never repeat that, as long as you live. And I haven't."
Along with writing a deluge of popular novels, Clancy also co-founded the video game developer Red Storm Entertainment in 1996, as well as became part-owner of the Baltimore Orioles baseball team in 1993.
Tom Clancy dies in Baltimore age 66