Top 5 religious freedom victories of 2018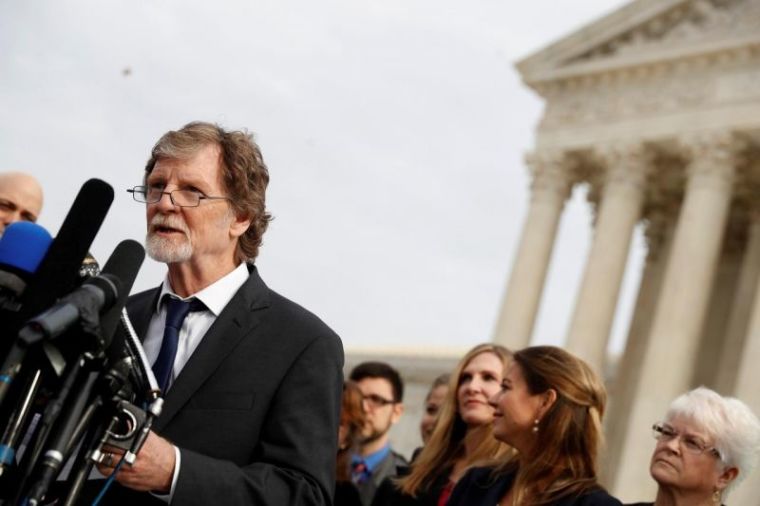 The year 2018 was one that saw many victories for those seeking the protection of their right to act in accordance with their religious convictions.
Whether it was a baker, an ex-fire chief or a poor farm laborer sitting on death row in Pakistan, large and small victories abound for those defending their First Amendment rights.
Below are five of the most important victories for religious freedom and free speech in 2018.
Fire chief fired over views on homosexuality gets $1.2 million 
In October, the city council of Atlanta voted to pay $1.2 million in damages to Kelvin Cochran.
Cochran, who served as U.S. fire administrator for the United States Fire Administration under President Barack Obama, sued the city after he was terminated in 2015 for handing out his 162-page book to about a dozen employees.
The book, which he wrote for a men's Bible study, had a very brief mention of his Christian beliefs on homosexuality and called it a perversion.
Cochran was terminated by Democrat former mayor Kasim Reed, who claimed that Cochran violated policy by promoting his book while working.
Represented by the prominent religious freedom legal nonprofit Alliance Defending Freedom, Cochran claimed that the city violated his free speech rights under the First Amendment. A federal judge sided with Cochran last year.
"This policy would prevent an employee from writing and selling a book on golf or badminton on his own time and, without prior approval, would subject him to firing," the judge's ruling states. "It is unclear to the Court how such an outside employment would ever affect the City's ability to function, and the City provides no evidence to justify it …. The potential for stifled speech far outweighs an unsupported assertion of harm."
Supreme Court strikes down California abortion notice law
The U.S. Supreme Court ruled in June that California can not force pro-life pregnancy centers to violate their religious or conscious beliefs by promoting abortion and other birth control measures they oppose in their centers.
A 5-4 decision in National Institute of Family and Life Advocates v. Becerra ruled against the California Reproductive FACT Act on grounds that it would force pro-life centers to post unlicensed notices that would impose an undue burden through requiring a "government-scripted, speaker-based disclosure requirement that is wholly disconnected from California's informational interest."
"As California conceded at oral argument, a billboard for an unlicensed facility that says 'Choose Life' would have to surround that two-word statement with a 29-word statement from the government, in as many as 13 different languages," Justice Clarence Thomas wrote in the court opinion.
In October, a federal judge "permanently" struck down the law.
Christian baker wins at Supreme Court 
After being punished by the state of Colorado for refusing to bake a custom cake for a same-sex wedding in 2012, Colorado baker Jack Phillips of Masterpiece Cakeshop was vindicated by a 7-2 Supreme Court ruling in June.
The Supreme Court ruled that the Colorado Colorado Civil Rights Commission had a clear bias and "clear and impermissible hostility toward" Phillips' "sincere religious beliefs" on homosexuality and marriage.
The decision was written by Justice Anthony Kennedy, in one of his final rulings before retirement. Kennedy condemned the commissioners for stating that Phillips could personally hold religious beliefs but "cannot act on his religious beliefs 'if he decides to do business in the state.'"
"This sentiment is inappropriate for a Commission charged with the solemn responsibility of fair and neutral enforcement of Colorado's antidiscrimination law — a law that protects discrimination on the basis of religion as well as sexual orientation," the opinion stated.
Despite the ruling, Phillips had to file another lawsuit last month as the state civil rights commission is trying to punish him again, this time for refusing to make a gender transition cake.
"At this point, he's just a guy who is trying to get back to life," Alliance Defending Freedom attorney Jim Campbell said in a statement, according to The Associated Press.  "The problem is the state of Colorado won't let him."
Supreme Court vacates ruling against Christian florist
In June, the U.S. Supreme Court vacated a Washington state Supreme Court ruling against Barronelle Stutzman, a Christian grandma florist who was fined for refusing to provide floral arrangements for the same-sex wedding of a gay customer that she served for years.
Her case was sent back to the Washington Supreme Court to be reconsidered in light of the Masterpiece Cakeshop ruling in favor of Jack Phillips.
"Barronelle serves all customers; she simply declines to celebrate or participate in sacred events that violate her deeply held beliefs," ADF Senior Vice President of U.S. Legal Division Kristen Waggoner said in a statement.
Asia Bibi acquitted after 8 years on death row 
Pakistani Christian mother of five Asia Bibi had spent nearly a decade in prison after she was accused by Muslim women of insulting Islam during an argument. Bibi was sentenced to death by hanging in 2010 by a court in the Punjab province.
After years of delays, a three-judge panel of Pakistan's Supreme Court finally heard her appeal and acquitted her of the crime in October. She was released from prison into protective custody as she faces death threats.
In response to her acquittal, hardline Muslim groups protested in cities across Pakistan, calling for Bibi's death and the death of the justices who acquitted her. The government eventually came to an agreement with the Muslim protesters in which the Supreme Court would review Bibi's acquittal. Under the agreement, however, Bibi is not allowed to leave Pakistan until the review occurs, which could take months or years.
Pakistan's blasphemy laws are regularly criticized by international human rights advocates who say it is often abused by Muslims to settle scores or persecute non-Muslim religious minorities.