Trafficking survivors detail Pornhub's 'criminal' practices at congressional briefing
Lawyer: Pornhub 'built its empire on criminal copyright violations'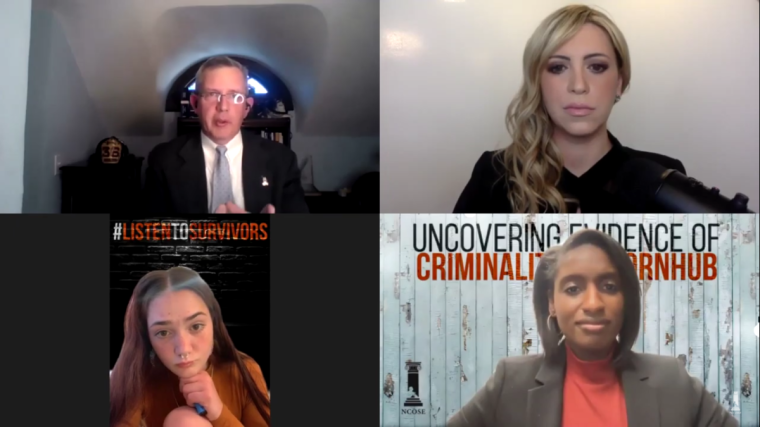 A coalition of advocates and sex trafficking survivors have detailed to U.S. Congress the myriad ways one of the world's largest pornography sites has concealed the sexual abuse of children for over a decade and has "built an empire" off criminal copyright violations. 
In a congressional briefing that took place last Thursday hosted by the National Center on Sexual Exploitation, the advocates continued scrutiny that Pornhub has come under in recent months as it has already faced questioning from lawmakers in Canada. 
MindGeek, the parent company of Pornhub and other popular porn websites, has faced mounting accusations that its companies have hosted child sex abuse videos and other non-consensually recorded content, including videos of rape and sex trafficking.
"MindGeek's empire of exploitation is built on the monetization of sexual abuse and exploitation of children," said sex trafficking survivor Brook Bello of the Sarasota, Florida-based More Too Life. She called for it and Pornhub to be shut down. 
The heightened pressure on Pornhub has intensified since early 2020 as more survivors have come forward with their stories of exploitation, and a petition was launched that garnered over 2.2 million signatures calling for the website to be shut down because of its links to trafficking. The petition came as The New York Times published an article by columnist Nicholas Kristof titled "The Children of Pornhub" in December.  
A Pornhub survivor named Serena, whom Kristof interviewed for his article, shared Thursday that the man who exploited her also uploaded a video of her to Pornhub. And when she contacted the website pretending to be her mother to demand the company take the video down since she was only 14, Pornhub took weeks to respond.
The video was taken down only to reappear there days later, Serena detailed.
"I'd have to do this over and over and over again," she said, noting that she would tell the company that the videos were during a dark time in her life, and she was a minor when it was filmed. 
She explained how Pornhub made her go through many steps to prove her identity and said the company made her send photos of herself with an ID card next to her face.
She said the video set her on a destructive path of dropping out of school, drug use and becoming homeless. She wound up with an older guy who convinced her that since she already had an online presence, there was nothing wrong with making money in the same way. 
"It wasn't something that a 14-year-old should have had to deal with, let alone continue to deal with all the way up until I'm 20 now. And just after the [Kristof] article, that's when Pornhub started deleting all of their videos. And I haven't seen a video of myself up there again," she said. 
Offering a legal perspective, Serena's attorney, Michael Bowe, shared during the briefing that her story is indicative of what has happened to thousands upon thousands of women. In the span of just one year of investigation, the attorney has spoken to and investigated over 100 stories that sound very similar to Serena's plight, he said. 
"And the impact ... doesn't end with the assault or the posting [of videos on the site]. It takes life away from women, and it derails their life," Bowe told congressional staffers, emphasizing that lawmakers need to understand that the porn industry is not occupied by responsible corporate actors. 
"This is not Apple. This is not IBM. It's not Microsoft. This is an industry which, for various reasons, grew up in illegality. The most obvious and mundane illegality is that the entire industry, this online porn industry, particularly Pornhub and MindGeek, the mack daddy of them all, built its empire on criminal copyright violations."
"They basically stole millions and millions of legitimate adult entertainment videos, put them up there, all of which was criminal," he added. "And they made a fortune, between $500 million and $1 billion a year."
The companies knew that child sexual abuse content, trafficking and rape videos were on the sites and they did not care, he said. The attorney argued that their carelessness reflects the entire industry that is inherently rogue and can't be trusted to self-police.
Current federal legislation on the books in the U.S. is dated and from the pre-internet era, Bowe added. He asserted that Pornhub and MindGeek do not believe that existing laws apply to them.
"What needs to happen is the statutes need to be updated so that there is no loophole and no ambiguity. ... There needs to be a clear obligation that they ensure that the content that's on their site is consensual and of age," he stressed. 
Laila Mickelwait, the founder of Traffickinghub who launched the petition to shut down Pornhub last year, highlighted six areas of criminal content on the website: sex trafficking, child sex abuse material, rape, incapacitated sexual assault, "revenge porn" and hidden-camera/spycam abuse. 
"Videos on Pornhub have obvious indicators of illegality, of criminal sexual abuse," Mickelwait explained, noting that some videos contain tags such as "middle schooler" and "young teen."
Content moderators who have come forward said that Pornhub could flag illegal content and disturbing comments. But what the site did instead was hide and censor the troubling signs, Mickelwait said.  
"They have spent over a decade concealing the sexual abuse of children on their site, making zero reports to relevant authorities and child protection agencies," she added. 
Since December, five lawsuits have been filed against Pornhub on behalf of trafficked women and minors, while calls for criminal investigations have occurred in both the U.S. and Canada. 
"The evidence of crime is overwhelming," Mickelwait said at the close of the briefing. 
She stressed that three things need to happen: a formal government hearing in the U.S. as Canada has done, the passing of preventative laws to respond in a regulatory fashion to the evasive porn industry and a criminal investigation and prosecution by the Department of Justice of MindGeek and Pornhub. 
"A slap on the wrist for MindGeek is a slap in the face for the countless survivors who have had their lives completely destroyed by this predatory company," Mickelwait concluded. 
Terry Forliti of Breaking Free in Minnesota, also a survivor, emphasized that extensive movement occurs between several fronts of the commercial sex trade. Women are recruited into pornography from stripping or prostitution, trafficking victims are videotaped and the material is posted on pornography sites that they have no control over. People who are recruited into adult films are then pressured to escort, she explained. 
"The commercial sex trade tries to create false borders between the legal industries like stripping and illegal crimes like sex trafficking," Forliti said. "These lines are more blurred and coercion is deeply embedded in all forms of the sex trade."
She continued: "the physical and psychological harms of being exploited on a platform such as PornHub is similar whether you've been in the life, or you were passed out and somebody uploads a video of your sexual abuse."
"In both cases, you lose control of intimate images, and it's a massive violation of your privacy," Forliti said. "And this has a long-term impact on your sense of security, ability to form long-term relationships and can lead to other addictions and coping mechanisms." 
Online sexual abuse is becoming increasingly common, she believes, because there is no legal check on such abuse. 
Author and researcher Christine Stark was trafficked as a child in the 1970s and 1980s in an organized sex trafficking and porn ring. Because victims have no control over the use of the images that are widely distributed, they have no closure from the abuse they endured. 
"I've lived my entire life dealing with the harms of being tortured and also knowing that those images are being used over and over and over again," Stark stated. "It's like being used all the time for the rest of your life, psychologically, knowing that that is going on."