Trans protesters spit on, harass women, children at signing of Texas law protecting women's sports
Witness says protesters screamed profanities at girls as young as 5, called them 'trans-phobes'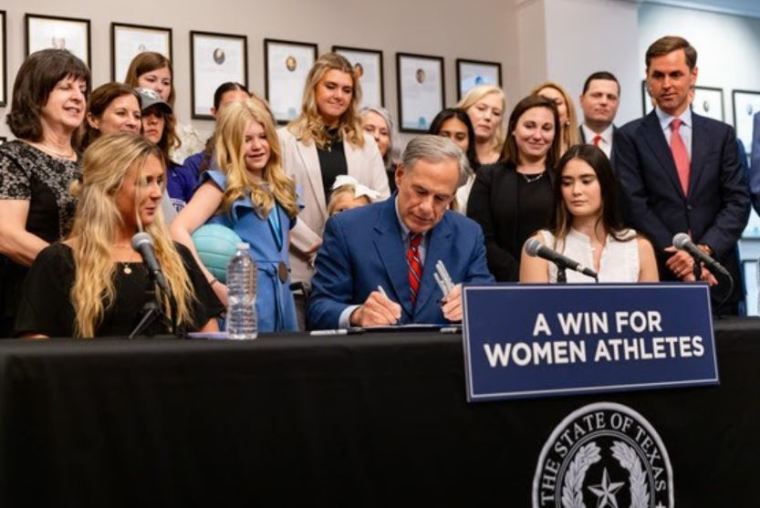 Witnesses say trans activists and allies spat and shouted at attendees at a North Texas ceremonial signing of a new state law that prohibits biological males from competing against women in collegiate athletics.
Texas Gov. Greg Abbott was joined by former NCAA athletes and a number of pro-women activists Monday for the signing of the Save Women's Sports Act at the Texas Women's Hall of Fame in Denton, about 20 miles northwest of Dallas.
Under Senate Bill 15, a biological male is prohibited from competing in a college-level athletic competition designated for a biological female athlete to maintain competitive fairness. The bill also creates a mechanism for people to seek injunctive relief against any Texas public college or university or intercollegiate athletic team if it violates the provisions of the bill.
Opponents of SB15 were on hand at the Hall of Fame to protest the signing and were seen on video screaming "trans rights matter" and gesturing at attendees as they left the event.
State Sen. Mayes Middleton, R-Galveston, one of the event's attendees, shared a video of what he called the "tolerant left" whom he says were "spitting on us, throwing water on us and willing to get violent to oppose fairness in women's sports."
In the video, activists are seen waving transgender pride flags while others chant "trans lives matter." As the group passes by, another protester can be seen throwing water at the attendees, while someone off-camera is heard saying, "We know where you live."
Michelle Evans, a family advocate and co-founder of Texans for Vaccine Choice, told The Christian Post she was spat on by a protester trying to block her re-entry into the event.
She shared a video which she said showed her being "physically assaulted — including being spit on in the eye — by the kindness and inclusion crowd."
As I was walking through @txwomans after the #SB15 signing I was physically assaulted - including being spit on in the eye - by the kindness and inclusion crowd. #SaveWomensSports#LetWomenSpeak@IWN@IWF@IWV@Riley_Gaines_@TxValuesAction@FamilyProjectTXpic.twitter.com/hiolGNSbKV

— Michelle Evans (@ThinkerMichelle) August 7, 2023
"The spit wasn't caught on camera, but at the end of the video, you can hear me tell officers,  'spit in my eye, spit in my eye,'" she told CP via email Friday.
Evans says after she filed a report, campus police gave the woman — whom Evans later identified in a photo — a citation for misdemeanor assault.
NCAA athlete Macy Petty said she and fellow Christian athletes Riley Gaines and Paula Scanlan of Independent Women's Voice (IWV) were initially prevented from leaving the event due to the protesters.
"They were completely unhinged, to be honest," Petty told Fox News Wednesday. "... They were spitting on people, calling us 'sexist,' which frankly doesn't make sense because we're the only ones who acknowledge that sex even exists.
"They called us 'racist,' which didn't make sense."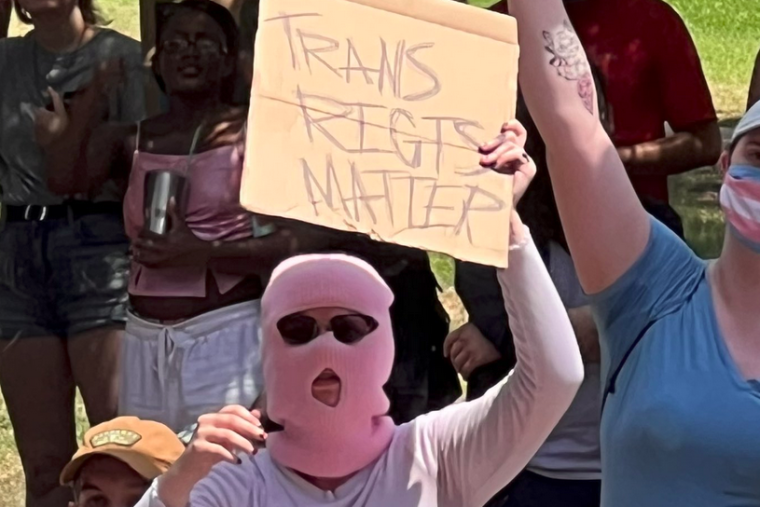 Another video shared by Evans showed girls as young as 5 years old being "harassed and called vulgar names."
Evans said she captured the footage because she thought it "would be important to document the protesters' behavior with young children."
I saw the girls come out of the library, looking absolutely terrified because the screaming of the protesters actually intensified when they came out with their mothers," she said. "They purport to want to "protect kids" but showed that they have little to no respect for the innocence of children.
According to Evans, the protesters screamed profanities, physically intimidated the girls and called them "transphobes."
"These are elementary-aged girls!" she added.
Despite such rabid opposition, Evans said she intends to hold another Let Women Speak event on Saturday in downtown Austin as part of a "women-centered alternative" to the city's annual pride event, which is scheduled for the same day.
She said the women's event has already been deplatformed by Eventbrite and the corresponding shortlink disabled by Bitly — all because of its political views.
"Both companies determined that the event — which allows women to speak openly and boldly about the negative impact that radical gender identity ideology has had on their lives — is harmful and hateful," she said.
In light of this week's protests and others being organized ahead of the event, Evans said there will be a "large security presence to ensure the safety and comfort of our speakers and attendees."
And as for what the future holds for this fight, Evans said those who are passionate about women's rights can no longer stand on the sidelines.
"The time has come to be brave," she said. "We can no longer stand to be the silent majority as our silence makes us complicit with a movement that seeks to destabilize childhood and erode safeguards for women and children. 
"Stand up and be counted."