Transgender Troop Ban Is a 'Great Favor' for the Military, Trump Says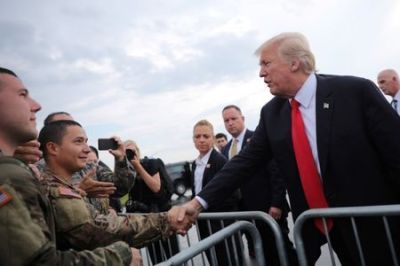 President Donald Trump has doubled down on his vow to ban transgender individuals from serving in the United States military, asserting Thursday that he is doing the armed forces a "great favor."
Trump had announced on Twitter via three tweets on July 26 that the U.S. military would no longer "accept or allow" openly serving transgender troops after consultation with his generals. However, the vow on social media has not been made official because the White House has not issued any formal guidance to reverse an Obama-era policy permitting transgender troops.
But that didn't stop transgender members of the military from filing a lawsuit against Trump this week, claiming that his tweets discriminate against them based on their "transgender status" and that his tweets lack "rational basis." The lawsuit claims that Trump's tweets violated the Fifth Amendment.
During a news conference held at the Trump National Golf Club in Bedminster, N.J., the president defended his tweets and promise to ban transgender individuals from the military.
Trump explained that the "military is working on it now."
"They're doing the work. It's been a very difficult situation," Trump said when asked about the ban. "And I think I'm doing a lot of people a favor by just coming out and saying it. As you know, it has been a very complicated issue for the military. It's been a very confusing issue for the military and I think I am doing the military a great favor."
Trump also assured that he has "great respect" for the transgender community.
"I think I have support, or I've had great support, from that community. I got a lot of votes," he stated.
Although no policy change has been made official, the lawsuit filed in the U.S. District Court of Washington on Wednesday by LGBT activist groups alleges that the White House has "outlined a plan to end the active service of transgender servicemembers to be transmitted to the Department of Defense for implementation." The lawsuit makes this claim based on "information and belief."
"The categorical exclusion of transgender people from military service lacks a rational basis, is arbitrary, and cannot be justified by sufficient federal interests," the lawsuit claims.
The Associated Press reported last week that a number of military lawyers have been assembled to work with the White House to "flesh out some of the issues" associated with Trump's desired transgender ban. Additionally, Pentagon chief spokeswoman Dana White has confirmed that there are talks between the White House and Pentagon to come up with the details of the new policy.
"While the liberal media insists no thought went into the president's tweets, the administration has been coordinating with military attorneys behind the scenes for days," Family Research Council president and leading social conservative activist Tony Perkins wrote in a blog post. "Fortunately, a Pentagon working group had already been established to deal with the issue as part of Defense Secretary James Mattis's order to delay the enlistment of people confused about their gender."
On July 27, retired flag-rank military officers, including FRC Executive Vice President Jerry Boykin, wrote a letter to Trump to express their gratitude for his tweets and reiterated how a policy that not only allows transgender individuals to openly serve but also would pay for their gender transitions could hurt military readiness and military pocketbooks.
"Even if it can be scientifically demonstrated that gender reassignment procedures medically benefit some individuals, there will still be concerns about the deployability of these individuals," the letter reads. "DoD guidelines require that those serving in the military be 'medically adaptable to the military environment without the necessity of geographic area limitations.' However, both hormone therapy and gender reassignment surgery result in the need for specialized medical care which will not be available in all geographic locations."
"Aside from the time lost due to the non-deployability of the person transitioning, one must also consider the time taken away from commanding officers for transgender case management. The detailed assessment and management of these complex cases by commanders would have been substantial," the letter continues. "Needless to say, that is time not being spent training or thinking about how to engage and defeat our enemies in combat. The shifting of CO time would have been a real detriment to military effectiveness."