'True Jesus' Author David Limbaugh: 'The Case for Christ' Shows Abundant Proof for Christianity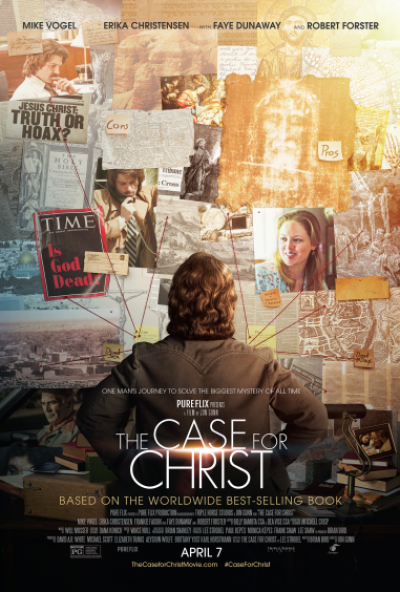 Lawyer and best-selling author David Limbaugh, behind the recently released The True Jesus book, has joined others in praising "The Case for Christ" movie and its presentation of the proof for Christianity.
"I began my search for Christ as a believer in God but not necessarily in the God of the Bible. But my friend Lee was even further from God. He was an outright atheist," Limbaugh said in an article for Tulsa World on Monday, referring to Lee Strobel, the author of the book that was recently released as a movie.
"This movie shows how Lee was on a mission to disprove Christianity's truth claims and bring his recently converted wife to her senses and ended up being slayed by the evidence," he added.
Limbaugh, who in an interview with The Christian Post last week explained how his own book challenges pop culture representations of Jesus, described the investigative process in "The Case for Christ," and how Strobel initially searched for evidence to disprove Christianity.
He highlighted Strobel's analysis of the New Testament in his research, and wrote:
"Surely, our existing copies, what few remain, are unreliable. To the contrary, he discovered that the manuscript evidence for Christianity is abundant. There are more copies of the New Testament than any other ancient document, including the classics whose authenticity we don't give a second thought."
"We have but a handful of copies of most ancient documents, compared with almost 6,000 copies of the New Testament."
Chronicling the various other methods with which Strobel tried to disprove Christ and His resurrection, Limbaugh noted that the former atheist had to concede that he "could not find a chink in Christianity's armor."
"He was drowning in the sea of evidence but still resisted. He kept hoping that he would achieve some breakthrough and get his beloved wife back. But it was not to happen," he noted, referring to part of the film's plot.
Limbaugh advised both "believers and nonbelievers" alike to see the movie.
"You will witness the power of God touching the heart of a genuinely wonderful human being — Lee Strobel, who has since used his gifts to spread the Word like few other people I know," he said.
"Bless Lee and Leslie Strobel for this tremendous film and for their work to spread the message of salvation through faith in Jesus Christ."
"The Case for Christ" enjoyed a decent box office debut earlier in April, making the weekend's top 10 box office listing, and scoring a rare "A+" audience grade on CinemaScore.
Strobel said in his interview with CP earlier in April that people at different stages of belief or nonbelief can find value in the story and the movie.
"Some of the evidence for the resurrection of Jesus helped convince me, as an atheist journalist, that there is really truth behind the Christian claims," Strobel said.
"We are living in a post truth era, where people are searching for solid ground, they're looking for something to say this is true, I can rely on this. Christianity claims to be true. It says it's not wishful thinking or make-believe or legends or mythology, but it's based on actual historical evidence. And I think these days young people especially are looking for something solid like that to put their trust in," he noted.