Trump Admin Ends Visas for Unmarried Same-Sex Partners of United Nations Employees, Diplomats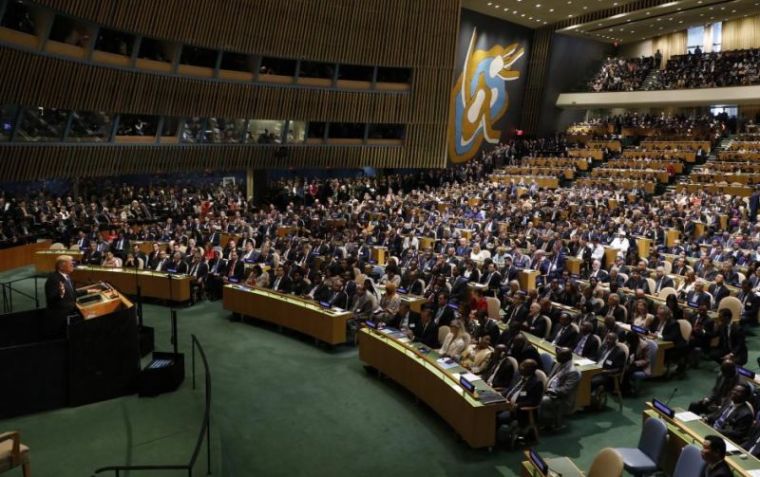 The Trump administration has enacted a measure that ends visas given for the unmarried same-sex partners of United Nations employees and diplomats.
Taking effect on Monday, the new policy states that to be eligible for a G-4 visa, the partner of a UN official must provide proof of marriage.
"Since 2009, the United Nations has been informed that the Department of State does not issue a G-4 visa for opposite-sex domestic partners," noted a memo from Sept. 13.
"The diplomatic note informs the United Nations that the Department of State will not issue a G-4 visa for same-sex domestic partners. As of 1 October 2018, same sex domestic partners accompanying or seeking to join newly arrived United Nations officials must provide proof of marriage to be eligible for a G-4 visa or to seek a change into such status."
Current UN officials with domestic partners have until New Year's Eve to provide proof of marriage or they will have to leave the United States within 30 days unless they provide proof of marriage or receive authorization to remain in the country via a change of "non-immigrant status."
"Moreover, to be eligible for a G-4 visa, the spouse of a United Nations official must not be a member of some other household and must reside regularly in the household of the principal," added the memo.
The new policy is seen as especially problematic for unmarried same-sex couples, as only about 30 countries currently legally recognize same-sex marriage either nationwide or in some localities.
Akshaya Kumar, deputy United Nations director at Human Rights Watch, criticized the new policy in a recent blog post.
"Those not yet in the country will need to show they're married to secure a visa, potentially forcing those living in countries without marriage equality to choose between a posting at UN headquarters or family separation," wrote Kumar, as quoted by USA Today.
In defense of the new visa policy, an unnamed White House official told The Washington Blade earlier this year that it actually promotes "fairness among all of our diplomats so that all spouses can be recognized as such and receive appropriate privileges and immunities for which they are eligible."
"In order for opposite sex couples to enjoy the benefits and privileges of a diplomatic spouse, they must be married," explained the official, as quoted by the Blade. "The same is now true for same sex couples."
The new visa policy comes not long after the Department of Homeland Security released a proposed new rule that would allow for denying green cards to immigrants seeking public benefits.
Released last month, the DHS' proposed rule would require that "all aliens seeking an extension of stay or change of status to demonstrate that they have not received, are not currently receiving, nor are likely to receive, public benefits as defined in the proposed rule."
"Aliens who seek adjustment of status or a visa, or who are applicants for admission, must establish that they are not likely at any time to become a public charge, unless Congress has expressly exempted them from this ground of inadmissibility or has otherwise permitted them to seek a waiver of inadmissibility," noted the summary of the proposed rule.