Trump AG Unites Republicans, Democrats ... in Opposition to His Drug Crime Policy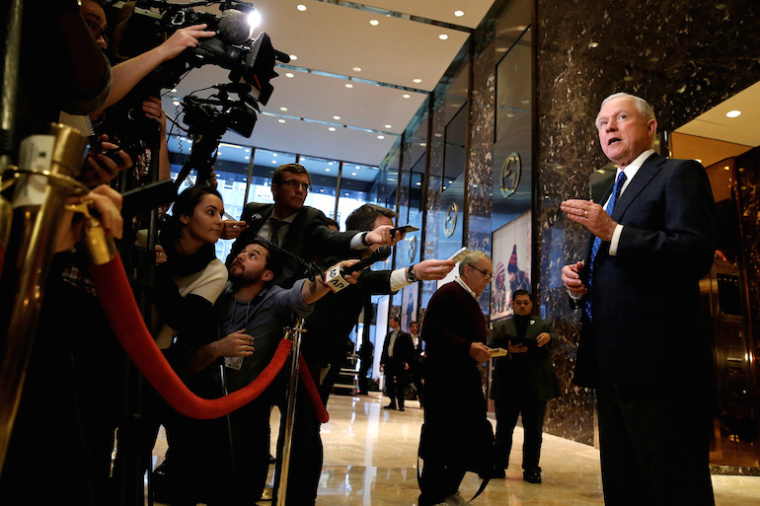 There aren't too many issues today that Republicans and Democrats can come together in agreement on, but both conservatives and liberals are expressing concern after Attorney Gen. Jeff Sessions issued a memo last week instructing federal prosecutors to pursue the most serious and provable offenses.
On May 10, Sessions issued a memo to federal prosecutors telling them to "pursue the most serious, readily provable offense," which some believe rolls back the policy of President Barack Obama's former Attorney Gen. Eric Holder, who instructed prosecutors to avoid charging nonviolent drug offenders with crimes that carry mandatory minimum sentences if they meet certain criteria.
Obama-era leniency pertaining to low-level drug crimes helped keep nonviolent offenders out of prison, proponents claim. According to Pew Research, the number of sentenced prisoners in federal custody fell by at least 5 percent since the end of 2009 and the end of 2015.
Although it is no surprise to see Democrats condemning the memo issued by President Donald Trump's Republican attorney general, some prominent conservatives have also let their reservations about the memo be known, the most prominent being former presidential candidate, Sen. Rand Paul, R-Ky.
Paul wrote an op-ed published by CNN earlier this week.
"The attorney general on Friday made an unfortunate announcement that will impact the lives of millions of Americans: he issued new instructions for prosecutors to charge suspects with the most serious provable offenses, 'those that carry the most substantial guidelines sentence, including mandatory minimum sentences.'" Paul wrote.
"The attorney general's new guidelines, a reversal of a policy that was working, will accentuate the injustice in our criminal justice system," Paul added. "We should be treating our nation's drug epidemic for what it is — a public health crisis, not an excuse to send people to prison and turn a mistake into a tragedy."
Paul also stated that he and Sen. Patrick Leahy, D-Vt., plan to again introduce the Justice Safety Valve Act, which would amend law to allow judges to impose a sentence below the statutory mandatory minimum should nonviolent defendants of high-level drug crimes meet circumstantial requirements.
Paul and Sessions, when he was an Alabama Senator, were opposite sides of the debate in the last Congress to pass the Criminal Justice and Sentencing Reform and Corrections Act, which would have reduced mandatory minimum sentencing for nonviolent offenders if the bill had been able to pass through Congress.
The bill received bipartisan support and was co-sponsored by other conservatives senators, like Mike Lee of Utah, John Cornyn of Texas, Joni Ernst of Iowa and Lindsey Graham of South Carolina.
Pat Nolan, a longtime criminal justice reform advocate who serves as the the director of the American Conservative Union Foundation's Center for Criminal Justice Reform, told The Christian Post on Wednesday that he feels Sessions' memo is a bit "misguided."
Nolan, a former California State Assembly Republican Leader who was recruited by Chuck Colson to serve at Prison Fellowship's policy arm when he was released from prison in the 1990s, explained that the Sessions memo puts pressure on Congress to pass sentencing reform measures.
"I admire [Sessions] a lot and I have worked with him on several pieces of legislation that are very good. But in this case, I think it's misguided and it will discourage efforts that prosecutors have been doing successfully in recent years to get the low-level people into treatment. It is proven effective and prison is proven ineffective," Nolan said.