Trump Wants to Meet With Kaepernick to Talk About Race, Darrell Scott Says
Trump Wants to Meet With Kaepernick to Talk About Race, Darrell Scott Says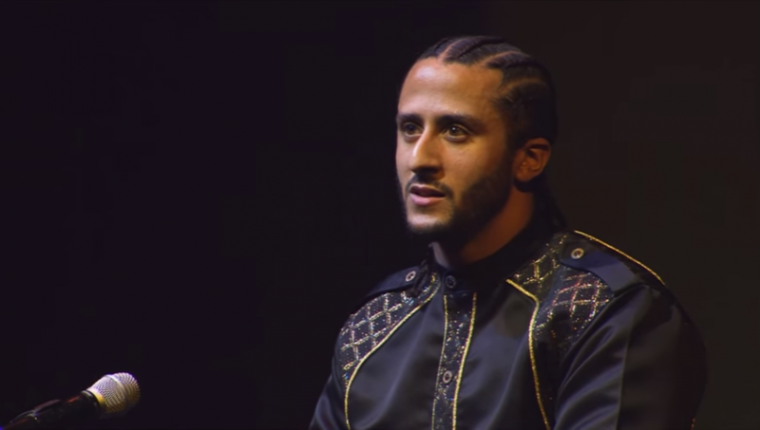 After publicly attacking NFL players for protesting racial injustice with the "take a knee" movement last summer, President Donald Trump is ready to have reconciliatory talks on race with musicians and athletes, including former San Francisco 49ers quarterback Colin Kaepernick, who sparked the controversial movement by refusing to stand for the national anthem.
New Spirit Revival Center church pastor Rev. Darrell Scott who also serves as CEO of the National Diversity Coalition for Trump told People Friday that the president gave his blessings to a series of meetings on race in America and "he was very enthusiastic about it."
"He is 100 percent for it," said Scott, who spoke with Trump for about 20 minutes in the Oval Office following a ceremony at the White House for the National Day of Prayer last Thursday.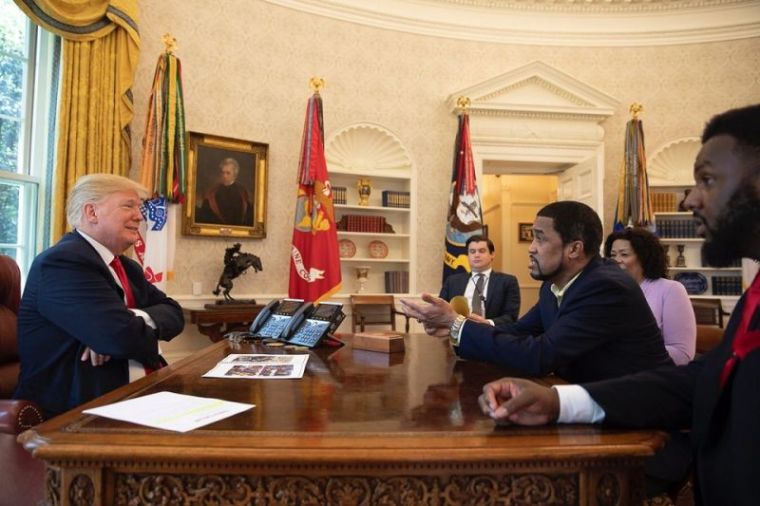 He confirmed that along with the 30-year-old Kaepernick, Trump is hoping to sit down with popular rapper Kanye West; Jim Brown, who played in the NFL for the Cleveland Browns; Evander Holyfield, Herschel Walker and Mike Tyson.
Scott expects the meeting to be a "melting pot" of people and he is hoping that the participants will be able to see the president beyond some of his most controversial and racially charged comments.
"We don't want to sanitize it. I want people from the left to attend. I want it to get heated but I want it to be respectful," Scott said. "I want them to see and know the Donald Trump I know and they will say, 'This guy isn't who I've been lead to believe he is.'"
Kaepernick began kneeling during the performance of the national anthem in 2016 to protest police brutality and the treatment of minorities. Last summer, in criticizing the protest, Trump urged team owners to fire players who participated in the protest.
"Wouldn't you love to see one of these NFL owners, when somebody disrespects our flag, to say 'Get that son of a b**** off the field right now, out, he's fired. He's fired!'" Trump said.
Kaepernick now alleges in a lawsuit that the NFL colluded against him to keep him from playing. His friend, San Francisco 49ers safety Eric Reid, who has knelt during the national anthem at games for the past two seasons, also filed a grievance against the NFL this month alleging the league had blackballed him because of his actions, according to The New York Times.
Last month Reid presented Amnesty International's Ambassador of Conscience Award 2018 to Kaepernick at a ceremony in Amsterdam. In accepting the award, Kaepernick explained that the inspiration behind the resistance to racial injustice is love.
"It was James Baldwin who said 'to be black in America and to be relatively conscious is to be in a rage almost all the time.' My question is, why aren't all people? How can you stand for the national anthem of a nation that preaches and propagates freedom and justice for all yet is so unjust to so many of the people living there? How can you not be in a rage when you know you are always at risk of death in the streets or enslavement in the prison system? How can you willingly be blind to the truth of systemic racialized injustice?" he asked.
"People sometimes forget that love is at the root of our resistance. I've realized that love that sometimes manifests itself as black rage is a beautiful form of defiance against the system that seeks to suppress our humanity. A system that wants us to hate ourselves but I remind you, it is love that is at the root of our resistance," he added. "It is our love for 12-year-old Tamir Rice who was gunned down by the police in less than two seconds that will not allow us to bury our anger. It is our love for Philando Castile who was executed in front of his partner and in front of his daughter that keeps us fighting back. It is our love for Stephon Clark who was lynched in his grandma's backyard that will not allow us to stop until we liberate our people. Again, love is at the root of our resistance."