Trump Says He Could Have Prevented 9/11
Jeb Bush Slams 'Shameful Attacks' on Brother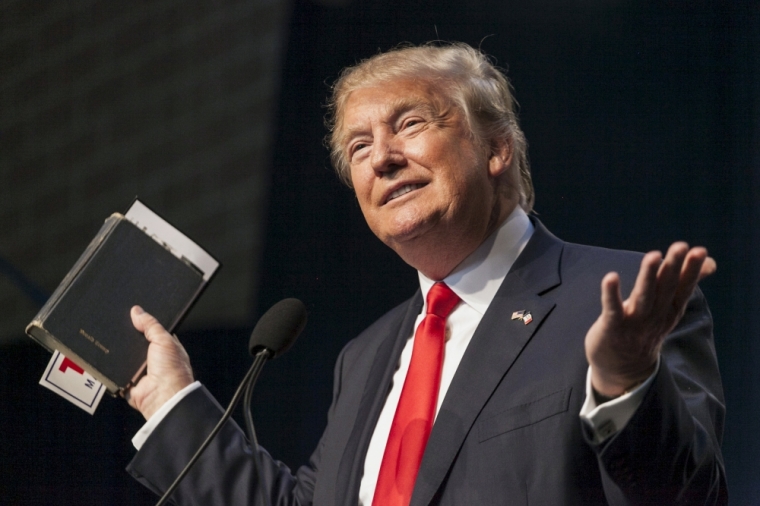 GOP Presidential candidate Donald Trump suggested Sunday that if he had been president at the time, the Sept. 11, 2001 terror attacks would not have happened.
Former Florida governor and fellow candidate Jeb Bush slammed Trump's remarks as "shameful attacks" on his brother, former President George W. Bush.
"I am extremely, extremely tough on illegal immigration," Trump said on "Fox News Sunday." "I believe that if I were running things … I doubt that those people would have been in the country," he added of the Islamic militants who hijacked four commercial airliners and killed nearly 3,000 people on 9/11.
In a Facebook message on Sunday, Bush replied: "Donald Trump's shameful attacks on my brother over 9/11 once again raise questions on whether he possesses the judgment to be president."
The two rival candidates began arguing over the matter back at the second presidential primary debate, when Bush praised his brother on helping America get through the tragedy.
"You remember the rubble at the World Trade Center? He sent a clear signal that the United States would be strong and fight Islamic terrorism, and he did keep us safe," Bush told the audience.
Trump replied: "You feel safe right now? I don't feel so safe."
The billionaire businessman has clarified that he is not blaming former President Bush for the attacks, but insisted that 9/11 proves America was not safe under his leadership.
"Jeb said we were safe with my brother, we were safe," Trump added. "Well, the World Trade Center just fell down. Now, am I trying to blame him? I'm not blaming anybody. But the World Trade Center came down, so when he said we were safe, that's not safe."
Bush stood up for his brother again in an interview with CNN's Jake Tapper on "State of the Union" Sunday, and said that the former president responded to the crisis "as you would hope a president would do."
"He united the country, he organized our country and he kept us safe. And there's no denying that. The great majority of Americans believe that," Bush said.
"And I don't know why he keeps bringing this up," he added of Trump. "It doesn't show that he's a serious person as it relates to being commander in chief and being the architect of a foreign policy."
Trump has previously stirred controversy for suggesting that Arizona Senator John McCain is not a war hero "because he was captured" and spent five years as a prisoner of war in Vietnam.
"I like people that weren't captured, OK?" Trump said at the Family Leadership Summit back in July.
"People that fought hard and weren't captured and went through a lot, they get no credit," he added.
His suggestions drew outrage across the Republican field, including from Bush.
"Enough with the slanderous attacks. @SenJohnMcCain and all our veterans - particularly POWs have earned our respect and admiration," the Former Florida Governor said on Twitter.