7.6-Magnitude Earthquake in Philippines Prompts Tsunami Warning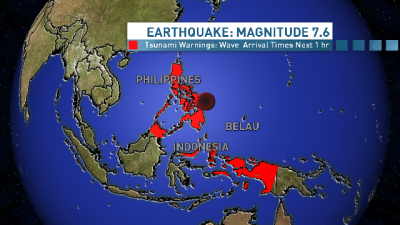 A tsunami alert was issued after a 7.6-magnitude earthquake shook the Philippines Friday, with several other countries in the Asia-Pacific region also being affected.
Local radio reports have revealed that the undersea quake caused at least one house to collapse and knocked out power in several cities, according to The Associated Press. There were no reports at press time of any injuries or fatalities.
According to the U.S. Geological Survey, the earthquake struck about 60 miles east of Sulangan, Philippines (464 miles east of Manilla) at 12:47:34 UTC (8:47 a.m. ET).
A "regional tsunami warning" was issued by the Pacific Tsunami Warning Center for the following countries as a precaution: Indonesia, Philippines, Belau, Yap, Taiwan, Japan, Guam, N. Marianas, Papua New Guinea A Tsunami Watch is in Effect For Chuuk, Marcus Is., Kosrae, Pohnpei, Marshall Is., Wake Is., Solomon Islands, Russia, Nauru.
Renato Solidum, head of the country's seismology agency, told the AP that residents who live along the coastline near Samar Island were told to evacuate as a precaution if a tsunami actually hits the region.
Earthquakes are not uncommon for the Philippines and that region in general, as the U.S.G.S. reports: "The Philippine Sea plate is unusual in that its borders are nearly all zones of plate convergence."
Raw Office Video From 7.9 Magnitude Earthquake in Philippines 8/31/2012