Tullian Tchividjian Blasts Sovereign Grace Ministries Handling of Sex Abuse Scandal; Prematurely Departs The Gospel Coalition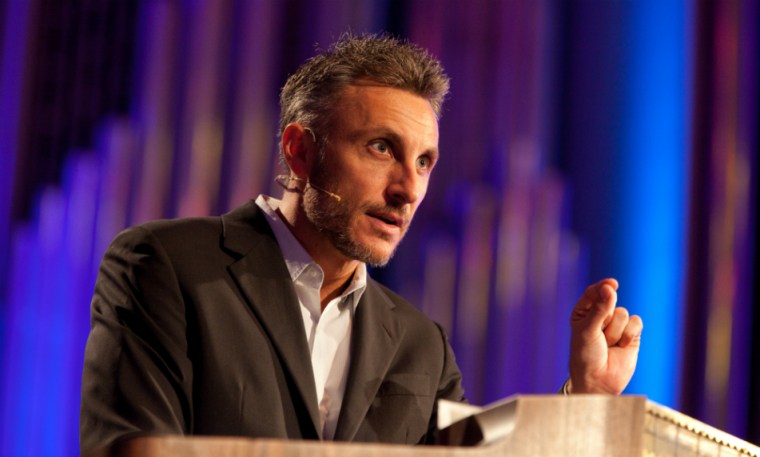 Tullian Tchividjian is slamming Sovereign Grace Ministries for its handling of a sex abuse scandal, while announcing this week that his participation with The Gospel Coalition will unexpectedly end on Thursday.
Tchividjian, whose brother, Boz, is the founder of Godly Response to Abuse in a Christian Environment, a group that investigates sexual abuse in churches and ministries, spoke out against TGC's actions in light of the Sovereign Grace Ministries sexual abuse scandal.
C. J. Mahaney, who founded the SGM, along with other ministry leaders, was hit with a civil lawsuit last year alleging that they conspired to "permit sexual deviants to have unfettered access to children for purposes of predation and to obstruct justice by covering up ongoing past predation."
While the lawsuit was thrown out due to statute of limitations, Tchividjian said that unlike many of those connected to TGC who considered Mahaney a friend and claimed that he had "been the object of libel and even a Javert-like obsession by some," he saw the situation differently. In his eyes, given that Mahaney's brother-in-law and fellow former pastor at Covenant Life Church had confessed to knowing about sex abuse claims and withholding that information from police last week, the SGM pastor was guilty.
"Give me a break. These people, they're family. Of course he knew," Tchividjian told The Christian Post. "C. J. was, for many years, the micro-managing head of the organization and nothing happened under the umbrella of Sovereign Grace that he wasn't made aware of, so for anyone to say, 'Well he didn't know,' that's totally naive."
Tchividjian added that he was "pretty disturbed" when Don Carson, Kevin DeYoung, and Justin Taylor published a statement on TGC website in May 2013 which defended Mahaney, saying that it looked "like the good-old boys club covering their own."
"I thought it was premature. I thought it was insensitive. I communicated with the guys who wrote this statement that I was disappointed, that I thought it was unwise and premature and that they needed to clarify that their statement was not a statement from The Gospel Coalition, per se, but was their own personal statement," Tchividjian explained.
"There were some of us on the coalition, or who were associated with it, who didn't want to be associated with their defense of C. J.," he continued. "I've just been sort of disgusted by the whole thing."
Speaking about his departure from The Gospel Coalition, Tchividjian said his departure came with little warning, though he explained that he made the decision eight or nine months ago to leave in August.
A project started by New York City's Redeemer Presbyterian pastor Tim Keller and Canadian Reformed theologian D. A. Carson in 2004, TGC asked Tchividjian if they could host his blog in 2007. The Presbyterian pastor explained that his involvement with TGC had been limited to speaking at its conferences and his blog posts, though he was initially attracted to its vision.
"I think the original messaging of The Gospel Coalition, from when it was founded in 2007, has morphed," Tchividjian told CP. "Mine hasn't. My goal has always been in every post to preach the radicality of the Gospel of grace."
Yet while "no one from The Gospel Coalition formally reached out to me or questioned anything I ever posted or asked me to clarify anything I ever posted," Tchividjian noted that he began to feel a shift in the site's theology and how his doctrine was being received based on what other contributors were posting.
"I was told the other day that conversations about me and about what I had been saying had been going on for a year, which I didn't know about until the other day," said Tchividjian.
Around the same time, Tchividjian founded his own ministry, Liberate, which he describes as connecting "God's inexhaustible grace to an exhausted world." Two months ago, he informed TGC editors that he intended to move all of his blog content to his new site, adding that "they seemed fine with that."
Last week, Tchividjian said he was informed via a friend on TGC's council that the group's leadership wanted his blog posts removed "ASAP." According to Tchividjian's contact, TGC leadership was hoping to have his content removed because the website was relaunching on Monday, but noted that part of its decision seemed to "be personal, some of it theological."
Tchividjian told his friend to inform TGC leadership that he already intended to remove his content in August, but that his site was not ready yet; after talking with leaders, his friend told him he had until Monday. TGC leadership ultimately gave him until this Thursday.
"My frustration was, I was never reached out to, called or emailed from any of the powers that be, saying, 'Hey listen, there are a couple of us that have some questions that have been raised, would you care to clarify?' said Tchividjian. "Or ask me questions! Or even invite me to this meeting, if my name was on the docket!"
Billy Graham's grandson said that he was also frustrated that he had never received personal feedback or criticism about the content of his posts from TGC leadership, saying that the thrust of everything he wrote was about God's grace and had never been "harsh" or "divisive."
"To me, it's somewhat disconcerting that 'Jesus plus nothing equals everything' is much more controversial in some Evangelical circles than 'Jesus plus something equals everything,'" said Tchividjian. "I've been widely known as talking about grace without 'buts or brakes,' that God's grace is much more radical than anything we could ever imagine and that we could never over-exaggerate it."
Tchividjian, who considers himself Reformed, said that as is, TGC was "not as big of a 'coalition' as it would appear."
"They want to say that they're very multi-denominational and all, but they're really not," said Tchividjian. "It's Baptist and Presbyterians, but it's a particular flavor of Baptist and Presbyterians, it's not even all inclusive of all Baptists and Presbyterians."
The Christian Post's attempt to reach The Gospel Coalition's Executive Director Ben Peays for comment was not returned by press time.