Turkey Blames the US for Rising Anti-American Sentiment After Failed Coup Attempt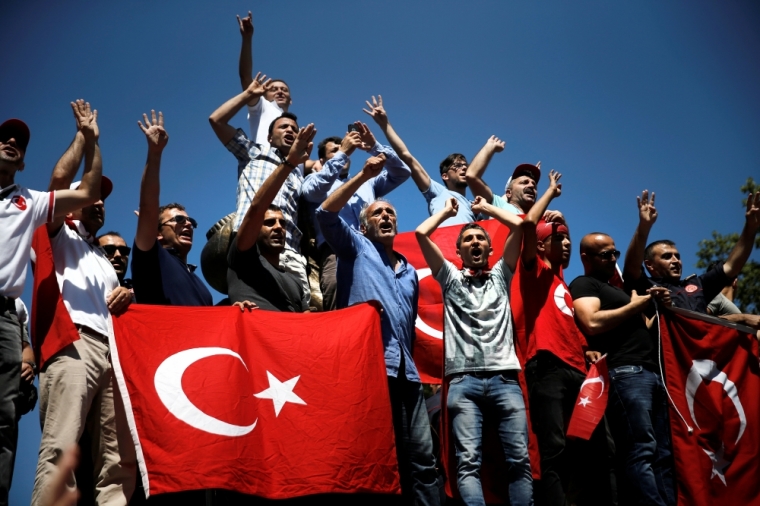 ISTANBUL — Anti-American sentiment among Turks is on the rise and can only be calmed by the United States extraditing the Muslim cleric Ankara accuses of orchestrating last month's failed coup, Turkey's justice minister said on Tuesday.
Turkish President Tayyip Erdogan blames Fethullah Gulen, who has lived in self-imposed exile in rural Pennsylvania since 1999, and his followers for the July 15 coup, in which more than 240 people were killed and nearly 2,200 wounded.
Turkey has launched a series of mass purges of suspected Gulen supporters in its armed forces, other state institutions, universities, schools and the media since the abortive coup, prompting Western concerns for the stability of a key NATO ally.
Erdogan, who was visiting Russia on Tuesday, has criticized the United States and the European Union for showing what he says is a lack of solidarity with Turkey over the coup and of caring more for the rights of people he views as traitors.
"There is a serious anti-American feeling in Turkey, and this is turning into hatred," Justice Minister Bekir Bozdag said in an interview with state-run Anadolu Agency, broadcast live on Turkish television channels. "It is in the hands of the United States to stop this anti-American feeling leading to hatred."
Responding to Turkey's demand for Gulen's extradition, U.S. President Barack Obama has said Ankara must first provide clear evidence of wrongdoing. Last week a State Department spokesman said Washington was evaluating new documents it had received.
The 75-year-old Gulen, who built up a network of schools, charities and businesses in Turkey and abroad over decades, denies any involvement in the coup and has condemned it. He has also accused Erdogan of using the coup to amass greater powers.
'Political decision'
"Whether the U.S. extradites Gulen or not this will be a political decision," Bozdag said. "If he is not extradited, Turkey will have been sacrificed for a terrorist."
A recent opinion poll showed two thirds of Turks agree with their president that Gulen was behind the coup plot. Turkey has been holding almost daily mass rallies since July 15 in support of democracy and the government and against the plotters.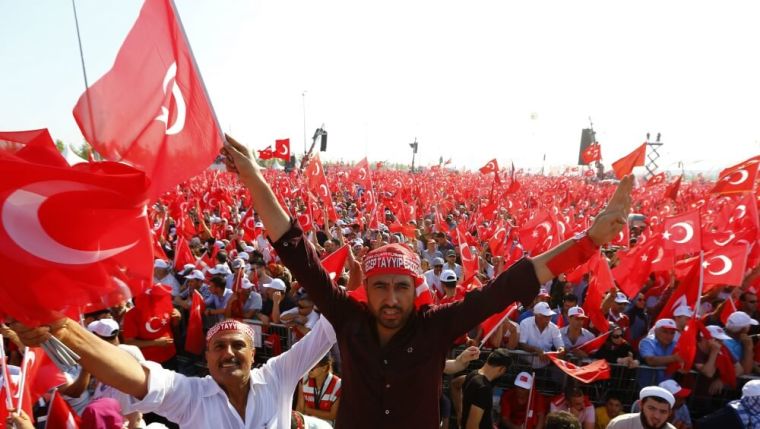 Authorities have suspended, detained or put under investigation tens of thousands of people in the armed forces, the judiciary, civil service and elsewhere since the coup, in which a faction of the military commandeered warplanes, helicopters and tanks in an attempt to topple the government.
On Tuesday Bozdag put the number of people now formally arrested awaiting trial at 16,000, adding that a further 6,000 detainees were still being processed. Another 7,668 people are under investigation but have not been detained, he said.
Since the abortive putsch, pro-government papers have been awash with conspiracy theories accusing the United States and the CIA of being the masterminds. Turkish officials privately said such reports do not reflect Ankara's formal stance.
One paper said the attempted power grab was financed by the CIA and directed by a retired U.S. army general using a cell in Afghanistan while another claims CIA agents used an island hotel off Istanbul as a nerve center for the plot.
Echoing Erdogan's criticism of the West, Prime Minister Binali Yildirim on Tuesday repeated a pledge to bring Gulen back to Turkey.
"That terrorist leader will come to Turkey and pay for what he did. We will hold him accountable for the blood of our martyrs and veterans," Yildirim told a meeting of his ruling Islamist-rooted AK Party in parliament.
"That religious, impudent, lying, bloody murdering nothing will be surely held accountable."
NATO member Turkey hosts American troops and warplanes at its Incirlik Air Base, an important staging area for the U.S.-led fight against Islamic State militants in neighboring Iraq and Syria.
The chairman of the U.S. Joint Chiefs of Staff Joseph Dunford tried to soothe strained ties with Turkey during a visit to Incirlik and Ankara just over a week ago. In Ankara he inspected the damage inflicted by the plotters' fighter jets on the Turkish parliament building.
U.S. Secretary of State John Kerry is expected to visit Turkey on Aug. 24.
Turkish authorities have said the country's intelligence service has cracked into several smartphone messaging apps that Gulen's followers used to communicate with each other in the years ahead of the coup attempt and was able to trace tens of thousands of people from the group.
A senior Turkish official said Turkey's intelligence agency has identified at least 56,000 operatives of Gulen's network after cracked a little-known smartphone messaging app called ByLock, which he said the group began using in 2014. By this year, Turkish intelligence were able to map their network.
"Our assessment is that 150,000 unique operatives used ByLock to communicate with others," the official said. The group had also used another app called Eagle which could be disguised as other popular instant messaging apps such as Whatsapp and Tango, he added.
"We assess that Eagle was used by operatives to share various operational details as well as during the planning stage of the July 15 coup attempt," the official said, adding that the Gulen network continued to use Eagle.
(Additional repporting by Daren Butler and Gulsen Solaker in Ankara; Writing Humeyra Pamuk; Editing by Patrick Markey and Gareth Jones)