Twitter suspends 'genderfluid anti-Christ' user for image of pedophile pride flag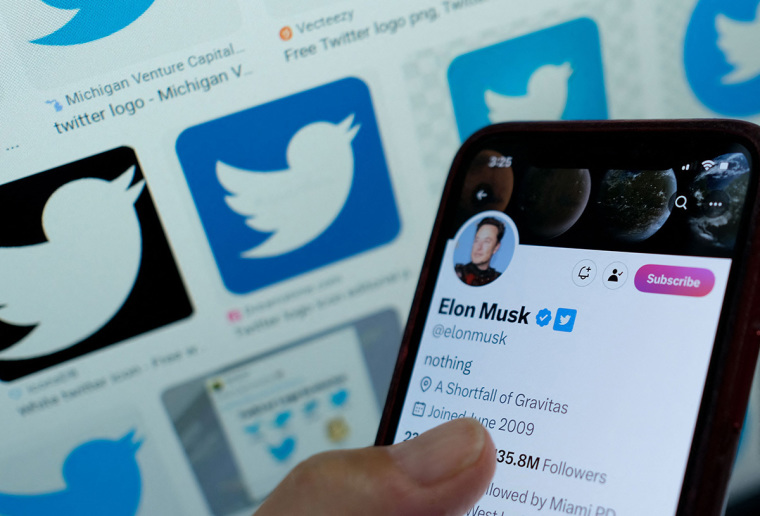 Twitter has suspended a user from the platform after they created and shared a pedophilia pride flag.
User @ZeebDemon was taken offline after the April 25 tweet, which included an image of what the user termed a "youth attracted person" flag, which featured V-shaped pink and blue lines both horizontally and vertically.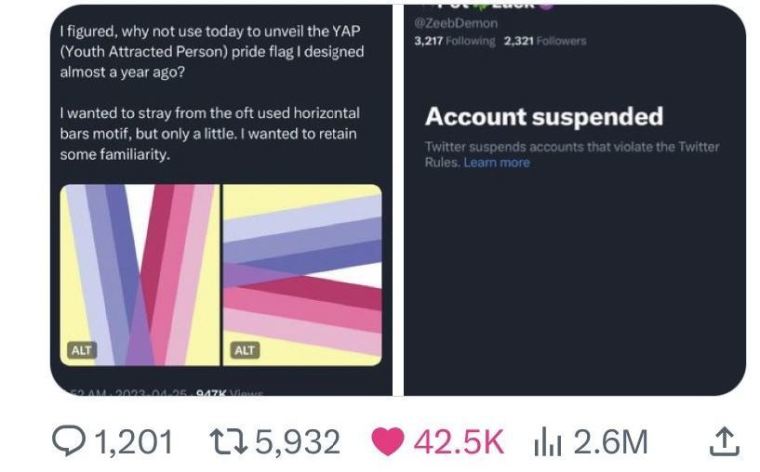 The since-deleted tweet made a reference to "Alice Day," which is reported to be a holiday-style celebration for pedophiles.
"'Happy Alice Day, to those who celebrate!" the user wrote. "I figured, why not use today to unveil the YAP (youth attracted person) pride flag I designed almost a year ago? I wanted to stray from the oft used horizontal bars motif, but only a little. I wanted to retain some familiarity."
The tweet was shared by user Dr. Anastasia Maria Loupis, who congratulated Twitter owner and CEO Elon Musk on suspending the account.
Musk replied, "Not tolerated on this platform."
Not tolerated on this platform

— Elon Musk (@elonmusk) April 26, 2023
While the user's profile has since been deleted, screenshots of the page showed a description with upside-down satanic stars and text which read:  "The transfeminine genderfluid Demon-Divine / Luciferian/ BLM / ACAB /YouthLib / Proudly Paraphiliac/Radically Queer...Your own personal Anti-Christ."
Some of the terms used in the profile appear to indicate the user identified as "gender fluid," a reference to transgender ideology, while a "Luciferian" is someone who worships or idolizes Lucifer or the devil.
Paraphilia or paraphilic disorders are defined as having "sexually arousing fantasies, sexual urges, or behaviors" that often involve children, non-consenting people, or inanimate objects, according to the John Hopkins Psychiatry Guide.
"BLM/ACAB" are acronyms for "Black Lives Matter" and "All Cops Are Bastards," while "YouthLib" refers to the Youth Liberation movement, which seeks to grant rights to young people — typically those younger than 18 — that are traditionally reserved for adults.
Since the original post, a second account was suspended for an April 26 tweet that featured an image of adult-adult and adult-child couples with the text: "Two days late, but happy Alice Day Mutually wanted relationships are love and valid #AliceDay #BelieveChildren #LoveisValid"
Since Musk's takeover of Twitter last fall, the platform has worked to combat child sexual exploitation material, including taking down 44,000 suspicious accounts with over 1,300 profiles that used code words and text in images to bypass detection and communicate with other users.
In December, Andrea Stroppa of Ghost Data tweeted a thread outlining the steps taken by the social media giant to fight child exploitation. 
Musk himself weighed in on the update by posting a reply tweet saying, "Thank you for helping with this important problem."
Lina Nealon, director of corporate and strategic initiatives for the National Center on Sexual Exploitation, previously told The Christian Post that she believes there is still more to be done.
"Any effort Twitter is taking to combat child sexual abuse material and other illegal content on the platform is a step in the right direction. At the very least, [Musk] is helping to shine light on child sexual abuse, a massive, destructive problem in our society," said Nealon.