UN Insists 'No Military Solution' to Russia Invasion of Ukraine, Urges Dialogue With Putin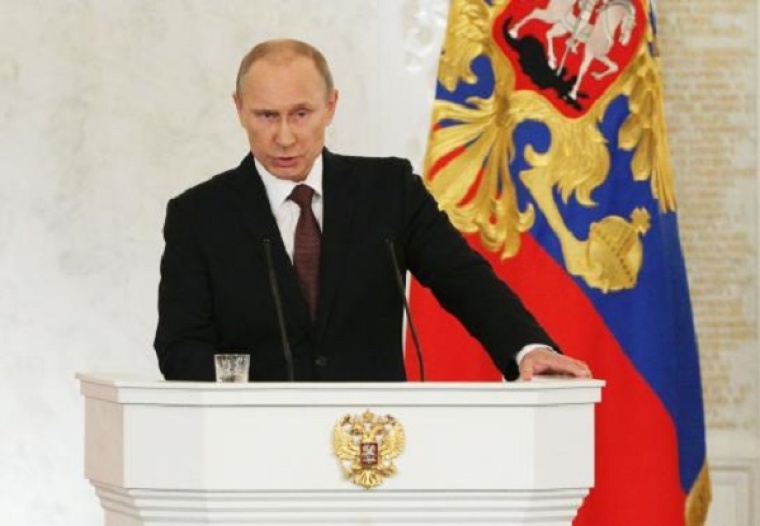 United Nations secretary general Ban Ki-moon has told western powers that there can be no military solution to Russia's invasion of Ukraine, and urged continued political dialogue with Russian President Vladimir Putin.
"I know the European Union, the Americans and most of the western countries are discussing very seriously among themselves how to handle this matter," Ban told journalists Tuesday during a visit to New Zealand, Agence France-Presse reported.
"What is important at this time is that they should know there is no military solution in this. There should be a political dialogue for a political solution, that is the more sustainable way," he added.
NATO has said it is upgrading its combat readiness in Eastern Europe following reports that Russian soldiers have entered Ukrainian territory to fight alongside the pro-Russian rebels who have captured a number of towns in the eastern region of the country.
Mykhailo Lysenko, the deputy commander of the Ukrainian Donbas battalion, said last week that fighting taking place southeast of Donetsk is a "full-scale invasion."
Ukrainian President Petro Poroshenko also cancelled a planned trip to Turkey, citing "Russian troop deployments" in the east of the country for changing his schedule.
"I have made a decision to cancel my working visit to the Republic of Turkey due to sharp aggravation of the situation in Donetsk region ... as Russian troops were actually brought into Ukraine," Poroshenko said in a statement.
Alexander Zakharchenko, a pro-Russian rebel leader who has captured territory in Donetsk, affirmed that thousands of Russian citizens have taken up arms to fight against Ukraine.
"There have been around 3,000 to 4,000 of them in our ranks," Zakharchenko told Russian TV.
"Many former high-ranking military officers have volunteered to join us. They are fighting with us, considering that to be their duty," Zakharchenko.
Putin's government has denied its involvement in the ongoing war in Ukraine, stating it is up to the country's officials to bring stability to its territories.
Russian Ambassador Vitaly Churkin said at a U.N. Security Council meeting last week that Ukraine "is waging war against its own people," and told the U.S. to "stop interfering in the internal affairs of sovereign states."
The U.S. has strongly criticized Russia's involvement in the Ukraine crisis, however.
Ambassador Samantha Power said during the council meeting that Russia "has manipulated. It has obfuscated. It has outright lied."
Ukraine's defense minister, Valeriy Heletey, added Monday that the country will "immediately mount defenses against Russia, which is trying not only to secure positions held by terrorists before but to advance on other territories of Ukraine."
"A great war arrived at our doorstep, the likes of which Europe has not seen since World War II," he added, warning of "tens of thousands of deaths."
Meanwhile, the U.N. High Commissioner for Refugees announced Tuesday that over 260,000 people have been displaced in Ukraine as a result of the fighting, which is increasing the need for humanitarian aid.
"If this crisis is not quickly stopped, it will have not only devastating humanitarian consequences but it also has the potential to destabilize the whole region. After the lessons of the Balkans, it is hard to believe a conflict of these proportions could unfold in the European continent," said U.N. High Commissioner for Refugees António Guterres.
UNHCR added that the actual number of displaced people could be much higher, as many are staying with families and friends and choosing not to register with the authorities. Ukraine has said that another 2.2 million people remain in conflict areas.
"Because of insecurity, humanitarian actors have not been able to assess the situation of people displaced in the Luhansk region," said Vincent Cochetel, director of UNHCR's Europe Bureau.