Uncle Si of 'Duck Dynasty' Fame Says 'Look at Me, God Has a Sense of Humor'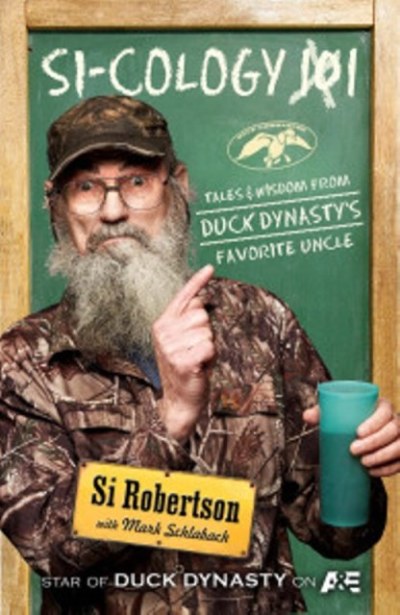 "Duck Dynasty" fans' favorite uncle, Si Robertson, who says God has a sense of humor because he's turned four disheveled-looking Christian guys into reality television stars, will be releasing his new book next month.
The youngest brother of family patriarch, Phil Robertson, Si works at Duck Commander where he's been making the reeds for duck calls since his retirement from the U.S. Army, and shares anecdotal advice and stories about life in his book, titled Si-cology 1: Tales and Wisdom from Duck Dynasty's Favorite Uncle.
Si, who's known for his storytelling and for saying that he carries three items along with him everywhere he goes: tea, the Tupperware cup his parents sent to him during the Vietnam War, and his Bible, told LifeWay that the Robertson family gives God the glory for all of their success.
"Hey, it's unreal," Si explained.
"'Cause if you asked any of the Robertson men who's behind all this – [people] ask Willie all the time, 'How did you become so successful?'"
The answer that Willie provides, according to Si, is "hey, that would be the Almighty. He's the one that has made this a success."
Speaking about God, Si said that although a lot of people don't believe God has a sense of humor, he quipped that the lives of the Robertson men is proof that He does, and in abundance.
"God has got a great sense of humor, OK. Because, hey, look as Jase. God has taken four guys that look like about five miles of muddy road and made them famous in the TV world."
He then turns the tables on nonbelievers and asks what it is they depend on for support when they receive bad news, such as receiving a diagnosis of a terminal illness.
"The only thing I'd say is: I wonder, when people run into bad times, they go to the doctor and find out, 'I'm dying with cancer,' and they don't believe in God, where do they turn to?"
He continues, "We're all mortal. We're all going in that grave. And there ain't but one way that you're going to beat it that I know of. Like Phil always tells them: 'If you've got something to offer me, better than what I just shared with you, I'm all ears; I'm ready to hear it.' Because that's the only one I ever heard that beat the grave.'"
"And he promised you that since He beat it, if you believe in Him, He'll make you beat it."
Si's 240-page book that will be available on Sept. 3, will include family photos, and anecdotes and stories about his childhood, duck hunting, his days in college, the Vietnam War, and his wife, Christina, and their two children, Scott and Trasa.
The fourth season of A&E's "Duck Dynasty" will broadcast at 10 p.m. EST on Wednesday, Aug. 14.