United Methodist Megachurch Holds Grand Opening for New 3,500-Seat Sanctuary
The largest United Methodist Church congregation in the United States held a grand opening for its new sanctuary, which boasts 3,500 seats and a 3,400 square foot stained glass window.
Church of the Resurrection, a multisite congregation headed by the Rev. Adam Hamilton, held the grand opening of their new Leawood, Kansas, sanctuary on Sunday, one week after holding a "soft launch" with a smaller crowd.
According to comments emailed to The Christian Post by Church of the Resurrection spokesperson Cathy Bien, approximately 10,000 people came to the grand opening that weekend.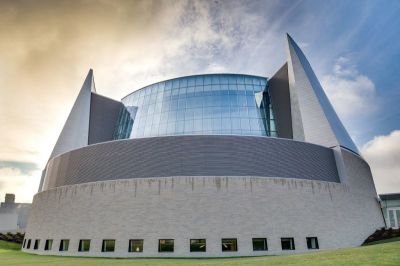 "We are excited to take this next step in building a space that we believe will be an important resource, strengthening the fabric of the community for generations to come," said Hamilton in a statement provided by Bien.
"The congregation's hope and prayer is that this building will be used for generations to come to help people find God, to grow in their faith, to experience authentic Christian community, and to be inspired to live their faith in the world."
Founded in 1990, Church of the Resurrection has four campuses in Kansas and Missouri and approximately 20,000 members.
The new sanctuary was part of a $90 million expansion project undertaken by the church, which included remodeling and revamping other buildings and campuses of the large mainline congregation.
In an interview with CP last May, Bien explained that, once completed, the new sanctuary will be a "more intimate and sacred worship space."
"In the new sanctuary, the architecture and art will create a sacred space, drawing people to God. At the same time seats will be in smaller sections in a wraparound balcony, bringing people closer and creating a sense of community," said Bien to CP last year.
"Seven panels rise above the limestone base and represent each day of creation, the wholeness of life, and the seven days of Holy Week. The eighth panel is The Resurrection Window, telling the story of Easter. It features a 3,400-square-foot stained glass installation that contains three scenes — each set in a garden and telling an overarching scriptural narrative of creation, redemption and hope."
Construction for the newly opened sanctuary was managed by McCownGordon Construction of Kansas City, with the building designed by HGA from Minneapolis.
When asked by CP how they respond to critics who may argue that the resources that went into the new sanctuary could have gone to charity, Bien said that "was not an endeavor that took funds away from ministries to the poor."
"Rather, it was an investment by the congregation in a tool that will enable the church to continue to grow and be vital for generations to come," stated Bien.
"Resurrection members have contributed millions of dollars and tens of thousands of hours to serving locally and globally. This would not have been possible without a commitment to constructing spaces that draw and engage people in worship."