US Army Tells Female Soldiers to 'Accept' Having Naked Men in Their Showers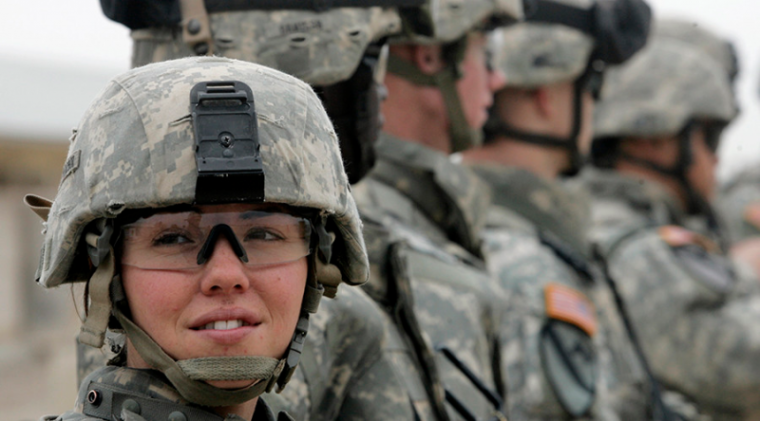 The U.S. Army is instructing its female soldiers to "accept" having men in their showers and changing areas who are "transitioning" but still have their male genitalia, according to training documents that have been released.
As previously reported, Defense Secretary James Mattis announced last week that a July 1 Obama-era deadline for the branches of the armed services to begin allowing openly transgender individuals to enlist had been delayed an additional six months. However, the move by Mattis, which came at the request of military leaders, doesn't completely halt the transgender military policy enacted by former Obama Defense Secretary Ash Carter last June.
As the Pentagon began allowing transgender service members to openly identify as such and make changes to their military identification last October, other service members have been forced to undergo mandatory training on the policy changes.
The U.S. Navy announced last year that it would force its sailors to go through mandatory training on the new transgender policy. And last month, it was reported that the Army is also conducting compulsory training on the matter.
On Wednesday, James Hasson, a former Army captain, a veteran of the war in Afghanistan and law student at University of Virginia, wrote in a piece published by The Federalist that he has obtained a "Tier Three Transgender Training" PowerPoint and accompanying lesson plan being used by the Army in mandatory transgender training sessions.
"The active-duty officer who sent the materials completed the training with 40 other soldiers last week instead of conducting their morning physical training as usual," Hasson wrote. "The force-wide presentation sheds quite a bit of light on the implications of the rule change on transgender service members. The policy prioritizes subjective feelings over combat-readiness and inverts military order by placing the needs of individuals over the well-being of their units."
The new policy allows for transgender service members to switch their gender marker in DEERS — the Army's personnel database — without having to undergo sex reassignment surgery.
The Army PowerPoint presentation linked in The Federalist article provides a detailed step-by-step process for how a transgender soldier is to tell their commander and "initiate" the process of their gender transition, which requires a medical diagnosis and care.
The gender transition is "complete" once a person has "achieved stability in the preferred gender." According to the PowerPoint, the medical care required to reach stability in the preferred gender "often does not include surgical treatment."
"For a soldier to officially change gender requires only some paperwork. A military doctor or civilian medical professional must certify that the transgender person has achieved 'stability in the preferred gender' and the soldier must change the gender designation on the soldier's passport or birth certificate," Hasson wrote. "From that point on, the transgender soldier is 'expected to adhere to all military standards associated with their gender,' and 'use the billeting, bathroom and shower facilities' of their new gender."
A PowerPoint slide titled "Vignette Four" outlines what types of changes soldiers can expect to see in "barracks, bathrooms and showers."
"Following her transition from male to female (which did not include sex reassignment surgery) and gender marker change in DEERS, a transgender soldier begins using female barracks, bathroom and shower facilities," the slide reads. "Because she did not undergo a surgical change, the Soldier still has male genitalia."
The slide also explains that "soldiers must accept living and working conditions that are often austere, primitive and characterized by little or no privacy."
"All soldiers must use the barracks, bathroom and shower facilities associated with their gender marker in DEERS," the slide added. "Understand that you may encounter individuals in barracks, bathrooms and shower facilities with physical characteristics of the opposite sex despite having the same gender marker in DEERS."
The slide asserted that: "transgender soldiers are not required or expected to modify or adjust their behavior based on the fact they do not 'match' other soldiers."
Although the slide explains that soldiers should be respectful of the privacy rights of others, Hasson argues that in "real life," there is very little privacy in Army showers.
"Most Army showers look like a prison cell with several shower heads on the wall. Anyone who has dealt with the practical challenges of funneling 30 people through them in 10 minutes understands that 'privacy' will be incompatible with reality," he explained. "Female soldiers who feel uncomfortable sharing facilities with individuals who still have 'physical characteristics of the opposite sex' will just have to put up with it."
The Christian Post reached out to the Army's media relations division seeking confirmation that the PowerPoint and lesson plan linked in The Federalist article were, in fact, created by the military and are being used to train soldiers on the new policy. A response was not immediately received by press time.
Last week, the Liberty Counsel, a nonprofit group committed to protecting religious freedoms, sent a demand letter to commanding officers at Fort Benning Army Base in Georgia on behalf of officers and enlisted personnel. The letter asked that the clients be given an exemption from participation on grounds that not providing an exemption would be a violation of the Religious Freedom Restoration Act.
"DoDI 1300.17 provides personnel an avenue for religious accommodation and exemption from compliance with transgender directives which violate their conscience or religious beliefs," the letter, co-signed by Liberty Counsel Chairman Matt Staver, reads. "The accommodation of these Soldiers' and civilians' beliefs by means of exemption will have no effect on the accomplishment of the Army's actual mission."