US Dept. of State Accused of Enabling Nigerian Islamist Group Boko Haram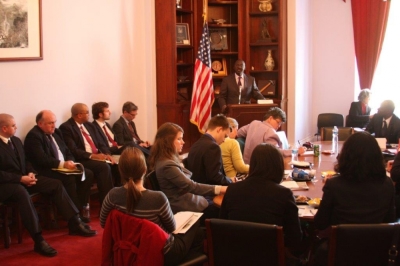 A Nigerian human rights lawyer, Emmanuel Ogebe, has accused the U.S. Department of State of enabling Islamist militant group Boko Haram by mischaracterizing their actions in that country which have resulted in the death of more than 1,000 Christians and other civilians since 2012.
Ogebe, special counsel for Justice for Jos is engaged at the International Criminal Court on crimes against humanity in Nigeria and is lead author of the 2012 report by Jubilee Campaign and Justice for Jos Project.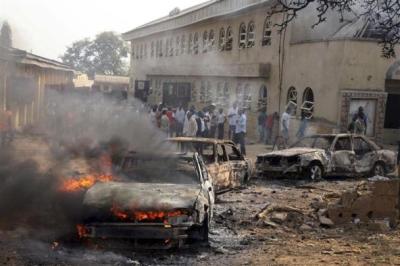 He was also among a group of regional experts on Northern Nigeria and that country's Middle Belt who drew attention to the pre-genocide occurring in those areas at a Congressional briefing in Washington, D.C., last Thursday.
"Since last year we have seen a situation where the Department of State acted as ransom-demander for the Boko Haram terror group, first in refusing to designate them a terror group and secondly in claiming they are economically motivated and therefore more money should be provided to the Muslim Northern Nigeria," said Ogebe in a statement to The Christian Post.
"Sadly the latest human rights report has taken it a step further with the State Department essentially advocating the establishment of Islamic law courts in Nigeria, a demand no one else in Nigeria is making, except the jihadist terrorists themselves," explained Ogebe.
"One did not think it possible for the U.S. position to degenerate any further but there seems to be no depth that the State Department will not sink lower still to. Now they have gone from making ransom demands to making ideological demands consistent with the theology of Boko Haram," he added.
On Monday, CP contacted the Department of State for comment but was told the relevant spokesperson, Hilary Renner, was unavailable.
The Jubilee Campaign was also expected to send the Department of State their analysis its recently released country report on Nigeria.
In the analysis, organizations associated with the campaign raised particular concern about the State Department's new call for a Sharia appeals court.
"The message needs to be conveyed to U.S. policy makers and the Department of State that extremism in Nigeria should not be rewarded with amnesty, but that victims should be compensated and security restored," said Ann Buwalda, executive director of the Jubilee Campaign USA, who reported a large audience at Thursday's Congressional briefing.
At the briefing, the Honorable Tigwar Zainab Naazem, a female Muslim member of the Plateau State House of Assembly also described how Muslim settlers in Nigeria's Plateau state control Muslim institutions and how the Fulani herdsmen and Boko Haram are conducting killings in her state.
She explained that Muslim indigene constituents are discriminated against by Muslim settlers who have managed to convince the outside world that they are the ones facing discrimination.
She praised efforts by Christian Governor Jonah Jang whose actions, she said, have been helpful not just to Christians but her Muslim community as well.