Biden admin., US allies sanction Chinese leaders over Uyghur 'genocide'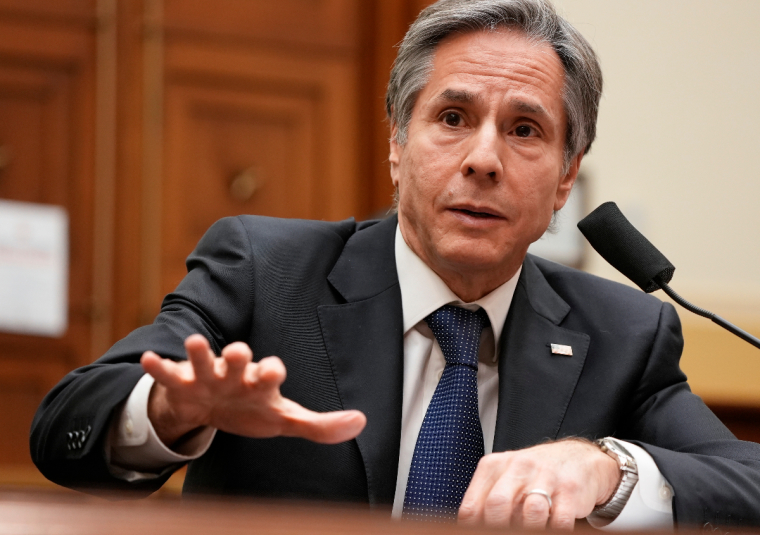 A group of ethnic minorities is praising the Biden administration and United States allies for placing sanctions on top Chinese officials in response to human rights abuses in Xinjiang province, which Secretary of State Antony Blinken said amounts to "genocide." 
The State Department announced the new sanctions Monday, four days after Blinken met with top Chinese government officials in Anchorage, Alaska.
"Today, the United States, in unity with our partners, is imposing sanctions against Wang Junzheng, the Secretary of the Party Committee of the Xinjiang Production and Construction Corps and Chen Mingguo, Director of the Xinjiang Public Safety Bureau," Blinken said in a statement. "We are doing so in response to serious human rights abuse against members of ethnic and religious minority groups in Xinjiang."
Blinken said that the U.S. issued the sanctions in solidarity with its allies in United Kingdom, Canada and the European Union. 
In January, during the final days of the Trump administration, the State Department declared persecution of Muslim minorities in western Xinjiang province, including mass internment, forced labor, and forced sterilization, as "genocide" and "crimes against humanity."
"Wang is being designated for having acted or purported to act on behalf of, directly or indirectly, the XPCC," Blinken's announcement reads. "Chen is being designated for being a foreign person who is a leader or an official of the XPSB, which is engaged in, or whose members have engaged in, serious human rights abuse related to Chen's tenure."
Blinken called on China to "bring an end to the repression" of Uyghurs and other minority groups by "releasing all those arbitrarily held in internment camps and detention facilities."
It's been estimated that as many as 1 million to 3 million ethnic minorities have been detained in internment camps in western China. 
"Amid growing international condemnation, the PRC continues to commit genocide and crimes against humanity in Xinjiang," Blinken assured, indicating the Biden administration's agreement with the "genocide" declaration issued by the Trump administration. 
Members of the U.S. Commission on International Religious Freedom praised the U.S. and western governments' decision to sanction China. 
"Yesterday's announcement of coordinated sanctions by the United States and like-minded partners sends an unmistakably clear message to the Chinese Communist Party that the international community will not tolerate its repressive, genocidal policies in the Uyghur region," said USCRIF Commissioner and Uyghur-American Nury Turkel.
"The atrocities that the CCP has committed, and continues to commit, are an affront to humanity as well as to universal values and international law to which China has agreed. USCIRF calls on the Chinese government to end its horrific abuse against Uyghurs and other Turkic Muslims once and for all."
USCIRF Commissioner Gary Bauer, a longtime social conservative activist, remarked that "imposing sanctions against CCP officials both expose their crimes and provide much-needed encouragement to the Uyghurs and other freedom-loving people who are suffering under the CCP's brutality."
In response to the sanctions, China issued sanctions of their own. CNN reports that China sanctioned 10 EU leaders and four entities for "maliciously spreading lies and disinformation." 
Uyghurs affiliated with the East Turkistan National Awakening Movement believe that the Xinjiang Uyghur Autonomous Region is actually East Turkistan and that China has been illegally occupying the area for over 70 years.
Leaders of the Washington, D.C.-based East Turkistan Government in Exile reacted favorably to the news that the U.S. and other western governments had imposed sanctions on China while arguing that more can be done to address the nation's rampant human rights abuses.
"While we are thankful for these actions, sanctions alone are not enough," said East Turkistan President Gulam Osman Yaghma. "We urge Canada, the EU, UK, and the US to boycott the Beijing 2022 Olympics, grant priority refugee status for Uyghurs and others fleeing the genocide, and bring the plight of East Turkistan to the agenda of the UN Security Council." 
Yaghma's requests echo demands made by Uyghur protesters as Blinken met with Chinese officials last week.
Uyghurs appearing at the protest in front of the State Department headquarters in Washington last week detailed some of the "despicable acts" China has committed against them. 
"For decades, China has been forcibly aborting Uyghurs and other Turkic minorities in [an] attempt to prevent the growth of our population and eradicate the future of our nation," explained Amannissa Mukhlis, the women and family director of the East Turkistan National Awakening Movement.
"In recent years, the Chinese government has forcibly sterilized hundreds of thousands of Uyghurs and other Turkic women across East Turkistan, resulting in a decline of our population as women can no longer give birth," she added. "The Chinese government is forcing tens of thousands of young Uyghur and other Turkic women who have not been sterilized to marry Chinese in a bid to assimilate and eradicate us."
Mukhlis also spoke about the "systemic state-sponsored sexual abuse and rape" that Uyghur women regularly experience at concentration camps, as well as the fact that Uyghur children are "sent to state-run orphanages and boarding schools to be assimilated and raised as loyal Chinese citizens." In those camps, she said, people are "brainwashed to denounce their own identity, to denounce their own existence as Uyghurs and embrace Chinese identity, culture and language."