US Lawmakers Meet With Turkey's President in Attempt to Secure Release of Pastor Brunson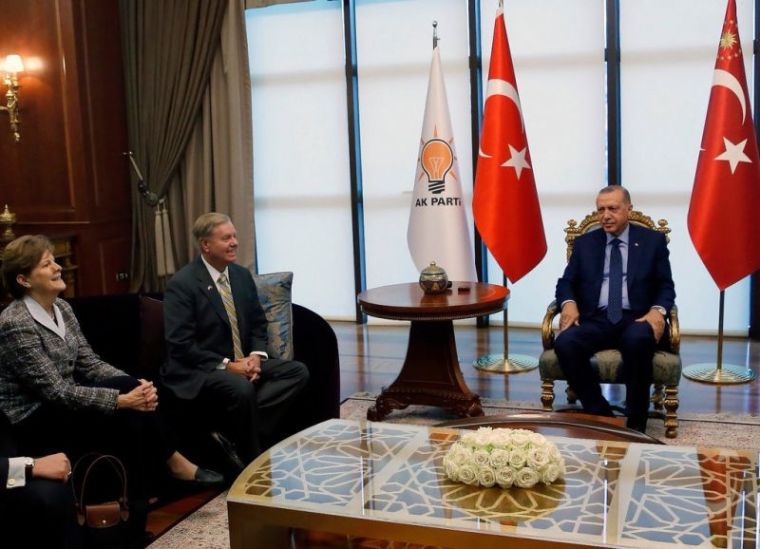 Sen. Lindsey Graham, a Republican, and Sen. Jeanne Shaheen, a Democrat, met with Turkish President Recep Tayyip Erdoğan to secure the release of U.S. Pastor Andrew Brunson, who has been in jail since October 2016 on false charges of espionage and terrorism and is being used by Turkey's government for bargaining.
Pastor Brunson is "doing fine physically," and "is not guilty" of anything, Graham says in a video he posted on Twitter Saturday. "We are working very hard to get him home."
Graham called his meeting with President Erdoğan "good, respectful, and candid."
"We have real differences, but far more in common," he wrote. "Turkey needs to be a strategic partner for the U.S. in a win-win fashion. We spoke candidly about Pastor Brunson and other friction points, including the purchase of Russian made S-400s and American made F-35s. However, when it comes to the U.S.-Turkey relationship, failure is not an option."
Shaheen also tweeted about the meeting. "… President Erdogan was receptive to my and @LindseyGrahamSC's concerns," she wrote after the meeting.
The Turkish government claims that Brunson is connected to the Islamic Gulen movement, which it accuses of being involved in a July 2016 coup attempt against the Erdoğan administration. Brunson is also accused of being involved with the Kurdistan Workers Party.
A court document submitted by the prosecution claims that churches in the United States are somehow connected so that they can go to other countries and disrupt and overthrow governments, and that those churches also gather intelligence.
Rights advocates believe that Brunson was arrested in an attempt to force the U.S. government to extradite Islamic cleric Fethullah Gulen, who resides in Pennsylvania.
Brunson, a North Carolina native who has led a small congregation in Izmir for the past two decades, has denied all the charges.
Based on testimony from a secret witness who has not been revealed, Brunson was accused of obtaining secret documents related to the goal of espionage and overthrowing the government.
"I want the whole truth to be revealed. I reject all the accusations in the indictment. I haven't been involved in any illegal activity," Brunson said in April. "I haven't done anything against Turkey. On the contrary, I love Turkey. I have been praying for Turkey for 25 years."
Erdoğan recently secured another five years in power and is scheduled to meet with President Trump soon on the sidelines of a NATO Summit in Brussels.
According to In Defense of Christians — a nonprofit dedicated to protecting persecuted believers across the Middle East — over 65,000 people have been arrested in Turkey since the government began its crackdown following the coup attempt of 2016, including at least 319 journalists.
In addition, over 152,000 people have been dismissed from their jobs through government decrees. At least 5,822 academics have lost their jobs and over 4,400 judges and prosecutors have been dismissed.
IDC reports that detainees claim to have been denied food, water, and medical treatment. Also, detainees claim to have been subjected to physical torture.