US Mint puts Methodist social reformer on new special quarter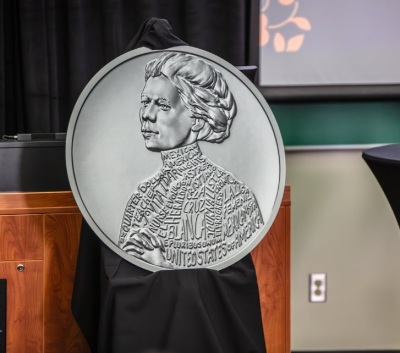 The U.S. Mint has released a quarter celebrating the life and accomplishments of Jovita Idar, a Mexican-American journalist and Methodist social reformer.
The Mint held two ceremonies earlier this month to celebrate the release of the Idar quarter, one on Sept. 14 with the National Women's History Museum and another on Sept. 16 with the Smithsonian American Women's History Museum and the Mexican American Civil Rights Institute.
U.S. Mint Deputy Director Kristie McNally said in a statement there have already been over 34.6 million quarters featuring Idar that have gone into circulation.
"That means that there [are] probably 34.6 million people that are learning about Jovita Idar each day, and for us to have the ability to share her story and her legacy with everyone is amazing," stated McNally.
"Who better to honor on the eve of Hispanic Heritage Month than the woman who advocated for the preservation of Hispanic heritage through education and social services?"
The Sept. 14 event occurred at the University of Texas at San Antonio. It featured a roundtable discussion that included members of Idar's family and retired United Methodist Church Bishop Joel Martinez.
The Rev. Elizabeth A. Lopez, a UMC pastor who is one of Idar's grandnieces, told those gathered about the influence of her honored family member on her life.
"Her commitment to The United Methodist Church's values of personal and social holiness prepared a way for me to confront the patriarchal constraints and racism that exists within the UMC," said Lopez in a statement shared by the UMC Rio Texas Conference.
"Her [inherent] strengths to keep me going when I wanted to quit gave me and other Hispanic women the experience of ministry in cross-racial appointments. The commitment of her faith was an undercurrent for everything she did."
Martha L. Aki, another grandniece who spoke at the event, recounted how Idar's brothers were a major source of support for their journalistic and reform efforts.
"It was just Jovita and the boys — all her brothers. She was an advocate for women's rights because she was supported by her brothers to be that woman," said Aki.
"She was encouraged to study, get out there and write articles for La Crónica. For the dads out there: What you tell your little girl is extremely important. Not just the women, but the men were supportive of women's rights."
The release of the Idar quarter was part of a four-year project by the U.S. Mint known as the American Women Quarters Program, which is centered on celebrating notable American women.
In addition to Idar, other women honored by the program this year include Bessie Coleman, the first black and Native American woman to become a licensed pilot; Edith Kanakaʻole, a notable indigenous Hawaiian composer and custodian of native culture; Maria Tallchief, an influential Native American dancer who became the United States' first prima ballerina; and former First Lady and social reformer Eleanor Roosevelt.
Earlier this year, it was announced that Pauli Murray, the first African American woman to be ordained a priest in The Episcopal Church and co-founder of the National Organization for Women, will be honored by the U.S. Mint with a quarter in 2024.