Vatican Reiterates Divorced Remarried Catholics Are Banned From Communion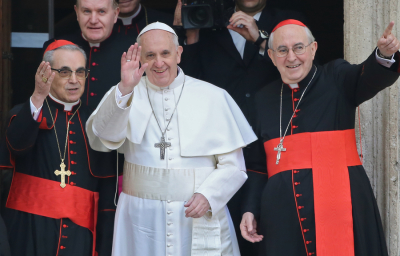 A Vatican official reiterated this week that divorced remarried Catholics are still banned from taking Communion.
In a lengthy essay published on Tuesday in the Vatican newspaper "L'Osservatore Romano," Archbishop Gerhard Ludwig Müller acknowledged the tensions the church dealt with in choosing to stand by an earlier tenant.
"Today even firm believers are seriously wondering: can the Church not admit the divorced and remarried to the sacraments under certain conditions? Are her hands permanently tied on this matter? Have theologians really explored all the implications and consequences?" Müller, the Vatican's chief doctrine official, wrote.
Müller denied that mercy superseded the authority of Biblical teachings, and added that marriage was not a sacrament "for the individuals concerned to decide on its validity, but rather for the Church."
Müller also reminded remarried Catholics that a relationship with God was not limited to their ability to take Communion.
"It is important to realize that there are other ways, apart from sacramental communion, of being in fellowship with God. One can draw close to God by turning to him in faith, hope and charity, in repentance and prayer. God can grant his closeness and his salvation to people on different paths, even if they find themselves in a contradictory life situation," he wrote.
He also encouraged priests and church leaders to make sure that they "welcome people in irregular situations openly and sincerely, to stand by them sympathetically and helpfully, and to make them aware of the love of the Good Shepherd."
Müller's words come at a time when the Freiburg diocese in Germany announced earlier this month that it intended to give Communion to divorcees. The diocese, which first launched its campaign in February 2012, had declared that the current church teaching came from a spirit of "moral condemnation" leaving remarried Catholics with a "painful feeling of exclusion" and said that it would only individually grant the sacrament after couples had been interviewed by a priest.
Immediately after the diocese announced its decision, the Vatican immediately criticized Freiburg, arguing that its position only brought "confusion."
Current church teaching dictates that Catholics who wish to remarry must have their first marriage annulled if they seek to continue participating in the church's sacraments -- an act that declares the marriage never existed. If the church does not grant an annulment, it considers the person remarrying to be committing adultery.