Inside the Vatican Synod on Family: The Sacrament of Marriage (Day 8-9)
Editor's note: The Christian Post has arranged with noted evangelical Dr. Thomas Schirrmacher, an expert on and friend of The Catholic Church, to provide exclusive and rare coverage of the World Synod of the Catholic Church scheduled for October 3-24.
This Vatican Synod is generating great interest among Catholics and Evangelicals alike as Pope Francis continues to make overtures for increased cooperation with Evangelicals to protect religious freedom in a world of increased persecution of Christians.
Schirrmacher is president of the International Council of the International Society for Human Rights und Ambassador for Human Rights and executive chair of the Theological Commission of the World Evangelical Alliance, the largest evangelical association in the world.
Only one evangelical was invited to this year's three-week Synod: Dr. Schirrmacher. Below is his exclusive CP blog post from this historic meeting: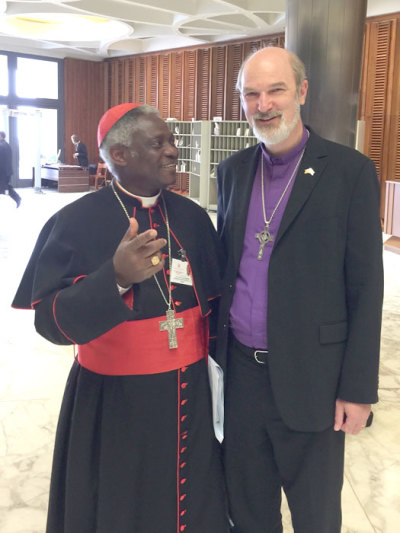 October 11, 2015
This Sunday was a day for delegates. Some European delegates traveled home to their dioceses, many did sight-seeing in Rome or Italy (I visited Pompeii, Naples and the volcano Vesuv), and some just slept or relaxed.
Earlier on Saturday late afternoon, in one of the rare sessions with open speaking for one hour, for the first time the two sides on marriage clashed within 10 minutes. One bishop stated that it is the smell of the devil even to discuss any changes on how to adapt the Catholic teaching on marriage to difficult situations. Interestingly what sounded very Catholic actually is a very direct attack on the Pope! Just after him one bishop reported about couples that have been remarried for decades and cannot go to mass because they were married in the church before, and their grown children never developed a real relation to the church because they did not take the Lord's Supper either. Another bishop reminded the delegates of the situation when priests break their promise when becoming a priest – a sacrament in the Catholic Church – and return to become lay people yet can receive forgiveness and go to mass for the rest of their life. Why could not something similar be made possible for remarried couples?
What is at stake here? For non-Catholics this is difficult to understand. The Catholic Church distinguishes between the natural, civil marriage, and the marriage as a sacrament celebrated in and by the church. Only the latter is under church law and cannot be dissolved. So if you divorce a marriage that never became a sacrament, this is one thing and you are up to marry again under civil law. But if the sacrament was added to your marriage, you cannot dissolve this sacramental marriage. If you have problems, you might separate for some time or forever. If you get divorced anyway, all civil questions follow civil law, e.g. the question who is responsible for the children etc., but the original sacramental marriages stays on – you live in ongoing adultery. You cannot be prevented from a second civil marriage. You will never get a second marriage sacrament, if your spouse did not die or the marriage is annulled (which just means that the church decides that you never were under a marriage sacrament, not that you civil marriage was not valid). But then if the original sacramental marriage holds and you are living together with a new spouse, you are living in ongoing sin and are destroying the original marriage sacrament. Therefore you cannot take part in any other sacrament including the mass. Got it? Don't be disappointed, if not, it is a complicated matter. But perhaps you now understand why the priests that give up the sacrament of becoming priests are used as an example. They destroy a sacrament (because once a priest, always a priest), yet are forgiven and not kept from the sacrament of the mass.
The non-Catholic churches do not have marriage as a special sacrament. What they have is a special ceremony of blessing a civil marriage by and in the church, stressing that here you vow that you see marriage as a covenant given by God to be fulfilled in faithfulness and love. Non-Catholic churches might discuss whether you might remarry, but they talk about a further civil marriage after you ended the earlier civil marriage.
Behind the discussion on the synod lies another question, which is a question all Christian churches have to deal with. How do we apply laws, ideals and principles to specific and difficult situations? No one at the synod questions that marriage as sacrament. Non-Catholic views of marriage do not play any role here. But those bishops asking for exceptions for remarried couples argue that the church law has to be applied in wisdom and in a way that people can understand it e.g. they argue that telling you that you stay in the church and are called to participate, yet you cannot receive the Lord's supper is a contradiction that wishes for a pastoral solution to be found.
We will see how this debate develops and how Pope Francis will take it up.