Vicar of Baghdad 'Not Stopping' After Forced Retirement From Ministry He Founded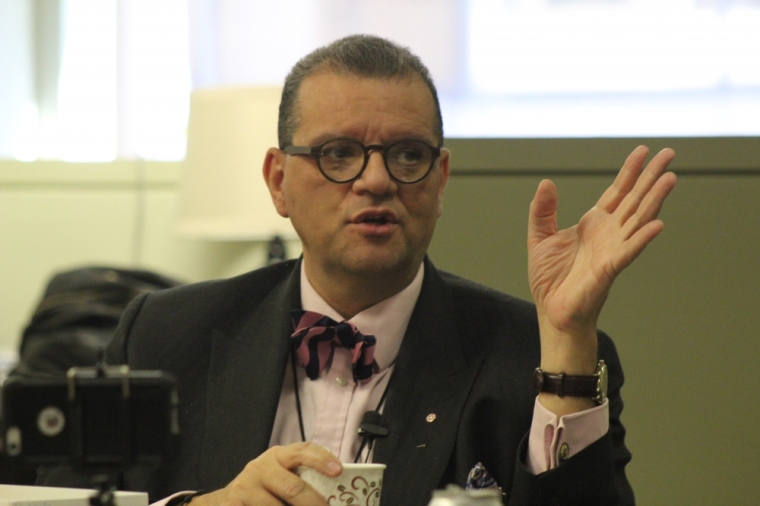 Canon Andrew White, a prominent humanitarian known commonly as the "Vicar of Baghdad," is vowing to continue helping vulnerable people in the Middle East even though he was forced to retire from the humanitarian aid charity he founded.
Last November, the United Kingdom-based Foundation for Relief and Reconciliation in the Middle East, an organization that White served as president of and established in 2005, announced that White had "tendered his resignation due to his state of health and inability to continue his duties."
But White, the only Anglican vicar in Iraq when the Islamic State took over chunks of territory in the northern part of the country, spoke at the London School of Theology's Deo Gloria lecture on Tuesday night and asserted that "they recently retired me."
"They said I was too ill to work," White, who has Multiple Sclerosis, said, according to Premier Christian Radio. "But I'm not stopping."
Premier also reports that White took to his Facebook page last month to assert that "the doctor they sent to me said I was too ill to work so I had to retire."
Since his resignation from FRRME, White has founded two new organizations, despite his ongoing health issues, to help him continue advancing his call to provide relief and foster reconciliation in the Middle East.
The new organizations, Canon Andrew White Reconciliation Ministries and Jerusalem Merit, are dedicated to a "ministry of healing" and "meeting medical, humanitarian and educational needs of the broken communities."
"At the heart of our ministry is a love for Jews and Arabs alike as well as the support for Israel and a major concentration on serving children," the organizations' Facebook page explains.
Now that White's ministry work is no longer receiving financial aid from FRRME, he is calling on his followers to make donations to his new organizations.
"Major aspects of Canon White's ministry and work, including running the School and the Clinic for Iraqi refugees in Jordan, his relief and reconciliation work in Israel and Palestine, are totally reliant on your direct support to Canon Andrew White," White's website explains.
White's resignation came months after he was suspended by FRRME last July over accusations of payments made to terrorists to free religious minority sex slaves held by the Islamic State. However, White denied those claims and said that "at no time did we pay money to any terrorists."
White lived and ministered in Iraq until 2014, when the Archbishop of Canterbury Justin Welby advised him to leave Baghdad because threats were made against his life after IS (also known as ISIS, ISIL or Daesh) conquered territory in Iraq.
White recently made headlines after he recently posted a video to YouTube explaining why he likes United States President Donald Trump, saying "there is hope with this president."
"There is very much hope for the persecuted Christians in the [Middle East] region," said White, who is slated to meet with Trump administration officials this weekend when he visits Washington, D.C.
White also praised Trump's decision not to include Iraq on the list of countries impacted by the executive order on immigration signed earlier this week, which banned travel from six Muslim-majority nations for a period of 90 days. Iraq was originally included in the ban that was issued in Trump's initial executive order signed on Jan. 27.