Video of Married Couple Singing 'Livin' on a Prayer' on Jay Leno's 'Pumpcast News' Goes Viral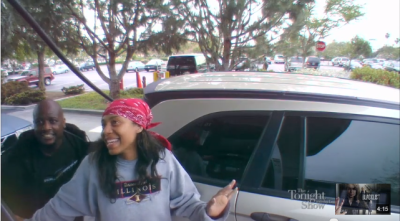 A video of a fun-loving married couple from Burbank, Calif., who surprised the Tonight Show's fictional "Pumpcast News" with their made for TV rendition of two hit songs from the 1980s at a gas pump, has turned the duo into the latest Internet stars and revived the popularity of the songs.
The video, published on YouTube last Thursday had been viewed more than 7.5 million times on Monday while Bon Jovi's "Livin on a Prayer" and the Eurythmics' "Sweet Dreams" have been experiencing a bit of a revival because of the couple's act. One YouTube video of "Livin' on a Prayer" is now pushing nearly 60 million views while another of "Sweet Dreams" is closing in on 20 million views.
Actor Tim Stack, who plays a fictional news anchor for the fake news station that only airs on gas station pumps, is usually the one doing the surprising on the "Pumpcast News" segment of the "Tonight Show," but it was the couple, Will and Monifah Sims, who surprised him this time around with their uninhibited show.
"Whoever you are, you can make me a star. I'm ready for my spotlight," said Monifah, a fitness trainer, in a clip that began with her husband Will singing to himself at the gas pump, and snowballed into an impromptu and surprising Karaoke show when Stack stepped in and promised a free tank of gas.
"You sir at pump 16 in Burbank," called Stack from the monitor as Will sang a low tune oblivious to the call.
"Yeah the gentleman singing, real nice singing voice," Stack continued, trying to attract Will's attention.
It wasn't until Stack insisted a third time with "yeah good morning sir, pump 16!" did Will respond with a startled and abbreviated "oh shhh" and looked up at the screen and acknowledged him with a "hey!"
"How you doing?" asked Stack.
"How are you!?" said Will with a chuckle.
"You've got a good voice."
"Oh, thank you," said Will who works as a bartender.
"Yeah, do you do that professionally?"
"No, just karaoke."
"Just karaoke? Guess what buddy, you came to the right gas pump. I'll tell you what, go ahead and pay for your gas, I've got a little karaoke for you," said Stack.
"What you want?" asked Will.
"What you got?" replied Stack.
Will then tells Stack he is an '80s kid and they agree on Bon Jovi's "Livin' on Prayer."
With Cheers from the Tonight Show audience in the background and his wife, Monifah, laughing away in the car, Will belted out the song drawing a small audience. When he was done with his solo, Will suggested doing a duet with his wife who refused at first until Stack suggested she would be doing it for a free tank of gas.
She quickly exits the car and performs the Eurythmics' "Sweet Dreams." At some point during the show, she tells Stack that she is ready for her close up and he reveals to her that he is from the "Tonight Show."
"We're working on it, get ready," said Stack in the video. "You're gonna be on Jay Leno on the 'Tonight Show,'" he announced to the excitement of the couple.
In the eventual introduction of the couple, who have been married for 12 years to his audience, Leno explained why he felt they were so special.
"Usually when we do this at the gas station we usually have four or five couples but these people were so entertaining and it's so nice to see a happy couple, we brought them here tonight. Welcome Will and Monifah," said Leno as the audience screamed.
"What a nice way to start your morning," said Leno as he greeted the couple who came onto the show dancing to lively band music.
"You know this almost seems like a plant, we had no idea these people were coming here correct?" said Leno.
"I wouldn't have looked like that," said Monifah. "That wasn't my best look after working out."