Watch Tim Tebow Travel to 5 Night to Shine Locations in 24 Hours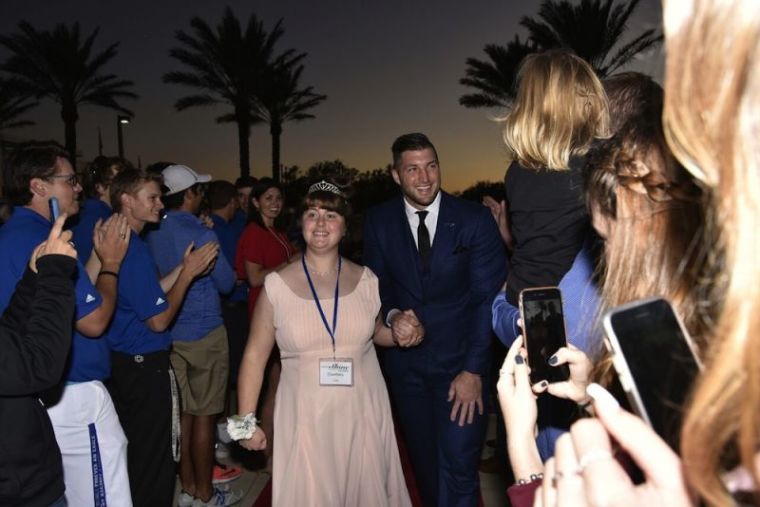 As Tim Tebow prepares for the annual Night to Shine prom created by his foundation, he's giving fans a glimpse at his level of dedication by sharing a video of him traveling to five different locations in 24 hours.
The Tim Tebow Foundation released a video this week called, "Inside Night to Shine with Tim Tebow" where the athlete and philanthropist traveled to Haiti, Colorado, Texas and multiple locations in Florida to spend at five Night to Shine events.
The 30-year-old college football star-turned-SEC network analyst and MLB hopeful, never lost his trademark smile as he traveled to each location to put a smile on the faces of those attending the festivities. On Feb. 9, 2017, Tebow began his first experience in Neply, Haiti, which he referred to as a life changing experience.
"Tonight was life changing for me," he said. "To be able to dance with all of these kids, have so much fun and just love them, show the love of God to every single one of them, because he loves us all so much."
Next, Tebow and his team traveled to Fort Collins, Colorado, where the joyful athlete exclaimed, "I'm just so thankful for all the 380 locations around the world!"
Afterward, they arrived in San Antonio, Texas, and told guests that "tonight, every single one of you will be crowned the king or queen of the prom!"
From there, Tebow made his way to Ormand Beach, Florida, before ending his 24-hour journey in his hometown of Jacksonville, Florida.
"We have been around the world literally in Haiti, in Colorado, Texas, and now we're here in Florida. I wouldn't miss this for he world," Tebow told a cheering crowd. "It's a night that every single one of you kings and queens gets to shine because you are so very, very loved."
In a statement from his foundation, Tebow expressed his gratitude for the countless people who make the event happen at hundreds of locations each year.
"I am so thankful for each and every host church, volunteer, donor and sponsor for answering the call and joining this worldwide movement," he said in a statement. "To think that 90,000 people with special needs will be cheered for, celebrated and loved on one night around the world is just amazing. When Night to Shine started just four years ago, even with our big vision we could never have imagined that it would become the worldwide movement that it is today. But we serve a big God and He has truly blessed this ministry."
This year's Night to Shine event is taking place on Feb. 9. For more information please click here.