'We Only Kill Black People,' Georgia Officer Tells Worried Woman in DUI Traffic Stop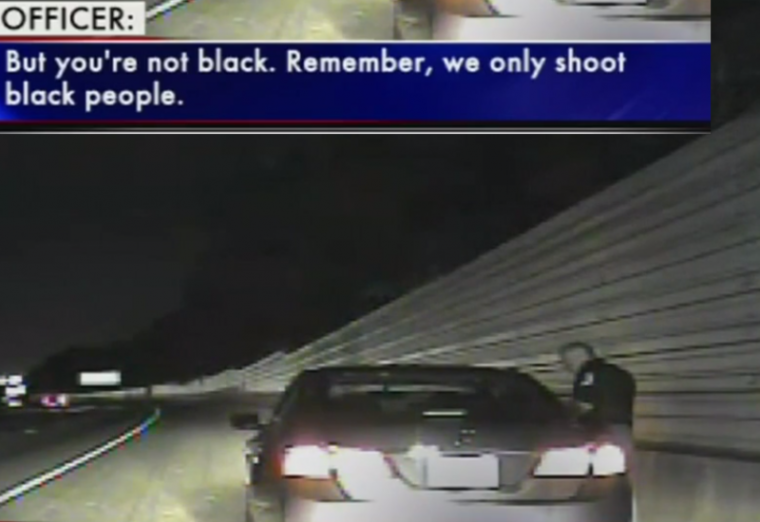 A Georgia police officer is now on desk duty pending an investigation after he was caught on dash-cam video from 2016 telling a nervous woman during a DUI traffic stop that she didn't have to worry about getting shot because "we only kill black people, right?"
Cobb County Police Chief Mike Register identified the officer on the video as Lt. Greg Abbott in a WSB-TV report and explained that an internal investigation into the incident was opened last Friday.
"Remember, we only kill black people. We only kill black people, right?" Abbott is heard telling the woman in the video after she expressed concerns about being shot if she put her hands down to pick up a cellphone.
Lance LoRusso, Abbott's attorney, said in a statement to WSB-TV: "Lt. Greg Abbott is a highly respected 28-year veteran of the Cobb County Police Department. He is cooperating with the department's internal investigation and will continue to do so. His comments must be observed in their totality to understand their context. He was attempting to de-escalate a situation involving an uncooperative passenger. In context, his comments were clearly aimed at attempting to gain compliance by using the passenger's own statements and reasoning to avoid making an arrest."
Regardless of the context of the stop, however, Register said the comments "shouldn't have been said."
The DUI stop took place on July 10, 2016, at about 3 a.m. on Interstate 75 near Marietta, the county seat, according to The New York Times. Surinder Chadha Jimenez who is representing the woman in the case said she was a passenger in the car being driven by a male.
Jimenez said Abbott apparently "didn't like the way" the woman spoke with him during the arrest of the driver, and that "they kept going back and forth."
"From my perspective of the video, she was being truthful about her fear and the cop took it as a joke or an insult," Jimenez told The New York Times. He said he didn't think the officer had "meant malice" and that he "made a bad joke."
"The Cobb County police are addressing it appropriately," he added.
Register explained that since the report about the recording became public, the police have started a faith forum, training and discussion groups.
"We are going to keep going forward to make sure we, as a police department, service the community in a most professional way — all segments of the community," he said.
A press conference is set for Thursday evening.