We Want '50 More Baby Livers a Week,' Says Planned Parenthood Partner Who Jokes About Shipping Severed Heads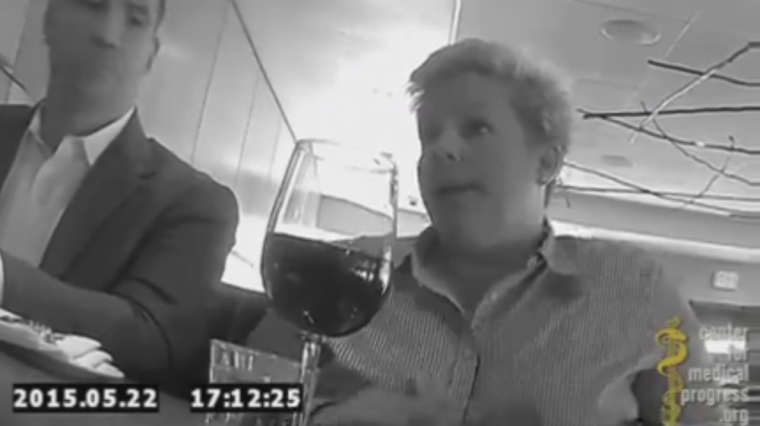 The Center for Medical Progress released its eighth investigative video highlighting Planned Parenthood's aborted baby body parts compensation practices on Tuesday, which purports to show the CEO of StemExpress admitting that abortion clinics "profit" from the sell aborted babies.
The new footage features a meeting between two CMP undercover investigators, who pose as representatives of a fetal tissue procurement company, and Cate Dyer, the CEO of one of Planned Parenthood's former fetal tissue procurement partner company, StemExpress.
In the video, Dyer asserts that contamination in abortion clinics is so bad that many shouldn't be operating because they're fraught with health and safety violations that pose a danger to women's health.
"Contamination is a big issue. We've seen all sorts of things," Dyer admits. "I've seen rampant, rampant problems with bacteria in certain clinics. Some where you're in question, should they ... I've seen staph [infection] come out of clinics; I've seen all sorts of things come out of clinics."
During the meeting, the two sides discuss the various challenges of procuring organs from aborted babies, which leads Dyer to complain that the majority of clinics don't have the same "volume" of aborted babies as Planned Parenthood.
Dyer adds that even though StemExpress works with "triple digit number [Planned Parenthood] clinics," they still can't amass the number of aborted babies' organs, limbs and brains they want, at least not in the next 10 years. And would like to at least get 50 additional livers a week from participating clinics.
She then explains that another step in the process is to remove the hands and feet from babies' limbs before they send the body parts to academic labs because researchers don't want to know that they're working on aborted babies. Many researches, according to Dyer, leave the field because they cannot ethically and emotionally handle working on aborted babies.
"So many of the academic labs say, 'we need limbs, but no hands and no feet attached.' It's almost like they don't want to know where it's coming from," she explains. "The lab techs freak out and have meltdowns. That's why a lot of researchers get into other things. ... They want to get away from having to publish a picture and paper that says this is derived from fetal tissue."
When one undercover investigator asks Dyer whether or not she has noticed if any abortion clinics are not "profiting financially" from selling aborted babies, she asserts that all clinics are well compensated.
"You feel like there are clinics out there that have been burned, that feel like they are doing all this work for research and it hasn't been profitable for them?" Dyer asks the investigator with a hint of shock.
The CMP investigator follows up by saying, "No, I was asking you."
"I don't see that either," Dyer states. "I haven't seen that piece either with that."
By law, it's illegal for abortion clinics to profit off of the sell of aborted babies' tissue. Although clinics are allowed to be compensated for the tissue, clinics are not allowed to profit from such a sale.
Upon the release of the CMP videos, Planned Parenthood has maintained that its clinics follow the law throughout the tissue reimbursement process.
Lila Rose, president of the pro-life organization LiveAction, contends that CMP's latest video all but confirms that Planned Parenthood is profiting from the sell of aborted baby parts.
"The evidence is strikingly clear that Planned Parenthood is engaged and profiting from the harvesting, trafficking and selling of aborted baby body parts," Rose said in a statement to The Christian Post. "The abortion giant should be immediately defunded of the over 500 million of forced taxpayer dollars they receive a year, and attorneys general and state prosecutors should be conducting full criminal investigations into these barbaric and illegal practices."
Dyer further states in the video that sometimes StemExpress procures "intact cases." When the company procures intact cases, Dyer said the cases are shipped back to the StemExpress lab in "its entirety."
While it's not yet known whether intact cases means intact bodies of aborted babies, a StemExpress spokesman claims that intact cases referrs to "intact livers."
In the midst of the release of the CMP undercover videos, StemExpress announced earlier this month that they will no longer be partnering with the nation's largest abortion provider.
Additionally, Planned Parenthood plans to file a lawsuit against CMP, alleging that the CMP video series has been selectively edited to make the abortion giant look bad. Although Planned Parenthood has maintained that the videos are selectively edited, CMP has released full versions of their videos.
"Anyone watching these videos can see the horror of Planned Parenthood's baby parts trafficking, and the abortion corporation's continued spin and deception cannot hide the truth," Rose continued. "Taxpayers should not be paying for these atrocities against humanity, and a free, democratic, and moral country should not tolerate the selling of baby body parts."