#WeAreN2016 Congress Calls on World Leaders to End Christian Persecution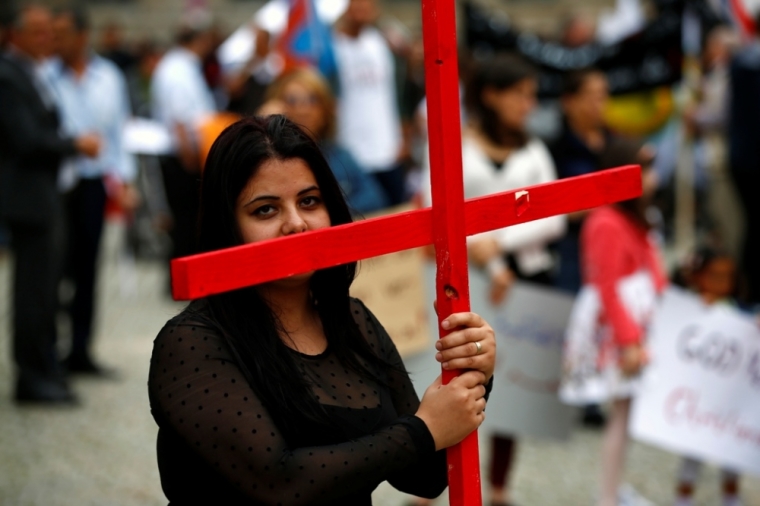 The ongoing #WeAreN2016 Congress, an international gathering of high level experts and witnesses being held in New York City, is calling on world leaders to stop the persecution of Christians and other minorities in countries such as Syria, Iraq and Nigeria, particularly by Islamic State and other Islamist terror groups.
"Christians account for 80 percent of persecuted minorities. They are victims of the deliberate infliction of conditions of life that are calculated to bring about their physical destruction in whole or in part," say the organizers on the website of the congress, which began Thursday and will go on until Saturday at several locations in New York City.
"They are being murdered, beheaded, crucified, beaten, extorted, abducted, and tortured," they say.
Being organized by CitizensGo and Mas Libres and co-sponsored by In Defense of Christians, the congress will also have witnesses testify at the United Nations headquarters "to address world leaders and call them to take action on this important issue."
Archbishop Bernardito Auza, the permanent observer of the Holy See to the U.N. and Ambassador Ufuk Gokcen, the permanent observer of the Organization of Islamic Cooperation, are among the sponsors.
Christians "have been victims of summary executions," the organizers adds. "They have been enslaved and forcibly converted to Islam. Women and girls in particular have been subjected to forms of sexual violence such as rape, and have been victims of forced marriages and human trafficking. Children have been transferred to other groups and forcibly recruited. Christian churches and religious and cultural sites have been vandalized. Christian towns, villages, and districts have been devastated."
The congress notes that the European Parliament, the Council of Europe, the U.S. Congress, Pope Francis, and Christian leaders from a broad array of faith traditions have called the actions of IS, also known as ISIS or ISIL or Daesh, against Christians and other religious minorities acts of genocide.
IS is an offshoot of al-Qaeda and wants to establish a caliphate in the Levant region and beyond. It has gained control over large swathes of territories in Syria and Iraq, and is seeking to expand its territory. The Boko Haram terror group in Nigeria has also pledged allegiance to IS.
Last week, Britain's House of Commons defied the British government to vote 278-0 in favour of declaring IS attacks on Christian and Yazidi minorities in Iraq and Syria a genocide, calling on ministers to refer the atrocities to the United Nations.
"Genocide is a word of such gravity, implications and history, that it should never be used too readily," Conservative lawmaker Fiona Bruce was quoted as saying in British media. "It is rightly known as the 'crime above all crimes.' For this reason alone it is incumbent upon all of us to prevent the term from devaluation or over-use. But such caution must not stop us from naming a genocide where one is taking place."
In Iraq, IS had marked homes and other property owned by Christians with a red, painted 14th letter of the Arabic alphabet and the equivalent to the Roman letter "N," which stands for Nasara or Nazarenes, a pejorative Arabic word for Christians. "We are N" became popular on social media as a symbol of solidarity with the Iraqi Christians.