West Texas A&M president cancels 'derisive' campus drag show, cites Christian faith
LGBT group calls 'use of religion ... disturbing and unprofessional'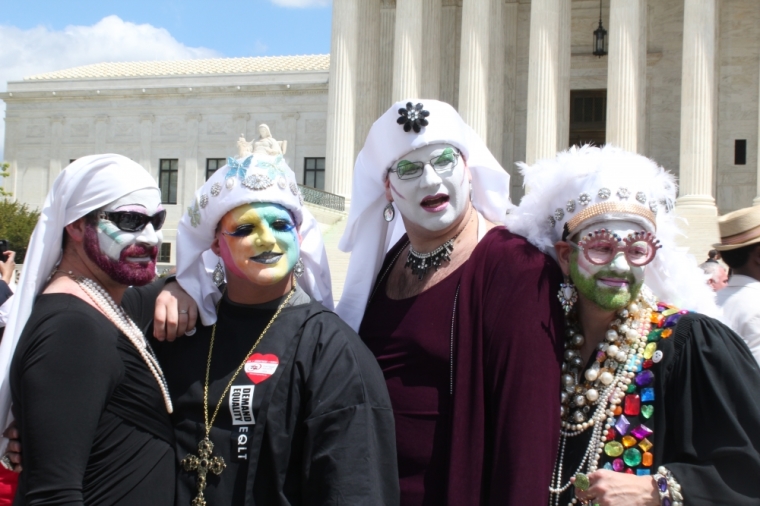 The head of a Texas university cited the Bible and other religious texts to support his decision to cancel a planned drag show scheduled to take place on campus later this month.
In a statement released Tuesday, West Texas A&M University President Walter Wendler said the college, located in Canyon, Texas, about 10 miles south of Amarillo, will not host the March 31 drag show, which he said was advertised as an effort to raise money for a nonprofit organization, The Trevor Project.
After describing TTP's stated goal of suicide prevention as a noble cause, Wendler wrote: "WT endeavors to treat all people equally. Drag shows are derisive, divisive and demoralizing misogyny, no matter the stated intent.
"Such conduct runs counter to the purpose of WT. A person or group should not attempt to elevate itself or a cause by mocking another person or group."
Wendler compared his opposition to the drag show to not supporting "blackface" performances on campus, calling such displays "wrong."
"I do not support any show, performance or artistic expression which denigrates others — in this case, women — for any reason," he added.
The university president also shared his personal conviction that, as a Christian, "every human being is created in the image of God and therefore, a person of dignity."
"Does a drag show preserve a single thread of human dignity? I think not," wrote Wendler. "As a performance exaggerating aspects of womanhood (sexuality, femininity, gender), drag shows stereotype women in cartoon-like extremes for the amusement of others and discriminate against womanhood."
Wendler concluded the letter by quoting Matthew 7:12 — "So in everything, do to others what you would have them do to you, for this sums up the Law and the Prophets" — as well as similar proverbs from Buddhism and Judaism, adding that he believes the WT community should live up to this universal standard of "law of reciprocity … in every known religion and society on the planet."
A spokesperson for Wendler's office declined to comment to The Christian Post "due to pending litigation."
Established in 1910, WTAMU had more than 9,200 students enrolled in Fall 2022 — including over 6,900 undergrads — and boasts a 176-acre campus set against the western backdrop of the Texas Panhandle.
In response to Wendler's announcement, Spectrum, WT's student-led LGBT organization, issued a statement in defense of drag, which read in part: "Drag is not a mockery — it is a celebration … to call it misogyny or misogynistic is to miss the entire point of what drag is."
Spectrum's statement also took aim at Wendler expressing his faith in a university announcement and called on him to reinstate the event.
"We also find the use of religion by a university official disturbing and unprofessional and believe that the separation of church and state is essential to our country," the statement added, citing the First Amendment.
According to an online petition titled "Save the WTAMU Drag Show," the "main aim of the drag show was to raise funds" for The Trevor Project.
All proceeds from the show, the petition stated, will go toward the organization, which is an LGBT advocacy group with research briefs that correlate religious beliefs with higher rates of suicide among LGBT-identified people, a claim that has frequently been disputed.
In addition to the LGBT alliance, the Secular Student alliance accused Wendler of violating state law because, according to a tweet, he "used his religion to cause harm to [LGBT] students and the larger community."
Not only has @wtamu President Wendler violated state law and university policies, he used his personal religious beliefs to cancel a student event at a public university. He used his religion to cause harm to LGBTQ+ students and the larger community.https://t.co/hAdo9w7mlg

— Secular Student Alliance (@SecularStudents) March 22, 2023
The group also criticized Wendler for sharing his faith in the announcement, saying, "First and foremost, President Wendler's personal religious beliefs and biblical references have no place in justifying the cancelation (sp) of the event. West Texas A&M University is a public institution and the wall of the separation of state and church remains standing."
A coalition of churches known as Open and Affirming Congregations of the Texas Panhandle (OAC) called Wendler's decision "disappointing and infuriating." 
"The good news is that President Wendler does not speak for the many allies among WT's faculty and staff," the group wrote on Facebook. 
Other groups like Young Conservatives of Texas praised the move, calling the planned drag show a "degenerate event" and cited Proverbs 28:1, which reads, "The wicked flee though no one pursues, but the righteous are as bold as a lion."
Republican State Rep. Ronny Jackson, who served as White House physician to the President under Barack Obama and Donald Trump, also tweeted his support for Wendler.
"THANK YOU to President Walter Wendler for his leadership and for not allowing drag shows to DISGRACE the campus of West Texas A&M University. These lewd 'performances' are divisive & degrading. They DO NOT belong on campus!!" Jackson wrote.