What I Saw at the Democrats' Convention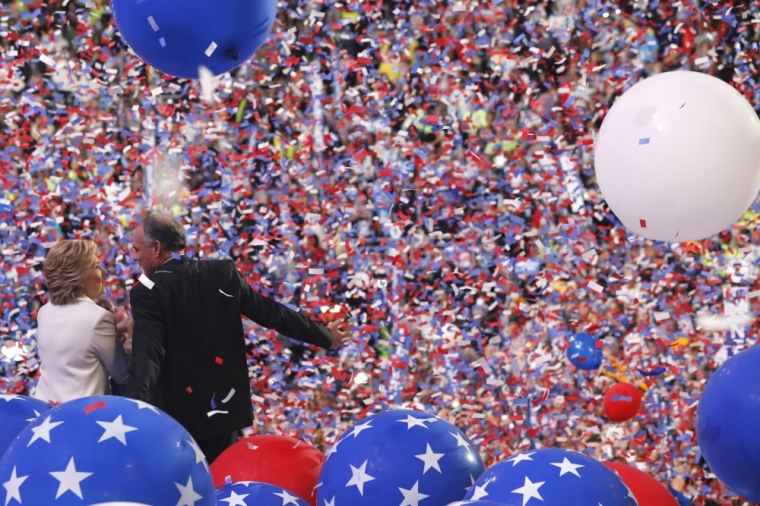 As a person who has been without a political family for years, I was excited to attend the Democratic National Convention ("DNC") as a hopeful observer last week. My hope was that I would finally be able to pull up to the seat of the DNC dinner table and quickly feel at home as a Bible believing, Black, educated Christian woman.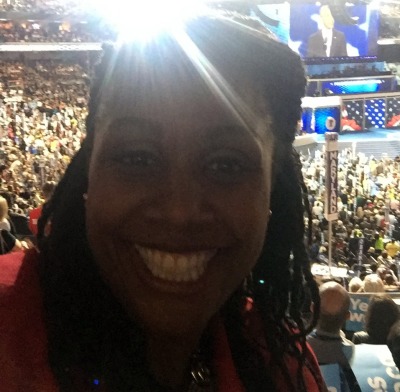 As an African American woman, it is usually assumed that I am a staunch Democrat; however, I have said for many years that I am a clear conscious independent. So my hope in attending the DNC was that I would metaphorically be able to say, "Can I have seconds please," which I ask only when I feel extremely comfortable at someone's home regardless of how hungry I still truly am.
Therefore, I went with an open mind and heart in hopes of my potential new family doing the same, as I knew that the DNC could gladly welcome me to their dinner table being a Black, Educated Woman, (probably even more than the Republican National Convention in fact), as there are plenty of others in the DNC family like me.
However, I wasn't sure if they would be able to warmly pull out a chair for a Follower of Christ that believes the Bible is true and infallible. There were certain issues I expected to be embraced such as LGBTQ Rights, a Women's Right to choose, gun control and free trade. Republicans and Democrats typically disagree on these, however, I was unsure what else to expect. As I walked through the doors of the DNC, I braced myself for what my experience would be like.
From the minute I stepped into the house, I was delighted to see ethnic and racial diversity since one of the DNC's themes was we are "Stronger Together".
As I watched the Republican National Convention ("RNC") on television the week before, one of my first observations was that the convention did not represent America in 2016. Yes, the RNC had a sprinkle or two of rumbustious minorities in support of Donald J. Trump. But when the media pundits showed the floor, it was hard to spot racial and ethnic minorities at the convention.
I know that not every region, city or town in America, is overflowing with African Americans, Latin Americans and Asian Americans, however, more cities than not have a sizeable number of minorities that make up its population. The lack of diversity at the RNC should tell the "Grand Old Party" that they are doing an inadequate job of intentionally reaching out to different groups that in many ways share similar conservative values but don't fit the all American profile of 50 years ago.
Especially when one considers the current climate of racial tension, it was refreshing to see whites and blacks cry, unite and stand up and applaud the Mothers of the Movement. This movement is composed of moms who have lost their sons to law enforcement or gun violence, which many but not all of my white Bible-Believing Christian brothers and sisters are unsure how to respond to.
The RNC did not acknowledge the violence against African American men and women that has been increasingly caught on camera in the age of smart phones and social media. They seemingly took the position that if they acknowledged the sacrifices made by law enforcement every day, (which I acknowledge and am extremely grateful for their act of service), they could not simultaneously address the issue of unjust law enforcement treatment against African Americans that the country is being forced to face now.
Personally, listening to Mothers of the Movement, was one of the most moving experiences I had as an African American mother, who fears for her Stanford educated husband's and children's lives at times due to the color of their skin, and as a Christian, who can have compassion for a person who is hurting and can openly cry with them, just as the Bible teaches in Romans 12:15. Having compassion for one group, does not mean you do not respect or appreciate the other.
Another observation I noticed was a diversity of ideologies that were present at the DNC dinner table. I spoke with progressive liberal supporters of Bernie Sanders, moderates and even Bible Believing Christians who refused to adopt in entirety the Democratic Party's platform or even strongly endorse Hillary Clinton, however, refused to vote for the current Republican presidential nominee. I proceeded to take note and figuratively and literally eat my meal as I was only a guest at dinner.
To be completely honest, just like at most dinner parties where you are getting to know your hosts, my comfort level wavered throughout the DNC. My comfort level was high when President Obama spoke about criminal justice reform as this too deals with saving lives and confronting the inherent injustices in the system, in which I believe God is a proponent for as the Bible, says "God is a God of justice". My comfort level was lowered when the DNC spoke in favor of repealing the Hyde Amendment and expanding the role of the federal government in education reform without supporting the right of parents to choose which school they would like their children to attend until this reform can take place.
I felt most comfortable with being at the table when independent Michael Bloomberg , the billionaire and former Mayor of New York, spoke even though you heard a few boos and very few cheers as he confessed he didn't agree with all of Hillary Clinton's positions. It is always nice to know you are not the only one at the party that doesn't fit perfectly in. Michael Bloomberg's speech was effective because he spoke sincerely and passionately as a guest at the DNC's house, and spoke about the dilemma many of us are faced with having to choose between two parties that do not fully represent many people's s views and values.
What also made Mr. Bloomberg's speech so notable was that he also spoke from the position as a billionaire businessman that can evaluate Mr. Trump's self-proclaimed label as a self-made successful businessman like few can. Mr. Bloomberg openly challenged this notion that Mr. Trump is relatable to working class Americans by pointing to the facts that the Republican presidential nominee was given $1 million dollars by his father to start his first business as well as pointing to his numerous bankruptcies to discredit some of the success Trump boasts of to the public.
He highlighted what he called his "rich hypocrisy" by pointing out that Trump promised to bring back manufacturing jobs back to the U.S.A., while his manufacturing is done in China and Mexico, as well as his historical use of undocumented workers. Bloomberg also implied that Donald Trump may not be sane enough to be elected President of the United States, which was underscored by the sexist, misogynistic, racist and narcissistic comments that were made by Mr. Trump and played for the DNC attendees during the breaks that were satirical at best and offensive at worst.
As the dinner party came to a close, I wasn't ready to go. I realized overall I had a good time. However, I also realized more than ever, that our country needs to place its hope squarely in Christ and needs a heart change more than a legislative, judicial or executive change.
I went to the DNC with much excitement in part because I realize this country is no longer a Christian nation as many people claim. I believe Bible Believing Christians have to accept this as people are less and less inclined to believe the Bible is true, let alone let the Bible influence their decisions. They are more likely to let culture, which is now driven by reality television, talk shows and magazines, help them make decisions. Simply put, Christianity is no longer the biggest influence in the culture.
I think Christians must ask themselves, even if you disagree strongly with the Democratic or Republican Party on a few issues, should you still join the family or at least want a seat at the table so that you can righteously influence policy and policy makers. This is the question we all must answer now as a Christian cannot say in good conscious that one party is more Christian than another party.
Although I am a proud African American woman, I am a Christian first, which means all my decisions are filtered through my lens of faith first. With that being said, as a Christian, I felt sort of accepted at the DNC. I know they may not ever fully understand my biblical world view. I did not enjoy all parts of the meal but I enjoyed many parts of it. I am not sure if I feel like I am welcomed to the family but I guess you can say I plan to come back from time to time, especially with the current state of the RNC, as there is room at the table for people like me for now.
April Allen holds a Juris Doctorate from the University of California, Hastings College of the Law and a Masters of Public Administration from University of Washington. She has served both Republicans and Democrats in political campaigns and consults nonprofit and faith based institutions on matters of diversity.