What Is Antifa? The Far-Left Group Staging Violent Protests Nationwide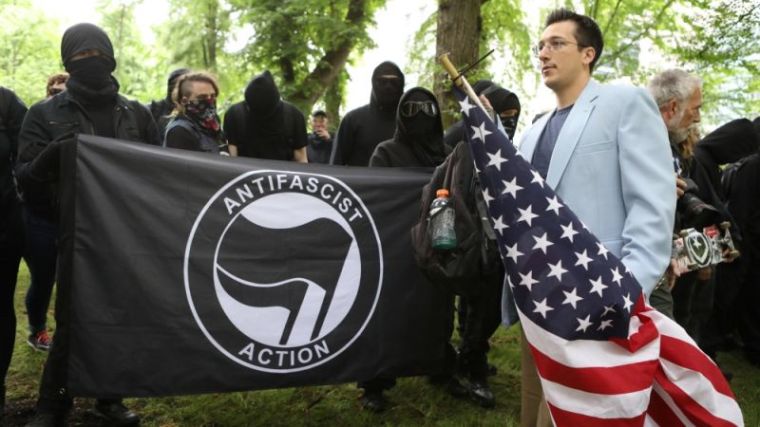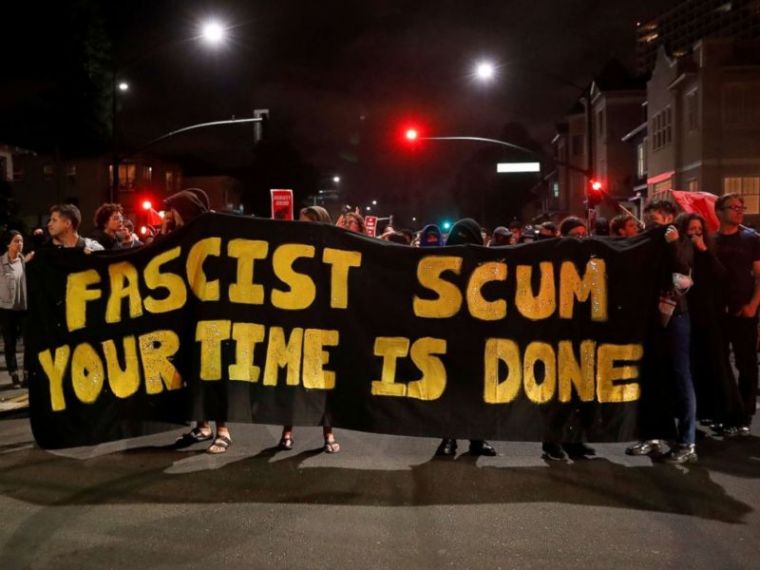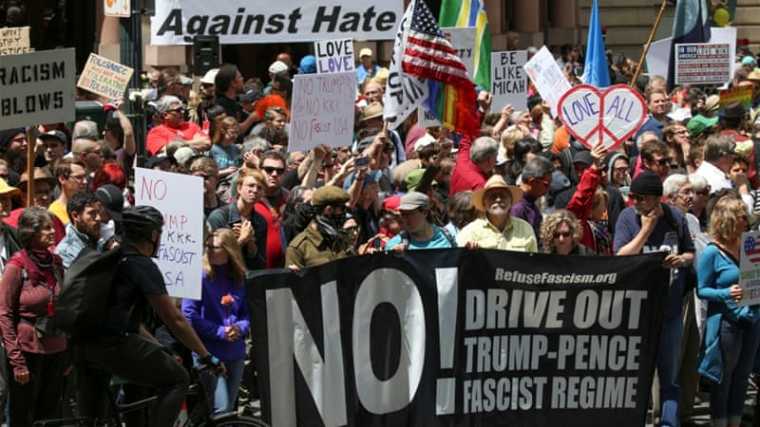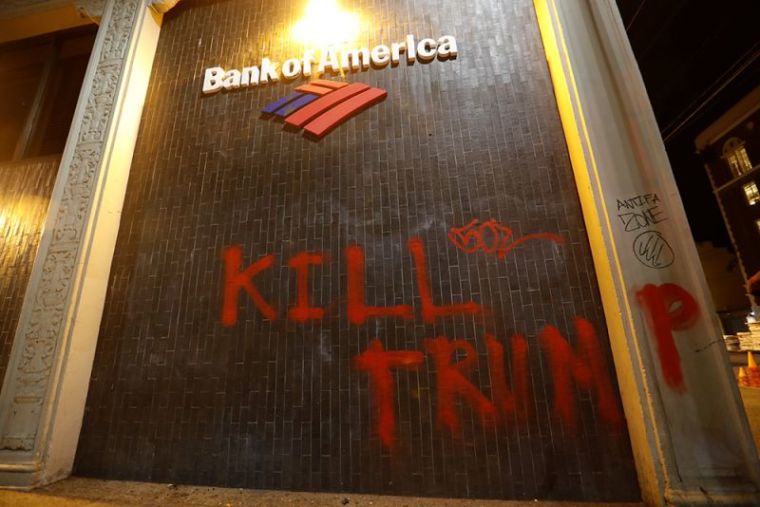 View Photos
The term Antifa has been all over the news since violence erupted between white supremacists and counter protesters who clashed in Charlottesville, Virginia, last weekend.
As white supremacists, neo-Nazis and other far-right extremists held a rally to protest the removal of a Robert E. Lee statue on Aug. 12, they clashed with individuals connected with a loosely affiliated network of anti-fascist groups called Antifa. Many on both sides were seen wearing helmets, holding shields and carrying an array of weapons — guns, flame throwers, baseball bats, metal rods and sticks.
Last Saturday wasn't the first time violence has erupted between Antifa and groups they consider to be fascist.
Although the Antifa groups are dedicated to opposing white nationalist and white supremacist groups, they have also been active in opposing President Donald Trump and free speech rallies throughout the nation in which Trump supporters, and journalists, have been severely beaten and injured by their anarchist violence.
But what exactly is Antifa and what is the history behind it?
According to Mark Bray, a historian of human rights, terrorism and political radicalism in Modern Europe who is also a lecturer at the Ivy League Dartmouth College in New Hampshire, "Militant anti-fascist or 'Antifa' is a radical pan-leftist politics of social revolution applied to fighting the far right."
"Its adherents are predominantly communists, socialists and anarchists who reject turning to the police or the state to halt the advance of white supremacy," Bray, who is the author of the forthcoming Antifa: The Anti-Fascist Handbook, wrote in an op-ed published by The Washington Post. "Instead they advocate popular opposition to fascism as we witnessed in Charlottesville."
According to Bray, there are a number of different Antifa groups across the globe. However, Antifa "is not itself an interconnected organization, any more than an ideology like socialism or a tactic like the picket line is a specific group."
With the goal of tracking, exposing and stopping the activities of neo-Nazis and white supremacists, Bray claims that the "vast majority of anti-fascist organizing is nonviolent." However, Bray states that Antifa's "willingness to physically defend themselves and others from white supremacist violence and preemptively shut down fascist organizing efforts before they turn deadly distinguishes them from liberal anti-racists."
"Antifascists argue that after the horrors of chattel slavery and the Holocaust, physical violence against white supremacists is both ethically justifiable and strategically effective. We should not, they argue, abstractly assess the ethical status of violence in the absence of the values and context behind it," Bray explained.
The Advocate reports that the roots of Antifa date back to the 1920s and 1930s, when "militant leftists battled fascists in the streets of Germany, Italy, and Spain."
Although Antifa initially died when fascism was defeated in World War II, it resurged in the 1970s and 1980s when neo-Nazis "began to infiltrate Britain's punk scene."
The Antifa movement launched in the United States and Canada under the name "Anti-Racist Action Network." According to Bray, ARA followed the Klu Klux Klan, neo-Nazis and other white supremacist groups wherever they demonstrated.
"Their motto was simple but bold: 'We go where they go.' If Nazi skinheads handed out leaflets at a punk show in Indiana about how 'Hitler was right,' ARA was there to show them the door," Bray stated. "If fascists plastered downtown Alberta's Edmonton with racist posters, ARA tore them down and replaced them with anti-racist slogans."
With the rise of Trump and many attacking his presidential campaign as being one that emboldened the "alt-right" and racist bigots, Antifa groups' efforts are no longer confined to just opposing white supremacy and have begun counter-protesting pro-Trump rallies.
In February, Antifa activists and other agitators set fires, damaged property and created havoc at the University of California, Berkley — costing over $100,000 in damage — to force the administration to cancel an event featuring Breitbart tech editor Milo Yiannopoulos, an openly gay Catholic who speaks out against identity politics, Islam, and left-wing movements that aim to quash free speech. Yiannopoulos had in the past spoken favorably about factions within the alt-right movement — anti-establishment — but spoken against white supremacists.
The violence seen in Berkeley came after Antifa engaged in fights in Seattle on Jan. 20, Trump's inauguration day, in an attempt to prevent Yiannopoulos from speaking at the University of Washington.
On April 15, Antifa activists again protested at Berkeley. This time, it was in opposition to a pro-Trump free speech rally organized by the group Oath Keepers, a group linked to the Patriot Movement. The clash led to a number of fights. A video from the protest shows a protester striking a peaceful Trump supporter across the head unprovoked with a blunt metal object.
Last Sunday, Antifa activists also protested a "Patriot Prayer" rally at Westlake Park in downtown Seattle even though speakers at the rally denounced white supremacy and racism. Moreover, a number of speakers at the rally were not white.
The organizers of the "Patriot Prayer" rally even instructed those attending the rally not to engage in violence with the counter protesters.
Additionally, Antifa activists also assaulted a CBS 6 photojournalist when they were protesting in Richmond, Virginia, last Sunday. CBS 6 reports that the activists told the cameraman to stop filming them.
"That's when then I extended my arm above the flags to try to get a better shot of the protest," the photojournalist said. "One member of the group hit the phone out of my hand and my natural reaction was to push them out of my personal space. Immediately following I was hit in the back of the head with a some type of blunt object."
Following Trump's election, The Advocate's Peter Beinart writes that Antifa groups are now receiving more sympathy than they have ever received from the "mainstream left" and have been emboldened.
"By the 2000s, as the internet facilitated more transatlantic dialogue, some American activists had adopted the name Antifa. But even on the militant left, the movement didn't occupy the spotlight. To most left-wing activists during the Clinton, Bush, and Obama years, deregulated global capitalism seemed like a greater threat than fascism," Beinart writes.
"Trump has changed that," he added. "For Antifa, the result has been explosive growth. According to NYC Antifa, the group's Twitter following nearly quadrupled in the first three weeks of January alone. (By summer, it exceeded 15,000.) Trump's rise has also bred a new sympathy for Antifa among some on the mainstream left."