White Christian America Is Dead and Trump's Loss Will Prove It, Religion Expert Robert P Jones Says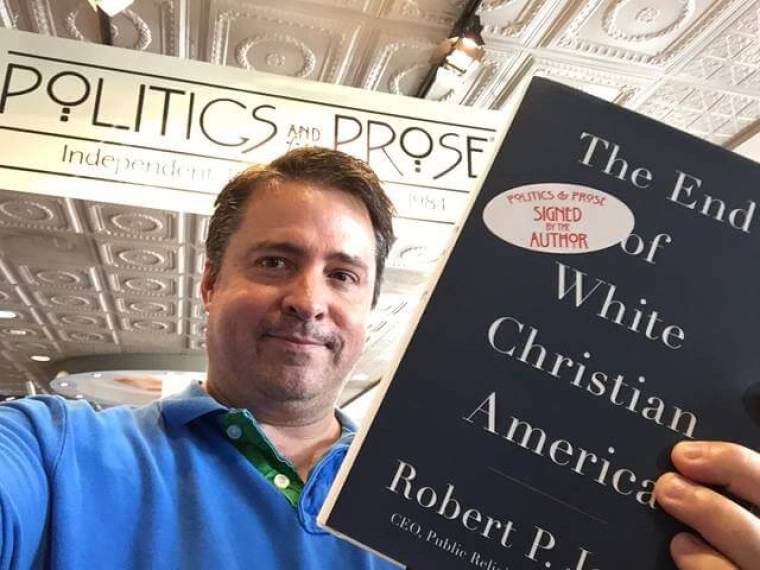 "White evangelicals have themselves started disentangling Christianity and racism, albeit slowly and recently. For example, the Southern Baptist Convention did not get around to apologizing for the role slavery played in the denomination's founding and for its consistent failure to support civil rights until 1995. And only this year, 2016, did the SBC vote to officially disavow the display of the Confederate battle flag," he added.
While praising the efforts of some SBC leaders in pushing for change, he said there is still a "long road ahead" toward racial reconciliation.
"There are important leaders, such as Russell Moore, president of the SBC's Ethics and Religious Liberty Commission, leading the way here, but there is a long road ahead toward anything like racial reconciliation," he said.
In his book, Jones noted that making churches more racially diverse is one way that Christianity can be revitalized in America, but he wasn't available Wednesday to further discuss this point when The Christian Post reached out to him.
Jones argued in the interview that white Protestant Christians are attracted to Trump because they feel he will restore the power they have lost in the culture war, but this is only wishful thinking.
"I first identified the roots of this unlikely alliance back in a February column for the Atlantic, just after Trump won the GOP South Carolina primary, where nearly 7 in 10 voters were white evangelical Protestants.
"Trump's appeal to evangelicals was not that he was one of them but that he would 'restore power to the Christian churches' if he were elected president. This explicit promise, along with his anti-immigrant and anti-Muslim rhetoric, signaled to white evangelical voters that when he crowed about 'Making America Great Again,' he meant turning back the clock to a time when conservative white Christians held more influence in the culture. Trump has essentially converted these self-described 'values voters' into 'nostalgia voters,'" he explained.
"The surprising ascendancy of Trump in the Republican primary, with his strategy of making strong appeals to a white Christian base, is also shaping up to be a test of a key argument I make in the book — that Mitt Romney's 2012 campaign was the last campaign that could plausibly follow a 'white Christian strategy' to the White House," he continued. "So it looks like we'll see whether I called that one too early or not!"
"But even if Trump somehow manages to pull off a win by bringing out unprecedented numbers of white Christian voters, the patterns in the electorate are clear. Every four years, there is a shrinking pool of white Christian voters; if current trends continue, 2024 will be the first year white Christians will not make up a majority of voters nationwide," he added.
Reacting to the book in an op-ed for RNS last month, Tobin Grant, professor of political science at Southern Illinois University Carbondale, who also serves as co-editor-in-chief of the Journal for the Scientific Study of Religion, called the book "meaningless."
"What Jones has found in the polling he has done on evangelicals and their views of the past and loss at the present is a perennial feature of evangelicalism. It views itself as holding on to the faith of the past against the challenges of today. Today's Tea Party and Trump voters aren't the first evangelicals to be active in conservative, reactionary politics," Grant wrote.
"Jones presents evangelicals as responding to something real. I don't. In my experience, racism, xenophobia, and bigotry are not driven by facts. This time around it was Islam and same-sex marriage. Earlier it was communism and Playboys in 7-11's. Before that it was stopping the Equal Rights Amendment. Further back, it was the dangers of Catholicism, secret societies, or alcohol," he said. "To really understand evangelical politics, you need to start by recognizing their diversity. Large meaningless categories like 'white Protestant' aren't helpful."
He also argued that evangelicals don't see the decline in mainline protestant churches as related to the strength of the evangelical movement.
"Jones, by putting evangelicals and mainline Protestants together, finds a demographic decline (albeit mostly among mainline Protestants) that leads to a reaction (albeit mostly among evangelicals). This loss of cultural control is most clearly represented in the shift in public opinion on the issue of same-sex marriage," said Grant.
"My view, however, is that evangelicals don't see any decline in mainline Protestants as being related to their own churches. Mainline Protestants, in their view, sold out to liberalism and are declining as a result," he said.
"Evangelicals do, however, believe that America once held their values, but no longer. Their perceived decline in importance is based on a false memory. Christian revisionist history sees the Founding Fathers as a group of Bible study leaders who constituted the nation on God's directives. The changes in America today are seen as only the latest in a history of America turning away from God," he further explained.
Skewering Jones' analysis on same-sex marriage and the church he also noted that: "The polling on same-sex marriage does not show that America moved away from white Protestants. Instead, it showed how divided white Protestants are. Same-sex marriage was never a debate between white Protestants and the rest of America. Instead, evangelicals remained opposed to same-sex marriage while mainline Protestants grew to be supportive. Public opinion did not change despite Protestant objections; opinion changed because mainline Protestants shifted their positions."