White Evangelicals Most Supportive of Separating Migrant Children From Parents, But Most Oppose: Poll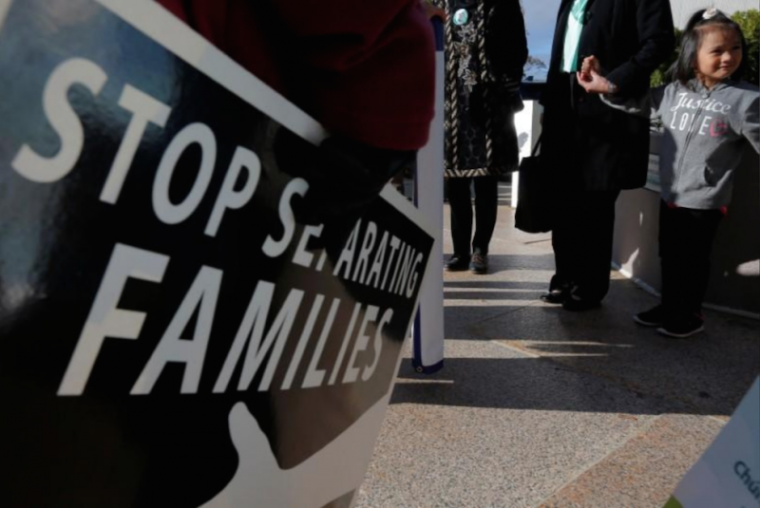 White evangelicals were the religious group most supportive of separating children from their families at the border, though a slim majority, and a strong majority of all Americans, opposed the policy, according to a new poll.
A poll about immigration issues released Tuesday by the Washington-based Public Religion Research Institute showed that Americans of every religious stripe opposed the Trump administration's previous policy of separating undocumented immigrant children from their families.
A slim majority of white evangelicals, 51 percent, opposed the policy of treating immigrant parents as lawbreakers and taking their children from them when they enter the country without permission, while 36 percent supported such an approach. The remaining 13 percent expressed no opinion on the matter.
Meanwhile, 60 percent of white mainline Protestants, 74 percent of Catholics, 87 percent of non-white Protestants, and 82 percent of religiously unaffiliated Americans opposed family separation at the border. 
Last week amid a firestorm of controversy over the issue, President Donald Trump signed an executive order ending the zero-tolerance policy he enacted in May, which treated everyone who crossed the border as criminals and resulted in family separations due to the 1997 Flores Settlement Agreement. The move will be examined by the courts.
A federal judge on Tuesday ordered the Trump administration to reunify all migrant children under the age of five who were separated from their families within 14 days. All other children must be reunified within 30 days. 
The PRRI survey results come as debate intensifies over immigration and the ideological chasm between Republicans and Democrats continues to widen.
"The overwhelming number of Democrats (94%) and a large majority of independents (76%) oppose a policy that treats migrant families as criminals requiring separation of parents and children. Half (50%) of Republicans support a policy of family separation while 40% are opposed to it. Notably, 10% of Republicans express no opinion on the issue," the report read.
Most evangelical leaders who spoke publicly on the issue, including some who serve on Trump's evangelical advisory board, opposed separating migrant children from their families. 
Richard Land, president of Southern Evangelical Seminary and a Trump adviser, wrote in an op-ed for The Christian Post: "Our government's policy must never be the separation of children from their parent or parents. If the family is to be detained, they must be detained together in humane conditions. The so-called 'zero-tolerance' policy does not meet American, much less biblical, standards of justice." 
White evangelicals were also the most likely to support a ban on all refugees entering the country. 
"With the exception of white evangelical Protestants, most religious groups oppose laws that would prohibit refugees from coming to the U.S," the report read.
Fifty-five percent of white mainline Protestants, 56 percent of Catholics, 63 percent of non-white Protestants, and 69 percent of religiously unaffiliated Americans oppose a law preventing refugees from entering the United States.
White evangelical Protestants are split on a refugee ban, with as many in 44 percent in favor and 44 percent opposed.
Less than a third of Americans support constructing a wall on the southern border of the United States, a statistic that is slightly down from 36 percent who favored building one last year. The contrast is stark among the parties on this specific issue, with approximately two thirds of Republicans supporting building a border wall, whereas only 27 percent of independents and 7 percent of Democrats concur. 89 percent of Democrats oppose constructing a wall along the U.S.-Mexico border.
The survey also reported on attitudes about the moral standing of America and the example it sets in the world.
"Fewer than half (40%) of the public believes that the U.S. sets a good moral example for the rest of the world. Nearly six in ten (58%) believe we do not. Views have been remarkably stable since 2015 when only 43% of Americans said the U.S. provided a good moral example," the PRRI researchers found.
The poll of 1,018 American adults was conducted June 20-24. Trump announced an end to the policy on the morning of June 20. The margin of error for the full sample is plus or minus 3.6 percentage points.