Who Is James Alex Fields Jr: 7 Facts to Know About Man Charged in Charlottesville Car Killing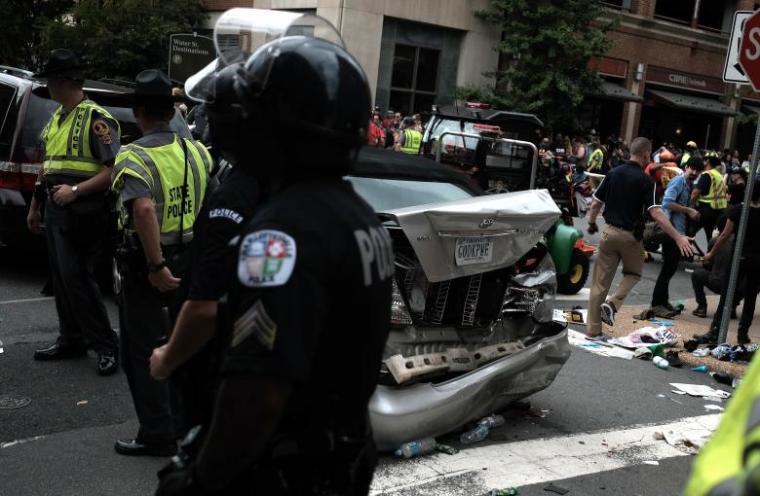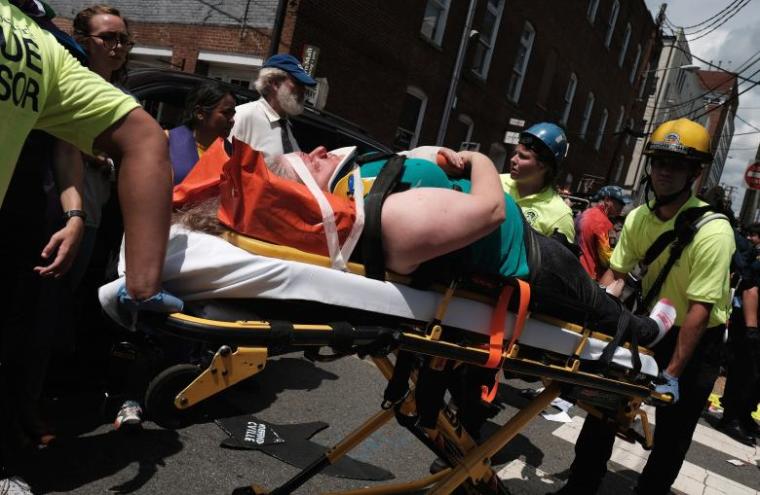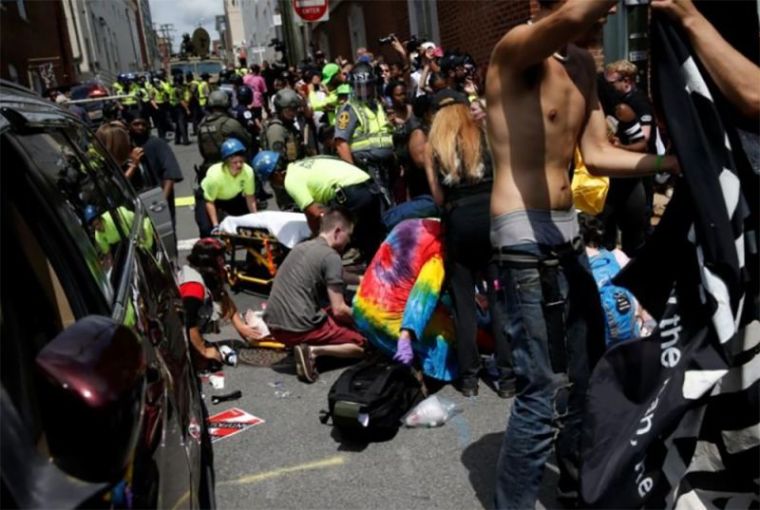 View Photos
Americans were horrified this weekend as they saw violence erupt in Charlottesville, Virginia, on Saturday between white supremacists protesting the removal of a statue of Confederate Gen. Robert E. Lee and Antifa and Black Lives Matter counter-protesters.
The most heinous part of the protests occurred when the driver of a 2010 Dodge Challenger plowed into a crowd of counter protesters and sent bodies flying, a scene that was caught on camera. The vehicular assault killed a 32-year-old woman named Heather Heyer and injured at least 19 others.
The driver of the car has been arrested and identified as 20-year-old James Alex Fields Jr.
But who exactly is James Alex Fields Jr.? Below are seven things to know about the man who has been charged with second-degree murder and other felony charges.
1. He appears to have been in Charlottesville with the group Vanguard America.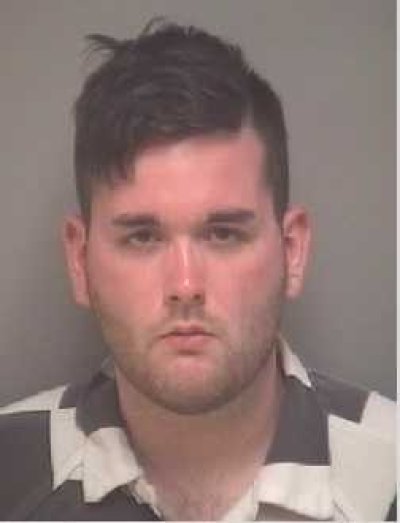 Oren Segal, the director of the The Anti-Defamation League, tweeted a photo on Saturday that shows a man who appears to be Fields holding up a black-and-white shield handed out to rally goers by Vanguard America, a self-proclaimed anti-Jewish national socialist group.
According to ADL, Vanguard America is a "white supremacist group that opposes multiculturalism and believes America is an exclusively white nation."
"VA spreads their hateful propaganda via the internet and by distributing fliers, posters, and stickers," ADL continues. "VA is particularly focused on recruiting young men and has engaged in unprecedented outreach efforts to attract students on American college campuses."
Vanguard America released a statement on Saturday stating that Fields was "in no way a member" of their group. The statement added that all Vanguard America members had been safely evacuated by the time of the incident and that possession of one of the group's shield did not signify membership.
2. Fields grew up in Kentucky but had recently moved to Ohio.
According to The New York Times, Fields was born in Kenton, Kentucky, to his mother Samantha Bloom.
His mother told the Toledo Blade that she and her son moved from Kentucky to northwest Ohio about a year ago. Bloom said that her son had moved out of her apartment into his own apartment in Maumee about five or six months ago.
According to the Blade, Fields was charged by the Maumee Police Department with having expired or unlawful license plates on the 2010 Dodge that he used as a weapon to attack the counter protesters in Charlottesville.
3. His mother thought he was going to a Trump rally.
Bloom told the Toledo Blade that she never really talked with her son about his political views. She said that she knew her son was going out of town to attend a so-called "alt-right" rally but didn't realize the nature of the rally her son would be attending.
Bloom said that her son texted her on Friday to tell her that he had dropped his cat off at her apartment.
"I thought it had something to do with Trump," Bloom said.
"I try to stay out of his political views," she added. "I don't get too involved."
4. His father died in car accident before he was born.
One of Fields' uncles, who spoke to The Washington Post on the condition of anonymity, said that Fields' father was killed by a drunk driver a few months before he was born. Fields' father left his son money that his uncle managed in trusts.
"When he turned 18, he demanded his money, and that was the last I had any contact with him," the uncle said.
The uncle explained that the father's death left Fields to be raised by Bloom, a single mother and a paraplegic.
The uncle added that when he saw his nephew at family events, he was "not really friendly" and was "more subdued."
5. Fields was 'infatuated' with Nazis and Hitler, a former teacher claims.
According to Fields' history teacher at Randall K. Cooper High School in Union, Kentucky, Derek Weimer, the student had "radical ideas on race."
"He was very infatuated with the Nazis, with Adolf Hitler," Weimer said in an interview with WCPO Cincinnati. "He also had a huge military history, especially with German military history and World War II. But, he was pretty infatuated with that stuff."
"In his freshman year, he had an issue with that that was raised, and from then on we knew that he had those issues," the teacher continued. "I developed a good rapport with him and used that rapport to constantly try to steer him away from those beliefs to show clear examples — why that thinking is wrong, why their beliefs were evil, you know, things like that."
The teacher added that Fields had a history of being prescribed antipsychotic medication.
6. He tried to enroll in the military.
The New York Times notes that military records indicate that Fields enlisted in the United States Army in August 2015. The news outlet added that Bloom had posted an announcement on her Facebook page at the time saying that her son was going to boot camp.
However, Fields' time in the military came to a quick end.
His period of military activity concluded on Dec. 11, 2015. Although the Times reports that the reason why he left the military is not immediately clear, WCPO Cincinnati reports that Fields wasn't allowed to enlist because of his mental health history.
7. His high school classmate and former neighbor described him as 'shy' and 'alone.'
Fields' high school classmate Tanner Coleman took to his blog to write about his thoughts on Fields and their time at Randall K. Cooper High School in Union, Kentucky.
"What I AM saying is that I don't think I can remember one instance where I saw him with someone else, where I saw him laughing with friends, or where I saw him even talking to people," Coleman wrote. "The only (albeit faded) memories I have of him are seeing him alone and I did nothing to fix that."
Kathy Scott, a former neighbor of Fields and Bloom, described Fields as "shy" in an interview with Cincinnati.com.
"I saw him quite a bit," she said. "Going to the bus and using his bicycle. But he was just shy. (Bloom) was very sociable. She went to the big church down the street called Crossroads."