Who Won the Third Presidential Debate? Obama Edges Third Battle, But Romney Wins Debate War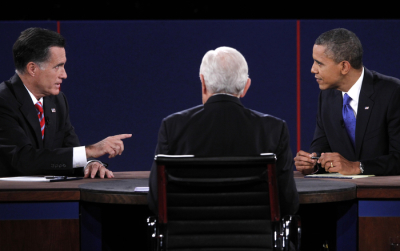 The third Presidential Debate took place Monday night, marking just two weeks until the election takes place, and with President Obama and Gov. Mitt Romney virtually tied in the polls, the third debate was a chance for both to try and gain a slight edge. In the aftermath of the debate many are asking who won, and also more importantly, does it really matter?
The third encounter between these White House nominees saw Obama continue on his more aggressive style featured in the second debate. The president was not afraid to interrupt his GOP rival when he believed he had got his facts wrong; in stark contrast to his showing in the first debate where he sat back quietly, letting Romney be the aggressor unchallenged.
Romney by contrast was a much more relaxed character than that seen in the first two debates. That's not to say he did not get his jabs in, but he was amply respectful towards the president, agreeing with many of his foreign policies, and seemingly happy not to get involved in any intense exchanges. Some pundits have suggested the governor was happy to simply show his competence at discussing foreign issues, and at the same time allaying any fears the American people might have at him driving the U.S. into any further overseas conflicts. He presented himself as a candidate for peace.
In debating style, a majority of analysts gave the edge to President Obama; he got in his punches, and also laid out a number of memorable catchy one-liners. However, that is not to say Romney necessarily lost overall, and Republicans would on the whole be satisfied with his performance, believing he got the job done.
Some have suggested that Romney achieved exactly what he came to do in the third debate - the momentum is with his campaign, and if you're ahead then it's perfectly within your right to dance around the ring and not engage in a slug-fest. Romney came to the third debate focusing on looking presidential and not making any big gaffes. He did that successfully. Obama by comparison was combative and aggressive - sometimes to the point where some critics have said he looked desperate. He knew he had to land a big punch. Conservative analysts have suggested he preferred to attack Romney rather than rise above as a president should do and focus on presenting his own agenda. Romney even at one point rebuked, "Attacking me is not an agenda."
So in isolation, many may argue that Obama edged this third debate, however, overall across the debating season most would probably concede Romney came out on top. Prior to the first debate the momentum was firmly with the president, but coming out of the third debate many polls suggest the momentum has switched to the Romney campaign. Ergo, Obama may have edged the battle of the third debate, but Romney firmly won the debating war.
So will it make any difference? Overall the debating season has seen a shift in the campaigning outlook - although many might argue there has been no outright "game-changer," most would admit the debates have certainly made some difference, and seen a Romney resurgence. Will the third debate change anything? That is certainly less clear-cut, but a firm majority would doubt there to be any significant change in momentum between the candidates on Monday night's showing.
Presidential Debate on Foreign Policy: Barack Obama vs. Mitt Romney Oct 22, 2012