Wife of British Aid Worker, Jihadi Ideologue Urge ISIS to Release Alan Henning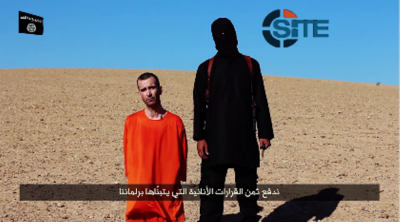 The wife of British aid worker, Alan Henning, who ISIS said could be the next hostage to be executed, has made a desperate plea to the terror group for his release. A jihadi ideologue has also urged ISIS to spare Henning, saying he worked with a charitable organization led by Muslims.
"I pray that the people holding Alan respond to my messages and contact me before it is too late," Barbara Henning said in a statement released by the U.K. Foreign Office Saturday.
"When they hear this message, I implore the people of the Islamic State to see it in their hearts to release my husband," she said, according to The Telegraph.
In a video showing the beheading of another British aid worker, David Haines, on September 13, ISIS threatened that Henning, 47, could be the next.
Barbara Henning said she tried to contact ISIS, also known as Islamic State, but they haven't responded.
"Alan is a peaceful, selfless man who left his family and his job as a taxi driver in the U.K. to drive in a convoy all the way to Syria with his Muslim colleagues and friends to help those most in need," she said. "When he was taken he was driving an ambulance full of food and water to be handed out to anyone in need. His purpose for being there was no more and no less. This was an act of sheer compassion."
She added: "I cannot see how it could assist any State's cause to allow the world to see a man like Alan dying."
Also on Saturday, Abu Mohammed al-Maqdisi, a jihadi ideologue who was released two months ago after serving his jail term on terror charges in Jordan, called on ISIS to release Henning.
Al-Maqdisi, who said Henning worked with a charitable organization led by Muslims which sent several aid convoys to help the people in Syria, asked, "Is it reasonable that his reward is being kidnapped and slaughtered?"
Henning, "should be rewarded with thanks," he said, according to USA Today. "We call on the (Islamic) State to release this man (Alan Henning) and other aid group employees who enter the land of Muslims with a guarantee of protection... according to the judgment of Shariah law."
In two previous videos, ISIS has shown the beheading of U.S. journalists James Foley and Steven Sotloff.
In northern Kobani area of Syria, more than 70,000 mostly Kurdish refugees have fled into Turkey due to an ongoing offensive by ISIS over the last three days.
In Iraq, ISIS men have killed hundreds of civilians. Numerous members of the Christian and Yazidi minorities have also been killed, and tens of thousands of them have fled their homes.
ISIS, or Islamic State of Iraq and Syria, is an al-Qaeda offshoot, which wants to form an Islamic emirate in the Levant region through "jihad." According to the CIA, ISIS has about 31,500 fighters across Iraq and Syria.
ISIS, also known as ISIL, is believed to have hundreds of foreign fighters, including those from the United States and Europe.
The United States has launched 183 airstrikes across Iraq to fight ISIS militants since August, but it has yet to conduct such attacks in Syria. Washington is planning military action in Syria through an international coalition.