Will Children of Gay Parents Sway the Supreme Court on Gay Marriage?
In another amicus brief, for the U.S. Court of Appeals for the Fifth Circuit, B.N. Klein (who has also written under the pen name Rivka Edelman) wrote about her abusive upbringing being raised by her mom and her mom's partner. The abuse she experienced was common, she wrote, among the other children she knew in her mom's circle of gay and lesbian friends.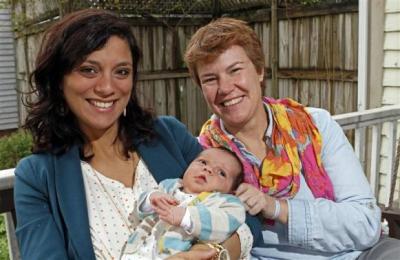 Within the LGBT community, Klein said, children are used as "props to be publicly displayed" to communicate the notion that homosexuals are just like heterosexuals.
Klein does not believe that all gays are "de facto bad parents," but from her own experience, "the gay community has never ... put children first as anything other than a piece of property, a past mistake, or a political tool to be dressed up and taken out as part of a dog and pony show to impress the well-meaning."
Same-sex parenting has become a key issue in the debate over government recognition of gay marriage because the well-being of children is central to the argument of same-sex marriage opponents.
That argument goes like this: While many relationships, of many types, can contribute positively to society, the marital relationship is the only one that government has an interest in recognizing because of its importance for the raising of children. Children raised by their biological mother and father do best, research has shown. And when the marriage relationship fails, through death, divorce, separation or abuse, the State must often decide what is best for the children. Additionally, the State will often need to expand its services when marriages fail because the children of failed marriages have, on average, higher rates of incarceration and mental health problems, and lower rates of graduation and employment. It is in the interest of government, therefore, to uphold conjugal marriage as the preferred norm for the raising of children.
For supporters of same-sex marriage, on the other hand, the adults, not the children, are central to their argument. Any consensual relationship of two people is not "equal," they argue, if they are not also allowed to get a state-issued marriage licence.
So, while the interests of children is not central to the arguments of same-sex marriage supporters, its centrality to the argument of traditional marriage supporters has led to heated debates over same-sex parenting.
Under pressure from gay rights groups, the American Sociological Association issued a 2005 report stating that there is "no difference" between same-sex and opposite-sex parents. The report's conclusions, however, were mostly based upon convenience samples that were not representative of the general population. There were other methodological issues as well. Some of the studies, for instance, drew conclusions about the skills of the parents based upon what the parents themselves reported.
Since that report, other researchers have sought to do better by using objective measures and probability samples.
A 2013 study using the Canadian census, for instance, found that children raised by same-sex parents had lower high school graduation rates than children raised by single parents or opposite-sex parents.
Another effort, the New Family Structures Study at the University of Texas at Austin, used a sample of 15,000 Americans and asked respondents if their mother or father ever had a same-sex relationship.
The study could not draw any firm conclusions about same-sex parenting because, even with such a large sample, only 248 reported having a parent who was in a same-sex relationship. And of those, not all of them were raised by two parents of the same gender.
The results of the study suggest, however, that the ASA's conclusions may not be correct. Those who reported having a parent who had a same-sex relationship were less healthy and more depressed. Plus, they were more likely to be unemployed, to have more sex partners, to have experienced more sexual victimization and to reflect negatively on their childhood.
The study's principle researcher, Mark Regnerus, associate professor of sociology at The University of Texas at Austin, was attacked by gay marriage supporters for those findings. They attempted, unsuccessfully, to get the academic journal Social Science Research to remove Regnerus' peer-reviewed paper reporting the results of the study and to get UT-Austin to sanction him.
Liberal media outlets continue to report the ASA's report as definitive and the NFSS as flawed, even though the SSR and UT-Austin both concluded that Regnerus met academic standards. Politifact, for instance, recently dismissed the study by citing the fact that it was controversial while upholding the ASA report as definitive, while never noting the controversies surrounding the ASA report.