Wisconsin Gov. Scott Walker Under Fire for Headlining Christian Cruise to Alaska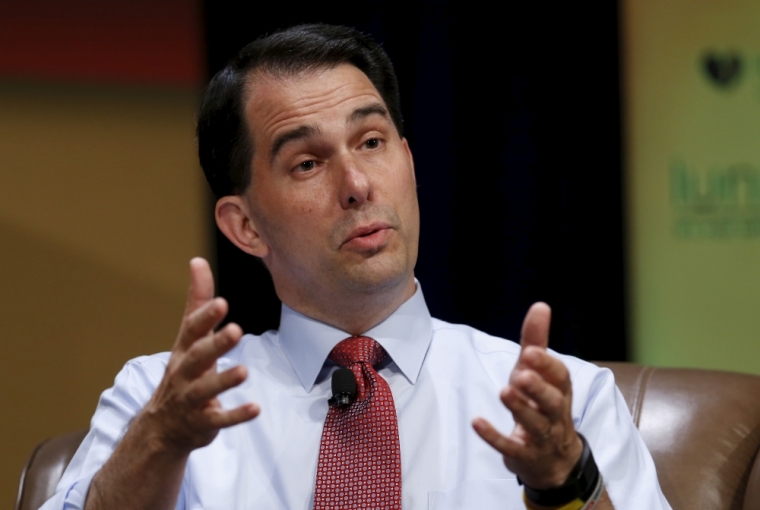 Wisconsin Gov. Scott Walker and his wife Tonette are under fire from critics for headlining a Christian cruise to Alaska designed to help leaders improve the quality of their leadership by overcoming "spiritual poverty."
LifeShape, an international non-profit Christian organization announced that come Aug. 12-19, Walker and his wife, along with a small group of evangelical Christian leaders, will embark on the "once-in-a-lifetime cruise to Alaska."
"Aboard Holland America's luxurious msEurodam, we'll travel to historical ports like Juneau, Sitka and Ketchikan. We'll cruise the unbelievable waters of Glacier Bay, a UNESCO World Heritage Site. And along the way, we'll have countless moments for building new friendships and engaging in conversations about what we hold dear: faith, freedom and family values," said an invitation on Inspiration Cruises & Tours signed by Walker.
Walker is the son of a Baptist minister and was baptized at age 13. He currently attends a theologically conservative non-denominational church, Meadowbrook Church in Wauwatosa, Wisconsin.
Those expected to join Scott on the cruise as guests are: Trudy Cathy White, daughter of the late Jeannette and S. Truett Cathy, founder and chairman emeritus of Chick-fil-A, Inc.; David and Jason Benham, twin brothers whose HGTV show was cancelled due to their conservative Christian views, best-selling authors, speakers, and nationally acclaimed entrepreneurs; Wes Hampton, tenor for the Gaither Vocal Band and Adam King.
The cruise is expected to cost between $1,298 and $3,368, depending on the size of the cabin and its view, but according to the Milwaukee Journal Sentinel, Scott and his wife will not be paying their way.
Larry Cox, CEO of Lifeshape, told the Sentinel that as an invited speaker, the company with foot the cost of Walker's time on the cruise.
"We approached him. We thought he'd be a good speaker on values and the public square," Cox told the Sentinel.
"If we invite them to speak, we would pay for the trip for them," Cox said. "We wouldn't pay them anything. There's nothing they would receive."
Tom Evenson, a spokesman for Walker, told the Sentinel that the governor and his wife were invited to speak on the cruise about "how their faith guides their lives and leadership."
Walker asked the state Ethics Commission to review the invitation several weeks ago to make sure it complied with state law and the board is expected to act on the issue next month.
Critics like Jay Heck, executive director of Common Cause in Wisconsin, told the Sentinel that state law bars state officials from using their office to accept something of value for them or their family, so Scott should pay for the cruise and not accept a freebie to speak.
"They simply need to pay the full price any other Wisconsin citizen would pay to take such a trip," Heck said. "All costs must be borne by the Walkers out of their own funds — not taxpayer funds or in the form of a gift or discount from the organizers of the cruise — or paid for by a lobbyist, or admirer."
The Freedom From Religion Foundation argued in a release Thursday that Walker should not be a part of the cruise due to its Christian nature.
"FFRF is troubled that the cruise is ramming through the First Amendment, and Co-Presidents Dan Barker and Annie Laurie Gaylor have written a letter to the governor expressing their concerns. Walker is leveraging his public office in order to promote his personal religion," the organization said in their statement.
"In his promotional message, Walker repeats a tired assumption that all Americans 'hold dear' religious faith, and Christianity in particular. In fact, nearly 30 percent of Americans are non-Christian. This includes 23 percent of American adults — and 35 percent of Millennials — who are nonreligious. The language that Walker employs in his promo, such as 'nightly inspirational messages,' 'faith in the public arena' and 'faith-driven entrepreneurship,' sidelines and deprecates the huge portion of Wisconsinites who do not share his Christian zeal," they continued.
"FFRF is gravely disappointed that Walker and his wife are obtaining a free cruise. If he and his family wish to go on a scenic religious cruise, at the very least they should pay their own way. FFRF strongly urges Walker to change his mind and reject Lifeshape's offer for him to join in on an overtly Christian expedition," the organization ended.