'With Our Souls, Our Blood, We Will Defend the Cross': Coptic Christians Cry Out at Funerals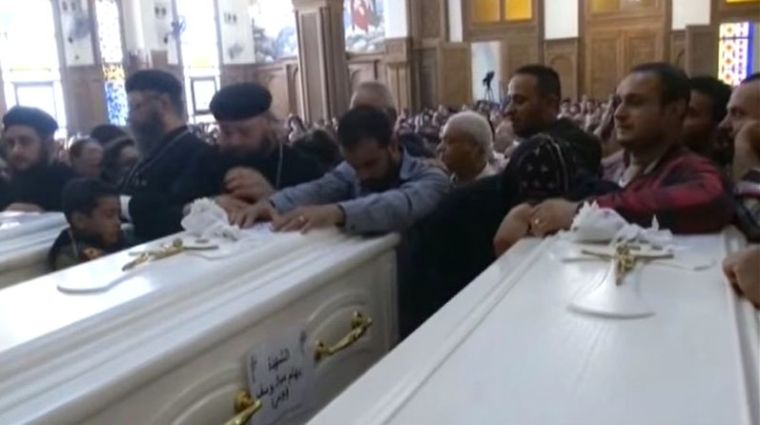 The Coptic Christian community in Egypt is crying out in grief and anger following the funerals of seven believers who were killed by Islamic militants near a monastery in Minya.
The attack on Friday, which left at least another 19 people injured, prompted a swift response from Egyptian police, who say that they killed 19 militants in a shoot-out into the desert area west of Minya province.
AFP reported that the first victim, an Anglican, was buried on Friday, while the other six Coptic Christians were carried out in white coffins on Saturday by hundreds of mourners. The crowds reportedly shouted "with our souls, with our blood, we will defend the cross!"
Bishop Makarios of Minya said following the funerals that "we will not forget the promises of officials, including the president of the republic, that the criminals will be punished."
The Islamic State terror group claimed responsibility for Friday's massacre, which comes a year after 28 believers were killed travelling to the same monastery in May 2017. 
Egypt's interior ministry said that police pursued the militants and discovered a tent where they had been hiding. Officers found guns, riffles, and IS propaganda.
Copts, who make up only around 10 percent of the local population, have called for better protection as radical Islamic danger remains high in Egypt.
"What do these terrorists want? Do they want us to hate Muslims?" asked one mourner, identified only as Michael, who lost a neighbor on Friday, when the militants attacked two buses near the Minya monastery.
During Saturday's funerals, mourners remembered those they lost.
"He was the best child ... I'll never see him again," said an elderly woman, who wasn't named.
Rad Noseer Mitri, priest of Mar Girgis Church, suggested that forgiveness is possible even in such a situation.
"We would like to tell them (the attackers) that we still love them despite what happened. We have a question though — why are you doing this to us? We do not commit malice towards anyone," Mitri said, according to Reuters.
"We serve our church and nation in complete honesty. We play no role in terrorism or hate. We only play a role in serving our church and country like any other people all around the world."
Much of the Christian world has been mourning along with the Coptic community. Pope Francis also sent his prayers.
During Sunday's address from St. Peter's Square, the pontiff said that the seven pilgrims were killed "for the mere fact of being Christians."