Without Christian Presence in Mideast, There'll Be Less Charity, Says Mideast Christian Leader
WASHINGTON – In response to the plight of Middle East Christians fleeing from their homes in the wake of extremism and terror brought by the Islamic State and other terrorists groups, Christian leaders and advocates called on modern Muslim community leaders against radical Islam and warned that the plight of Christians could have disastrous consequences in the Middle East.
"The stakes are enormous," said Edward Clancy, director of outreach for the humanitarian organization Aid to the Church In Need, on Thursday. "Christianity might entirely disappear from the very region of its birth. Such a disaster would not only mean the loss of ancient patrimony, it would also mean the demise of a key player to society dominated by Islam and unfortunately dominated by a radical Islam that seeks to kill and destroy rather than to live side by side."
A top priest among Jordanian Christians said that Christianity needs support now that Christians are fleeing by the masses or suffering the consequences. He called out the modern Muslim community telling them it is time for them to help lead the charge against extremism and promote religious co-existence.
"Christians of the Middle East are an integral part and that integral part should take the lead in building our region and confronting extremism," The Very Reverend Father Nabil Haddad said. "Today I would like to issue a statement that calls on Muslim leaders of good will to work hand-in-hand with us to put an end to the current ordeal in the Christian population and we need to build a new era where all must be a part of an alliance."
Clancy and Father Haddad, along with the other panelists at the In Defense of Christians summit, said Christians are too important to the Middle East to let the Islamic State and other radical groups run them out of the region.
Since Christians provide quality education, health care and development that benefits all society within the region, the ongoing plight of Christians from the Middle East puts "future of mankind" at risk, said Maronite Foundation's Nehmet Frem.
Frem had a message for Muslim leaders, "It is literally in the Quran as much as the Gospel that creates the harmony between brotherhood, brothers. This century we'll be saved. The millenium will be built on the values of inclusion and acceptance."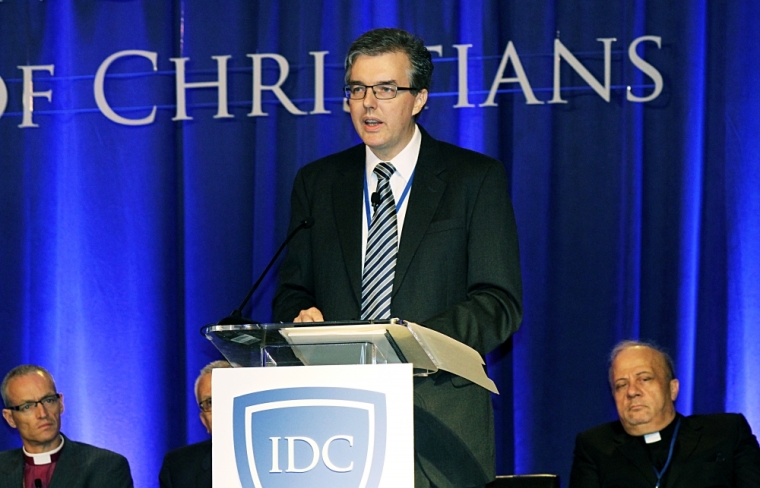 Clancy explained that with Christians in the Middle East everyone has a "greater chance of survival." .
"It's very simple, without a Christian presence there will be less charity. There will be less education. There will be less stability. There will be less democracy," Clancy said. "Christianity's presence means more literacy, more compassion for the poor. It means greater chance of survival and improvement for those who are deeper in absolute poverty."
Clancy noted that in an area like Mosul where the Christian population is only 10 percent, Christians provide half of the universities student population. Clancy also pointed out that in Sudan, the Archdioceses of Khartoum parochial K-12 school system gets no support from the government and most of their students are Muslim. In Syria, 40 percent of their nurses and doctors are Christians.
Nebil Costa from the Supreme Council for Evangelicals in Syria and Lebanon said that in Lebanon, Kuwait and Egypt there are over 60,000 students from different faith backgrounds in evangelical schools, with 70 percent of them being muslims. He said that their are over 250,000 students in Catholic schools in those countries.
"Christians don't expect their students to convert to Christianity. However, certain values become embedded in all from these Christian Institutions," Costa said.
Michael LaCivita, assistant communications secretary for the Catholic Near East Welfare Association, compared the exodus of Christians in Middle East to "pulling the threads from a cloth."