Vision Forum Founder Doug Phillips Accused By Woman of Treating Her Like 'Personal Sex Object' in Lawsuit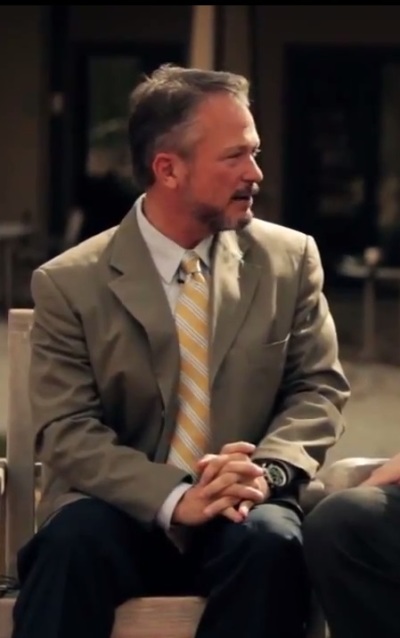 Editor's Note: Warning, this article contains graphic details described in a lawsuit and may be offensive to some readers.
The woman with whom Vision Forum founder Doug Phillips had an alleged affair has filed a lawsuit against her "spiritual father," and accuses him of sexual battery, fraud and sexual exploitation, and claims that he used her as his "personal sex object."
In the lawsuit, Lourdes Torres, 29, accuses Phillips of taking advantage of his authority over her as the "pastor of her church, her boss, her landlord and the controller of all aspects of her life." Torres also claims that Phillips further manipulated her by telling her that he intended to marry her when his wife died "soon."
The Torres family and Phillips developed a close friendship in 1999, and as time passed, Lourdes Torres began "spending time specifically assisting Phillips' wife in caring for their children and running the family farm." Torres even joined the family of eight children on paid trips to Hawaii, Virginia and Florida.
According to the lawsuit, "Phillips invited Ms. Torres and her family on these trips so that he could spend time with Ms. Torres, and begin to indoctrinate her with the patriarchal mindset."
Torres moved in with the family in 2007, shortly after Phillips had given her unsolicited neck and leg massages.
In the claims filed by attorneys, David Gibbs and Dustin Gaines accuse the disgraced biblical patriarchy leader of leading a "total institution," or one where "people within a total institution work together, worship together, spend leisure and recreational time together, and even dwell together."
"Thus, a person within a total institution is cut off from the normal world entirely. As a closed and tightly knit unit of people, total institutions lead an enclosed and uniquely administered round of life that is peculiar to its own characteristics and beliefs," the lawsuit states.
Consequently, they argue that given the insular nature of Vision Forum, where "seeking advice from others would have been labeled as gossip and treated as a very serious sin," combined with the fact that Phillips, a trained but unlicensed attorney in his home state of Texas, who was known for his "skill at argument and intimidation," left Torres with few means of stopping the leader's sexual advances.
"Against her wishes and over her objections ... Douglas Phillips repeatedly groped, rubbed, and touched Ms. Torres's crotch, breasts, and other areas of her body; rubbed his penis on her; masturbated on her; forced her to watch him masturbate on her; and ejaculated upon her," the lawsuit details. "This perverse and offensive conduct repeatedly took place over the course of several years."
Phillips justified his behavior to Torres, the lawsuit claims, by telling her that he had intentions to marry her and that his wife, Beall, "was going to die soon." After her death, Torres could marry Phillips and "she would be the person who would have the great privilege of being his wife."
By the end of 2012, Torres informed her family of Phillips' behavior, stopped attending Boerne Christian Assembly where Phillips was on the elder board, and broke off their professional relationship, according to the lawsuit. Phillips did not react well, and allegedly showed up at her house in the beginning of 2013 shortly after midnight and knocked on her bedroom window before he was chased away by her brother and family.
The following morning Phillips and his wife met with Torres and her parents where he tried, unsuccessfully, to explain that he should still be able to work with their daughter. The following day, the Torres' confronted church leaders about the Vision Forum leader's behavior and left the church.
The lawsuit further alleges that despite Phillips' resignation from Vision Forum Ministries in late October 2013, the leaders of the nonprofit organization knew of his actions earlier in 2013 and allowed him to stay on.
Several weeks before his resignation, in an email excerpted in the lawsuit, Beall emailed Torres, threatening her if the news went public about Phillips' actions.
"Right now, you may have a perception of peace, but what you don't know is that these bombs are about to explode in a manner that will change all of our lives forever. It will affect your life, your marriage prospects ... your parents ... and thousands of other people. It is far worse than you imagine," she wrote. "The VFM board has encouraged me to let you know about these and to work with you to give you an opportunity to stop impending destruction."
According to WORLD magazine, five friends and colleagues of Phillips confronted him later that month about his behavior. Hoping for contrition, the friends noted that they were dismayed when Phillips, although acknowledging his infidelity, responded with defensiveness.
On Oct. 30, Phillips announced his resignation from the nonprofit. Two weeks later, on Nov. 11, the Vision Forum Ministries board announced that it had decided to shut down the organization, a decision its members said that they lamented but deemed necessary.
"While we believe as strongly as ever in the message of the ministry to the Christian family, we are grieved to find it necessary to make this decision," it stated on the organization's website. "We believe this to be the best option for the healing of all involved and the only course of action under the circumstances."
On March 13, Phillips' attorney sent a letter to two of his client's personal assistants, Bob Renaud and Peter Bradrick, and a former Vision Forum employee, Jordan Muela, alleging that "the three of you have conspired together, and with others, in an attempt to destroy Doug Phillips, his family and Vision Forum Inc," reported WORLD magazine.
Earlier this month, Torres married Nolan Manteufel, who had also left the church.
On Tuesday afternoon, a letter written by Phillips' attorney, Diaz Jakob, was posted on the Vision Forum Facebook page, blasting Torres' lawsuit and calling her claims as "false, defamatory and made with malicious intent to destroy Doug Phillips."
According to Jakob, Torres and Phillips "never had the physical intimacy of touching of and/or the exposure of genitalia, nor did the intermittent relationship escalate to sexual intercourse," which Phillips has denied before and the lawsuit does not claim.
The letter claims that Phillips' sexual advances were "consensual and often initiated, encouraged and aggressively perpetuated by Mrs. Torres-Manteufel." It also accuses Torres of repeatedly requesting "money, trips, jewelry and special favors from Doug Phillps." And claims that "Mrs. Torres-Manteufel intent is to seek financial benefit and/or personal gain."
Although Vision Forum Ministries announced its shutdown in November and Vision Forum Inc. appeared to have a liquidation sale in December, the lawsuit states that "both corporate entities are believed to be in active existence today."